Best Bling Doll Videos on Instagram will turn you into a doll collector.
When dolls are embellished with sequins, beads and crystals they look more realistic. If they're videoed too the effect becomes positively life-like.
At SequinQueen we appreciate the effort that goes into stitching fifty thousand sequins on a dress.
When you sequin a dress in miniature, the amount of work might be less. But the intricacy is exponentially higher.
And more time consuming.
The attention to detail on many of the bling dolls in these Instagram videos is incredible. Many of them also follow our very own bling style rules and don't mix too many different kinds of bling.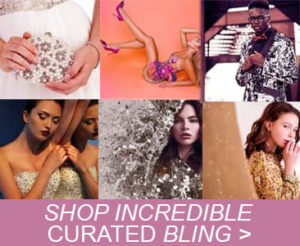 See! We're talking about them as if they are real already.
After watching the videos below you'll probably think they are too.
1. Doll with Perfect Evening Off the Shoulder Gown.
2. Best Bling DOLL Videos: Doll with Gold Sequin Dress with Short Sleeves.
>
3. Doll with Cute Sparkling Hanging Earrings with Rhinestones.
4. Best Bling DOLL Videos: Doll with Long Sequin Red Gown with Long Sleeves and High Slit.
5. Doll with Magnificent Long Red Off the Shoulder Gown.
6. Doll with Black Long Gown with Sequins and Beaded Accessories.
7. Doll with Twelve Dancing Princesses Collection – Gold with Crystal Rhinestone Dress.
8. Doll with Long Blue Gown with Off Shoulder and Glittering Crown.
9. Doll with Pink Short Sleeveless Dress with Jumbo Sequins in Front.
10. Best Bling DOLL Videos: Doll with Light Pink Long Gown with One Shoulder Sleeves and Chinese Collar.
11. Doll Wearing Blue and Grey Long Sequin Gown with Sequin Jacket.
12. Doll with Elegant Glittering Jewels with Mermaid Style Pattern Dress.
13. Doll with Tube Top Short Dress with Ruffle Skirt and Rhinestone Belt.
14. Doll Wearing Long Sequin Sleeveless Gown with Ruffle Scarf.
15. Doll with Pink Sequin Long Sleeves Jacket with Long Pants with Netted Bottom.
16. Best Bling DOLL Videos: Doll with Bling All in One Retro Mix Sequin Wear.
17. Doll Wearing Blue Sequin Short Dress with Beaded Skirt.
18. Multi-Colour Sequin Dresses at The Miss Doll World 2020.
19. Pink Sequin Blouse with Chinese Collar and Skirt on a Fashion Doll.
20. Doll with Bling Choker Necklace with Earring Set and Bikini.
21. Best Bling DOLL Videos: Doll with Off the Shoulder Flower Pattern Dress with Glittering Earrings and Waist Belt.
22. Doll with Glittering Pure Luxury Head Piece with Jewels.
23. Best Bling DOLL Videos: Doll with Blouse and Skirt with Rhinestones, Sequins and Beads.
24. Doll with Witchcraft Pattern Black Dress with Pearls and Beads on the Hat.
25. Doll with Glittering Rhinestones Earrings with Sapphire Stone Pendent with Chain.