Best bling wedding gown videos 2021. Because when you're planning your big day you need this gorgeous wedding dress inspiration.
Or maybe your just fantasizing about your wedding and wedding dress.
Either way you'll agree that these Instagram videos of bridal wedding attire are fabulous fantastic fantasies.
Weddings are a perfect time to sparkle.
Lots of your guests will be wearing sequins, beads, rhinestones and crystals.
It would be a little strange if the bride wasn't wearing some bling too.
It doesn't have to be an over the top amount of bling.
A hint of sequins will do just fine.
Some highlight Swarovski crystals.
Faceted beading on delicate lace.
You can go for maximum shine, stun and sparkle if you want.
It's your day.
Act like a princess and you'll be treated like one, as the saying goes.
Here at the SequinQueen Sparkling Life Magazine that's what we're all about.
Helping you look and feel like a princess.
With bling.
Of course, the problem is the incredible range of wedding gowns.
There are so many variations.
Sleeveless sweetheart neckline wedding dresses.
Wedding gowns with three quarter sleeves.
Or full sleeves.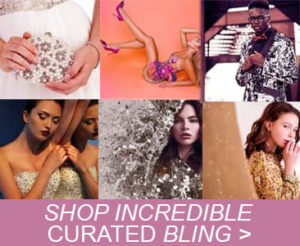 Short wedding dresses.
Wedding gowns with ruffles.
Even dark colored and black fabric embellished wedding dresses.
With so much wedding dress choice out there we narrowed it down the best bling wedding gown videos 2021 on Instagram.
This curated list of wedding gowns shows the dresses we like best.
So now that they are all in one place you can make your wedding gown choice and move on to the guest list.
And the five million other things you need to organize.
For still more wedding dress and accessory inspiration be sure to check out our Wedding Bling Pinterest board too.
1. Beautiful Bridal Dress with Sequins Off Shoulder, Sweetheart Neckline with Open Back Bridal Dress.
2. Delicate Floral Embroidery and Hand Sewn Bridal Dress with Pearls and Rhinestones.
3. White Bridal with Straps and Embellished Dress with a Long Hemline.
4. Vintage Style Off Shoulder Short Sleeves Sequins and Rhinestone Embellished Bridal Gown.
5. Long Embellished White Sweetheart Neckline Bridal Gown with Rhinestones and Veil.
6. Elegant Long Sleeves Embellished Bridal Gown with Rhinestones and Train.
7. Sleeveless Sweetheart Neckline Off Shoulder Wedding Dress with Embellished Waist Belt.
8. Off Shoulder White Bridal Gown with Big Bow In Front and Mesh Pull Over with Long Sleeves and Embellished Neckline.
9. Low Neck with Embellished Loose Long Sleeves Bridal Dress.
10. Short Sleeves Embellished Open Back Bridal Dress with Rhinestones and Crystals.
11. Black Off Shoulder Bridal Dress with Embellishments and Long Veil.
12. Cold Shoulder High Neck Bridal Dress with Rhinestones, Veil and Crown.
13. Long Sleeves Mirror Embellished Desi Bridal Dress with Earrings.
14. Sleeveless 2 Piece Indian Bridal Embellished Mirror, Rhinestones and Sequin Dress with Long Shawl.
15. Off Shoulder Black Sequin Embellished Long Bridal Gown with Matching Black Necklace.
16. Blue Long Sleeves High Neck Embellished Bridal Dress.
17. White Off Shoulder Embellished Short Sleeves Wedding Gown with Rhinestones and Long Dress Train.
18. Bridal Gown with Straps and Deep V-Neck Embellished Gown.
19. Off Shoulder Long Mesh Sleeves Sweetheart Neck Embellished Bridal Gown.
20. Long Sequin Embellished Sweetheart Neckline Strapless Bridal Dress.
21. Glittering Long Sleeves Bridal Gown with Mesh Top with Embellishments.
22. Long Sleeves Deep V-Neck Line with Rhinestones Bridal Gown and Train.
23. Strap Sleeves V-Neck Long Sequin Bridal Gown in White.
24. Long Straight Fit Off Shoulder V-Neck Mesh Sleeves with Beads and Sequins.
25. Off Shoulder Sweetheart Neckline with Low Back Bridal Gown Embellished with Beads and Sequins.