SequinQueen brings you our Bling Top 20 on Instagram. Let's face it. It's not hard to find incredible bling on Instagram. Flashy lifestyles. Glam people. Designer houses. Sleek cars. And most of all, fabulous fashions. There's so much bling on Instagram you're in danger of glitter overload.
But never fear.
We've spent hours poring over all the shimmer, shine and sparkle. We've sorted the very best bits of bling. And we've served them up in one starry location just for you.
You may also find more bling on Amazon with best-in-class discounts.
The Best Bling on Instagram Starts Here.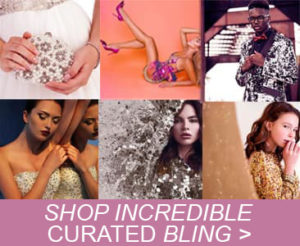 Browse, gawk, envy and covet. Most of all take mental notes. Because the next time you're in the mood for some bling our Top 20 is inspiration heaven.
1. Gold Sequins Hanging Strands On Cami Top Short Dress.
2. Short Silver Bling Dress with Straps and Sweetheart Neckline.
3. Gold Sequin Short Sleeves Evening Party Short Dress with Front Open on Top.
4. Gold Sequin Long Sleeves Short Wrap Dress.
5. Short Black Sequin Sports Jersy Dress with Short Sleeves.
6. Red Sequin Short Dresses for an Evening Party.
7. Green Sequin Short Dress with Strap Sleeves and Tie Back Dress.
8. Multi-Color Sequin Short Dress with Straps and Hanging Sequins Hemline.
9. Pink Short Evening Dress with Cami Strap and Disk-Shaped Sequins.
10. Silver Sequins Short Dress with Long Bell Sleeves and V-Neck.
11. Multi-Color Plus Size Sequin Dress with Short Sleeves and Classic Neckline.
12. Short Gold Sequin One Shoulder Long Sleeves Short Dress..
13. Gorgeous Green Short Sequin Prom Dress with Cami Sleeves.
14. Short Silver Sequin Dress with Short Puff Sleeves and High Neck.
15. Plus Size Blue Sequins 3/4 Sleeves with V-Neck Short Dress.
16. Short Black and Gold Sequin Dress with Boat Neck and Strap Top.
17. Short Gold Sequin Dress with Long Bell Sleeves and V-Neck.
18. Long Sleeves High Neck Brown Sequins Short Dress.
19. Red Sequin Short Wrap Dress with V-Neck and Long Sleeves.
20. Multi-Color Sequin Checks Short Dress with Strap Top.
Bling fashion is what steals most people's hearts. Yes, there are a lot of blinged out shoes and watches and jewelry on Instagram. But it's the sequin, bead, crystal and rhinestone clothing that everyone loves, likes and shares.
And if you're in the mood to sparkle yourself, don't forget to check out even MORE ideas for fashionable bling in our Online Shopping section.