Best kids' bling 2021. Because bling for children is THE most gorgeous thing EVER.
So Miss Cee is just going to come clean immij. Kids are just an abstract concept.
For Miss Cee that is.
For many of you loyal and shimmery Glitterists out there kids are prolly an everyday reality.
An inescapable reality.
A messy and very very noisy reality.
Which is why Miss Cee has none.
And never will.
The Queen of All Things Bling has too much shopping to do and children tend to be discouraged in Bulgari and Hermes.
Not to mention restaurants.
Now YOUR chilluns are likely well behaved angels with budding penchants for sequins, beads and crystals.
In which case you AND they will be thrilled to tantrums to discover the UTTERLY divine and enormous range of bling for kids.
It really is ASTOUNDING.
Here at the SequinQueen Sparkling Life Magazine we are constantly amazed at new bling appearing on things we never thought possible.
Okay, sequins and rhinestones have been on children's shoes and girls' dresses for years.
But we never thought we'd discover sequins on kids' plushies.
Or toys that involved crystals and sequin DIY artwork.
So color us bedazzled, poppets.
The very best thing about bling for kids is NOT how amazing it is.
It's how much BRIBE value you can get out of it as a parent.
True, Miss Cee has no first hand experience of that.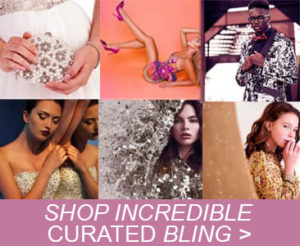 But erstwhile latte-fetcher and always sparkly Min Eone has a couple of ankle biters.
Three, is it?
At any rate, she's ALWAYS on the phone to them while at work promising ALL kinds of things.
Nothing seems to calm the high pitched screams coming through the receiver like the words 'sequin' and 'rhinestone' though.
Perhaps it's because children's toys and clothing with bling are shiny. Wave some in front of some kids and you'll mesmerize them.
Then while you're enjoying that 30 to 45 seconds of quiet browse the kids' bling options we've edited for you.
To save you the time.
Because THAT'S how much we care about bling.
AND you.
If you need even more bribes ideas check out our Pinterest board for fabulous children's bling.
1. Beautiful Baby Pink Ruffle Short Dress with Sequins and Embellished Rhinestones and Pearls.
2. Unisex Kids Flat Sequin Ankle-High Sneaker.
3. Seashell, Starfish, Seaweed Inspired Headband with Sequins Headband for Kids.
4. Beach Vacation Inspired Cute Outfit for Kids with Pearls.
5. Multi-Color Sequin Sleeveless Dress for Kids.
6. Baby Sequin Foil Print Dress in Pink with Short Sleeves and Bow Tie Waist Belt.
7. Best Kids' Bling 2021: Sparkle Shoe Disco Skirt Nude Color with Sequins for Kids.
8. Cross Strap Beaded Sandals Pink Sandals for Kids.
9. Suzie Sequin Bunny Keyring Purse for Kids.
10. Satin Mary Jane Flats with Chunky Crystals.
11. Blue Sequin Short Sleeves Mini Dress with Ruffle Skirt.
12. Red Strap Minnie Mouse Watch with Rhinestone Halo Dial.
13. Tutu Du Monde Embellished Dress in Grey Sequins.
14. Best Kids' Bling 2021: Disney Princess Little Mermaid Rainbow Color Bling Pendant with Chain Jewelry.
15. Gold Sequin Flat Slip-On Sneakers with LED Lights for Kids.
16. Sketchers Little Girls Twinkle Toes Sparks Flat Sneakers.
17. Flippables Magic Sequins Dinosaur Plush Toy for Kids.
18. Magic Flippable Sequin Mini Backpack.
19. Boy Jazz Dance Costumes Sequin Modern Drummer Waist Coat.
20. Black and Silver Sequins Patchwork Boys Kids Dancing Vest.
21. Best Kids' Bling 2021: Beautiful Flat Lace Tie Up Sneakers with Magic Reversible Sequins.
22. Unicorn Sequin Bomber Jacket with Long Sleeves and Zipper.
23. Sequin Toddler Girls' High Top Shoes with Bow Tie In Front.
24. Girl Lavender Flip Flops with Rhinestones and Starfish Design.
25. Handmade Decorated Baby Girl Shoes with Pearls.