The Shimmering Atlantic Coastline. Dotted with sandy beaches. Swathes of pristine sand. Intimate coves.
Here is a beach holiday to suit anyone.
The European Mediterranean may be more densely packed with famous holiday seaside destinations than the Atlantic Coast.
But the Atlantic has one big advantage.
Surf.
The European Atlantic Coastline includes beaches in France, Portugal and Spain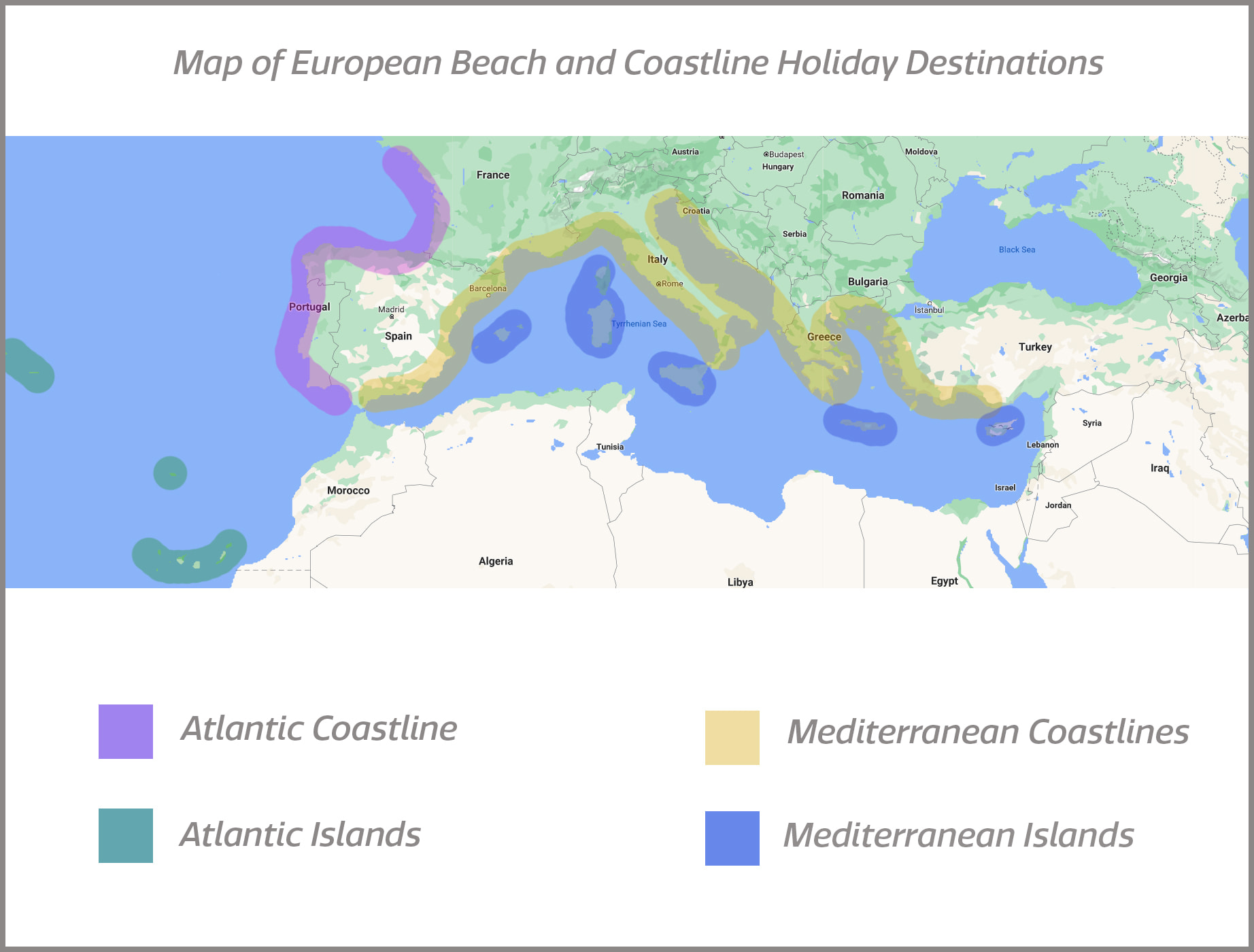 SequinQueen's series on the most sparkling holiday destinations in Europe takes you to the Atlantic Coastline.
Shown in purple on the map above, the Atlantic Coastline is both rugged and inviting.
French Atlantic Coastline Beaches
The coastlines of France are notable for their wild surf and attract the cream of the professional surfing world annually.
From the La Côte d'Argent or Silver Coast which runs up from the border with Spain. To the South Brittany Coast. And the La Côte de Lumière, the Coast of Light.
Beaches along each coast are known for their wild breakers with La Gravière Beach on the Silver Coast churning out waves that rival the most famous surf beaches in Hawaii at times.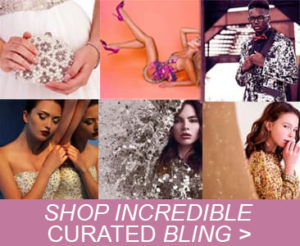 Tamer waters suitable for a more relaxing dip or the novice surfer can be found at Port Blanc with its beautiful natural stone arch.
France's most famous surfing beach historically and now is Biarritz. Hosting numerous surfing competitions like the Roxy Pro in July it has the advantage of being a major food and spa destination.
Perfect if you've worked up a three Michelin Star appetite in the water.
Portuguese Coastline Beaches
If having a lot of beaches equates to a laid back population then the Portuguese people are very chill indeed.
A lot of travelers focus on the capital Lisbon for their Portugal getaway. But venturing farther north to Porto will reward you doubly.
First, Port wine originated in Porto and is still made there. You may be used to seeing only a couple of ports in your local wine shop, with one or two being British.
But in Porto, as in all parts of Portugal, the variety of this fortified wine is astounding.
Second, Porto is located on the gorgeous, twinkling Costa Verde or Green Coast where dark basalt outcroppings punctuate unfathomably wide golden beaches.
Just 20 minutes by train from Porto lies Praia do Senhor da Pedra. Ideally situated for a beach day trip it is perfect for sunbathing and families.
Explore the relaxed town of Miramar nearby once you've had your fill of sand and sun.
For a Portuguese surfing destination you'll be handsomely rewarded by the Algarve. This region has Portugal's southern coastline and abuts Spain in the east.
The Algarve town of Sagres has several surf beaches best enjoyed by the professionals. SequinQueen's pick of these is Praia da Mareta. It's within walking distance of Sagres' bars and cafes as well as the waves.
We'll find the pick of Portugal's sparkling beach destinations back up near everyone's favorite city of Lisbon.
Just 30 minutes by car from Lisbon is Praia do Creiro.
This is a supremely family friendly beach. The Serra da Arrabida cliffs shelter it from the wind. And you can explore the Serra da Arrabida National Park by following the reserve's walking trails.
There's also usually a lifeguard on the beach and in true Portuguese style a couple of good restaurants too.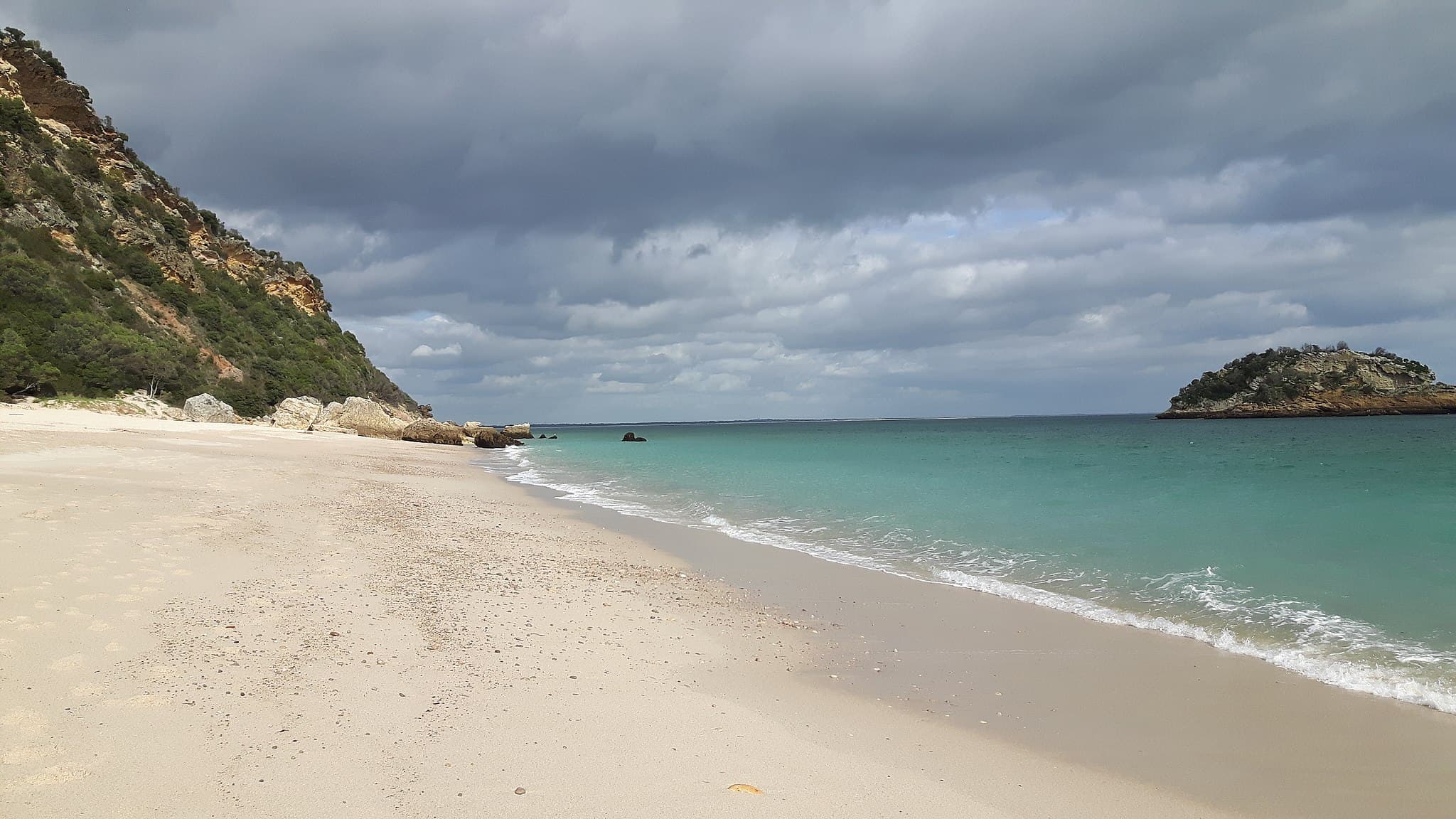 Spanish Atlantic Coast Beaches
Spain has two Atlantic coasts. One in the North and the other in the South West.
The Northern Atlantic Coast has a mighty array of beaches from the surfer beaches of Playa de Ris and San Juan de Gaztelugatxe near Bilbao to the relaxed Hondarribia Beach near the French border.
But the smart money here is on the stunning beach that is right in the center of San Sebastian, or Donastia as the Basques name it.
Playa la Concha curves like a conch lip in front of a promenade that has been attracting Spain's great and good for decades. Royalty and dictators included.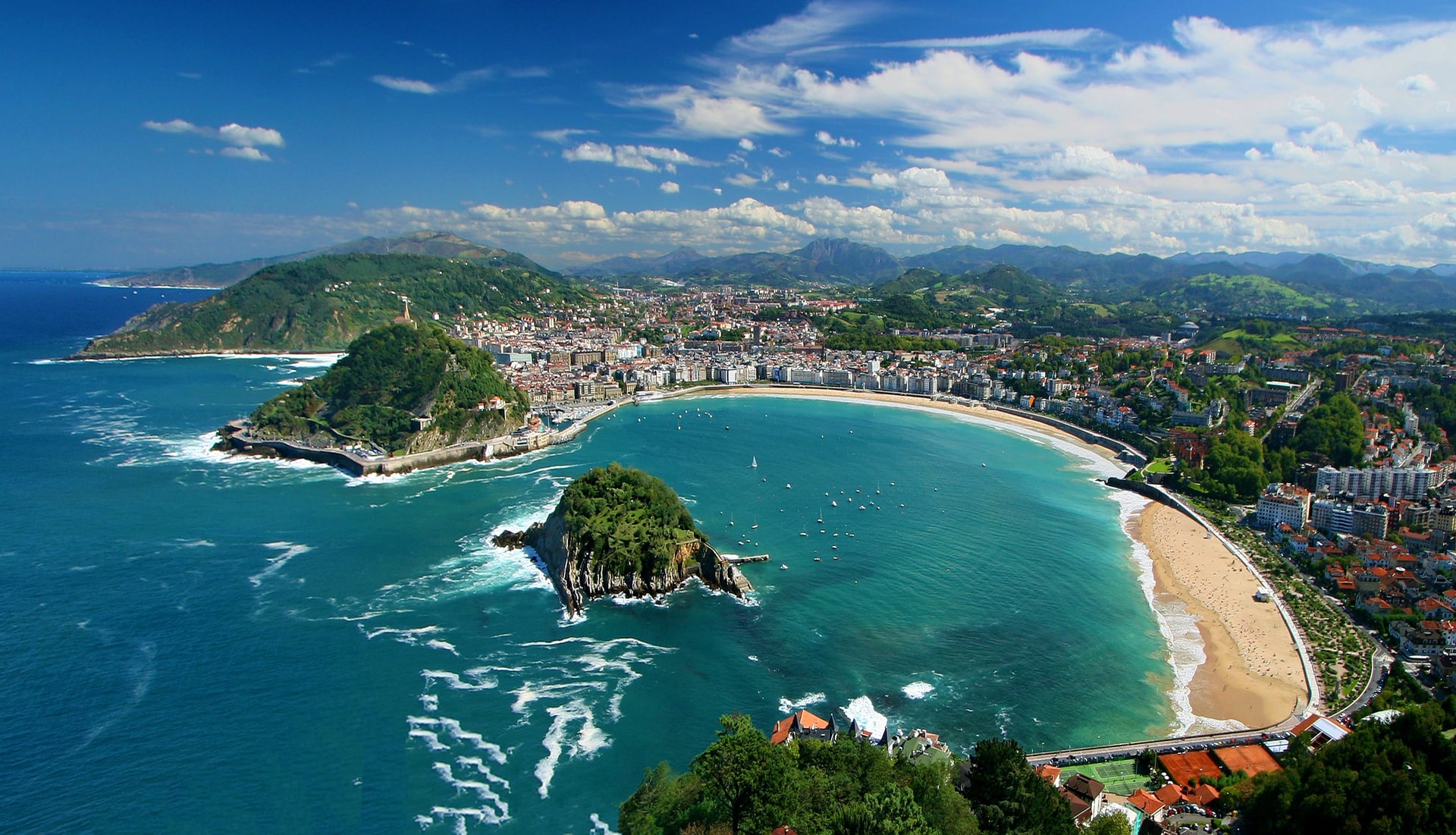 The icing on the sandy cake here is the surrounding city of San Sebastian, home to the most Michelin starred eateries in the world per capita – thanks mainly to their mouth-watering pintxos.
Head south to the Atlantic coastline of Costa de la Luz, or Coast of Light, and make a bee-line to Cadiz.
Not only does Cadiz look like time stopped there about 500 years ago but also it is smothered in beaches.
Why not just explore them all. There's something for everyone. From the city beaches at Playa de la Victoria to the beach campsites just outside town at Playa de Aguadulce.
But to see our favorite of the southern beaches head south from Cadiz for just over an hour to the sleepy hamlet of Bolonia.
Here the coastline is protected so the few buildings of the little hamlet are geared towards serving up fresh seafood and drinks.
Horse ride along the wide curving beach or explore the trails in the dunes. The Roman ruins of Baelo Claudia nearby have been offering a magical viewpoint for sunsets for thousands of years.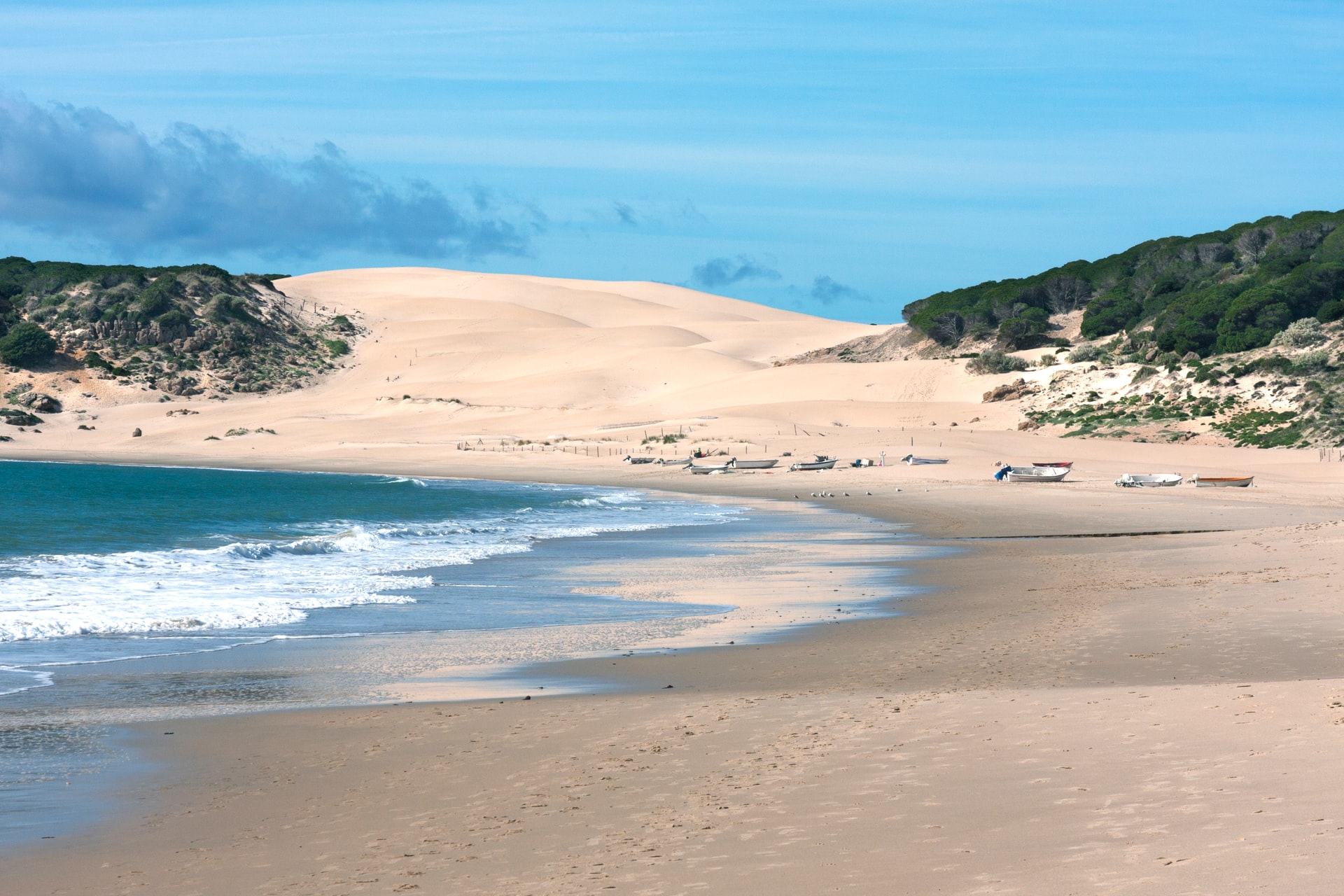 The Shimmering ATLANTIC COASTLINE Conclusion
The problem with deciding which sparkling beach is best for your European Atlantic coastline is that there are so many of them.
And you'll also need to decide which country to make your destination too.
If you've got the time visit one beach in each of Spain, Portugal and France.
Or pick a beachy town like Cadiz and just explore every beach they have!
Either way, you're spoiled for choice.
And if you need shiny bikini to set yourself apart as you partake of the sun, sand and surf, we've curated a fabulous selection of beachwear for you to glitter in.