Best Instagram bling shoe videos. Because bling shoes are the perfect fashion accessory.
Some people just love to wear as much bling as possible.
Those professional Glitterists make a career out of layering with sequins.
Think a shimmering tote.
Paired with a sequin jacket over a glittery blouse.
Some jeans embellished with sequins and rhinestones.
Not to mention sequin boots.
And big shiny jewelry.
The Look At Me combination to end them all.
And why not?
Here at the SequinQueen Sparkling Life Magazine we love unapologetic bling aficionados.
Those Glitterists are breaking all the rules.
And don't even blink.
Most of us aren't that adventurous though.
Sure, we love bling.
But a little bit is enough.
We follow all the bling accessorizing rules too.
We either have a some sequins or rhinestones or beads on an item of clothing.
Or on our accessories.
But usually not on both clothes and accessories.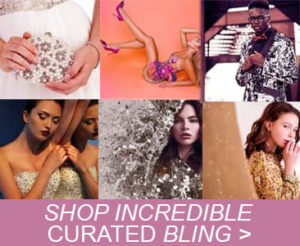 That's why bling shoes are the perfect fashion accessory.
They add a touch of sparkling glamour.
Just enough.
Now imagine yourself in a pair of the bling shoes we've curated for you below from the best Instagram bling shoe videos.
And if that's STILL not enough footwear inspiration take a look at our Bling Heels Pinterest board for even more!
1. High Ankle Flats Embellished with Rhinestones and Spikes.
2. High Ankle Boots with Silver Rhinestones Lace Up Shoes.
3. Flat Converse Red Shoes with Gems and Rhinestones.
4. Red High Heels Pointed toe Shoes with Embellished Rhinestones Jewel.
5. Jeffrey Campbell Night Walk Spiked Shoes with Rhinestones.
6. Black Open Toe High Heel Strappy Sandals with Rhinestones.
7. Women's Gold Open Toe High Heels with Strap and Embellished Rhinestones.
8. Black High Heels Embellished Pump Shoes.
9. Iced Out Colorful High Heels Pointed Toe Slip-Ons with Rhinestones.
10. Flat Party Wear Lace Up Shoes with Zipper.
11. All Star Ankle High Converse with Pearls and Rhinestones Embellished.
12. White High Stiletto Heels Pointed Toe Shoe with Rhinestones.
13. White High Heels Rhinestones Embellished Pumps.
14. Silver High Stellito Heels Pointed Toe, Slip-Ons with Full Glittering Crystals.
15. Turquoise Iced Out High Heels Pointed Toe Shoes.
16. Blinged Out Red Pointed Toe with High Heels and Glittering Rhinestones.
17. Knee High Rhinestones Mesh Pointed Toe High Heels Shoes.
18. White Nike Lace Up Flat Shoes with Rhinestones.
19. Rhinestone Embellished Stiletto Heels Knee High Boots.
20. Ankle High Heels Party Wear Boots with Glittering Rhinestones.
21. Glam Peeptoe High Heels Shoes with Rhinestones.
22. Oxford Pointed Toe Men's Dress Shoe with Rhinestones.
23. Shimmering Rhinestone Embellished White Flats Ankle High Shoes.
24. Blue Ankle High Boots with Rhinestones Embellished.
25. Flat Slip-On Shoes with Check Pattern Rhinestones.