Here at the SequinQueen's Sparkling Life Magazine, we cannot get enough of bling on shoes.
And the good news is you can find blinged up shoes everywhere.
From bling shoes for tennis, bling shoes for walking, bling shoes for evening or even bling shoes for running you'll find bling on YOUR favorite kind of shoe.
So prepare to squint through our selection of our all time most incredible favorite bling bling shoes.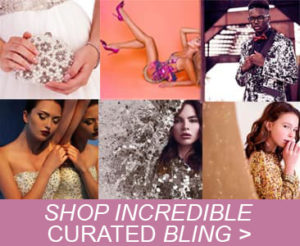 1. Praline Suede Women's High Heels with Swarovski Crystals.
Perfect for ANYONE in a wedding party, including the bride if she's chosen a non-traditional wedding dress color. Mothers of the bride, bridesmaids or even guests can't go wrong with these subtly bling shoes.
2. White Converse Sneakers with Silver Rhinestones.
SequinQueen adores BlingedUp. They throw crystals on anything. And we MEAN anything. Here they've blinged a pair of unisex Converse sneakers. Perfect for tennis shoes when you want to gain the advantage by temporarily blinding your opponent.
3. Bling on Shoes Pink Canvas Girls' Sneakers with Silver Rhinestones and Bow.
There's a little princess in everyone's life who would fall head over heels in love with these children's bling shoes. Swarovski crystals add maximum glitter and the ribbon laces are to die for.
4. All Star Converse Flats With Colourful Rhinestones.
BlingedUp again. Converse again. But the high top gives even more canvas to crystallize. Could you wear these bling sneakers to do the weekly supermarket shop? At SequinQueen we would!
5. Maximum Bling on Shoes with Dark Silver Thigh High Heel Boots.
Rouched thigh-high bling boots. Now there's a fashion statement no one will miss. Hit the club in these and you'll shut down the club. How would you accessorize these crystal boots? What would you wear with them? The plainest black mini dress you can find and a simple black clutch. The rhinestone boots are the star of your night.
6. Silver Knee-High Women's Bling Boots.
If you think that thigh-high bling boots are just too much (and we know you don't) then knee-high rhinestone women's boots are your fashion shoe solution. The sparkle of faceted crystals under artificial lights at night is off the charts.
7. Unisex Converse High Top Sneakers in Capri Blue and Silver Crystals.
There's something about blue crystals that calls to our inner Bower Bird. The color of these bling shoes is mesmerizing. Wear them on the basketball court and no one will care if you miss that three-point shot.
8. Black Slides With Silver Rhinestones.
Let's face it. Adidas slides are pretty boring. But when the three stripes are rhinestoned it knocks these thongs out of the park. Shimmering slides are the perfect fashion solution if you want a touch of bling on your everyday, functional shoes.
9. Black Boots with Block Heels in Pink and Silver Rhinestones.
Glam punk never dies. It just becomes sparklier! The pink crystal straps give a delightful whimsy to these chunky bling boots. Pair with black jeans and add your favorite tight tee shirt for a retro bling fashion statement.
10. Bling Shoes Black High Heels with Rhinestone Straps.
Pairing anything with that drool-worthy skirt is difficult. But these strappy crystal women's pumps do a perfect job. Swirl the night away.
11. Bling Nike Runners with Silver & Blue Rhinestones.
Run like the wind in these bling Nikes. Motivating yourself to go for that 10 mile run has never been easier.
Nothing catches the human eye like movement. And the movement in SequinQueen's 11 favorite bling shoe videos is something we could watch all day–if we weren't too busy staring at our own bling shoes as we walk.
And if you need more bling inspiration for your shoes and EVERY part of your wardrobe be sure to check out our shopping section!