Best Instagram bling food videos. Because mealtime can be so boring otherwise.
Are you tired of the same old same old at the dinner table?
Day after day your food has no luster.
No shine.
A complete lack of bling.
There's a very simple solution.
Put more gold on your food.
Or gold leaf to be more precise.
And if that doesn't do the trick, there's always edible glitter.
You can sprinkle edible glitter on anything.
Or everything if you're a true Glitterist.
Either way gold or glitter is going to up the wow factor of your meal big time.
Here at the SequinQueen Sparkling Life Magazine we love bling. And that means eating it too.
You might be wondering if there are any side effects to eating bling.
You don't want to eat any really valuable bling.
For obvious reasons.
But gold leaf is completely unreactive.
It's also pretty cheap compared to the solid gold used on jewelry.
And that's because gold can be hammered into a leaf that is only 0.5 microns thick.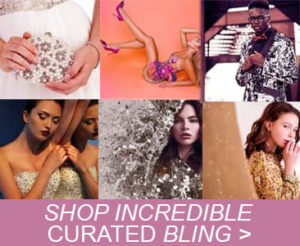 Compare that to a human hair which is around 60 microns thick.
Gold leaf is so thin you can see through it if you hold it up to the light.
So get ready to really amaze your dinner guests and add some bling to your food today.
To help you get inspired we've curated the best Instagram food bling videos below. AND for even more dazzle check out our Bling Food Pinterest board where you'll find a whole range of sweet bling treats too.
1. Best Instagram Bling Food Videos: Beef Steak Cooked and Covered with Edible Gold.
2. Yummy Birthday Cake with Powered Gold and Chocolates.
3. 24K Gold Digger Burger with Beef Ribs.
4. Fish Wrapped In Gold. Can You Name This Dish?
5. Otaru Don with Gold On Top of It.
6. This Dish's Name is Kaisen Yuke with Gold Sprinkles.
7. Oysters and Sea Urchin Roe with Gold Leaf.
8. Sushi with Edible Gold Looks Yummy!
9. Colorful Yummy Parasol Kaisendon with Sprinkled Edible Gold.
10. Gold Tomahawk Steak.
11. Mini Donut with Sprinkled Gold Dust.
12. Juicy Chicken Breast Patty and Charcoal Buns with Gold Topping.
13. Lip Smaking Dishes with Edible Gold.
14. Beef Roast Wrapped in Gold!
15. Best Instagram Bling Food Videos: Gold Leaf Chocolate Donuts.
16. Yummy Cheese with Edible Gold Burger.
17. Breakfast Time with Some Sparkly Eggs and Bacon.
18. Yummy Cone Ice-cream with Gold Leaf Topping.
19. Gold Mini Donuts with Edible Gold Leaf.
20. Short Crust Pastry Tart with Bronte Pistachio Mousse and White Chocolate with 24-Karat Gold Coating.
21. Delicious Cupcakes with Icing and Iced Out Strawberry.
22. Cakes with Dusted Gold and Yummy Icing.
23. Golden Salmon, Looks Yummy.
24. Bueno Torte with Chocolate Toppings and Gold.
25. Best Instagram Bling Food Videos: Delicious Burgers with Loaded Cheese and Edible Gold.