How to bling your home 2021. With sparkly decorative items from Amazon of course!
Glitterists love showing off.
Wear a fully sequined dress or a gown COVERED in crystals. You're going to get noticed.
BIG time.
Try some glittering shoes. Add some To Die For chunky jewelry. Perhaps an embellished bag.
You'll just get noticed MORE.
That's why here at the SequinQueen Sparkling Life Magazine we always say bling is not for the shrinking violets or the faint of heart.
But true Glitterists get pleasure from bling whether anyone is watching or not.
So what better place to let your inner Glitterist out than in your own home, poppets.
Happily there are ALL manner of amazing sparkly decorative items for your house.
Of course you'll find rhinestone embellished mirrors and chandeliers and light fixtures and door knobs.
But there's now homeware you NEVER imagined would glitter.
Like sequin bath rugs. Or shower curtains. Or crystal studded chairs for your home office.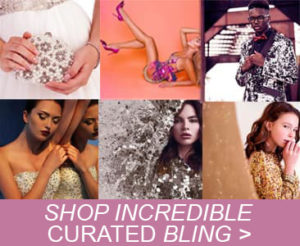 Find all of the best homeware bling on Amazon curated just for you by Miss Cee's hardworking minions here at SequinQueen.
Got your home decorating appetite whetted? Then check out the utterly WILD homeware on our Pinterest boards for even MORE ideas and inspiration. And continue shopping for all that glitters at home in our edited bling home décor store.
1. Handmade Acrylic Burst Wall Decor with Crystals.
2. Everly Hart Collection Round Jeweled Accent Mirror with Crystals.
3. How to Bling Your Home 2021: Decorative Crystal Wall Lights DIY Home Décor.
4. Modern Chandelier Crystal Ball Fixture Pendant Ceiling Lamp.
5. Crystal Chandelier Lighting Mini Semi Flush Mount Ceiling Light Fixture.
6. How to Bling Your Home 2021: Bowl Shaped Chrome Finish Ceiling Lamp with Crystals.
7. Crystal Curtain Magnetic Tieback Flower Clips Buckle with Stretchy Wire Rope.
8. Acrylic Fashion Decorative Home Rolling Shower Curtain Hooks with Rhinestones.
9. How to Bling Your Home 2021: Glass Sparkle Mirror Edge Photo Frame for Tabletop.
10. How to Bling Your Home 2021: Clear Crystal Rhinestone Spray Branch.
11. Luxury Bath Accessory Set with Stunning Sequin Accents.
12. Popular Bath White Sinatra Towel Set with Sequins.
13. How to Bling Your Home 2021: Gold Crystal Pillar Candlesticks for Home Décor.
14. Diamond Decorative Clock Modern Metallic Silver Wall Clock.
15. Metal Diamond Pearl Drop Wall Décor with Mirror.
16. Magnification Double Sided Glass Cosmetic Crystal Rhinestone Bathroom Tabletop Mirror.
17. Popular Bath Collection Bathroom Shower Sequin Curtain.
18. Popular Bath Silver Sequins Sinatra Bathroom Rug.
19. Mermaid Sequin Pillow Case with Reversible Sequins.
20. How to Bling Your Home 2021: Living Crystal Tufted Storage Bench.
21. Tiffany Modern Office Chair in Pink with Crystals.
22. Crystal Clear Glass Round Diamond Shape Dresser Closet Bi-fold Door Knobs.
23. Deco Glam Table Lamp with Hanging Crystal Chains.
24. Queen Bed Size Full Headboard with Faux and Crystal Studs.
25. How to Bling Your Home 2021: Tiffany Royal Crystal Chandelier.