Incredible bling shoes give an injection of pizzazz to any wardrobe.
Shoes with that extra flashy something lift any outfit.
No matter how plain.
Need to spice up a white tee and jeans?
Try a pair of sandals or sneakers with over the top crystals.
What about a your favorite LBD? Any plain fabric little black dress looks incredible teamed with a bling clutch and glittering heels.
The best thing? You don't need to run all over town looking for the perfect bling shoes.
Find them online and let the bling come to your door.
Amazon's range of flats, heels and sandals with crystal, sequin and bead embellishments is enormous.
And their returns policy is designed to make your life simpler. If you don't like the shoes or they don't fit you can normally send them back.
At SequinQueen we know Glitterists like you are experts at tweaking their fashion forward looks with embellished additions.
Like a bling bag.
And a pair of incredible bling shoes.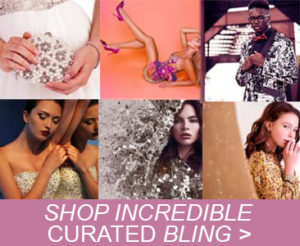 We haven't forgotten the boys either. Fashion is at its best when it's bold. At the SequinQueen Sparkling Life Magazine we adore men's loafers or dress shoes with sequins.
But men's bling shoes with metal studs take bold to the next level.
So we've scoured Amazon to bring you the women's and men's bling shoes we love best.
All in one place.
Just for you.
Need some more sparkling fashion ideas? Check out our curated range of Women's Bling Fashion and Women's Bling Accessories.
1. High Heel Platform Dress Pump Shoes.
2. Incredible Bling Shoes: Sole-Shine Rhinestone Ballet Flats.
3. Comfort Ballet Flats Pointy Toe Sequins Comfortable Slip-On.
4. Street Double Up-Eye Candy Sneaker Bling.
5. Leopard Heel Wedge Sneaker with Rhinestones.
6. Gold Reversible Turquoise Green Gold Gym Shoes.
7. Men's Slip-On Shoes with Rhinestones.
8. Rhinestone Pointed Toe Sequins Glitter Loafers.
9. Hi-Top Sequin Lace-Up Sneaker Shoe Bling.
10. Shiny and Comfy Metallic Lace Up Sneakers.
11. Incredible Bling Shoes: Pointed Toe High Heels with Rhinestones.
12. Round Toe Glitter Crystal Rhinestone Slip-On Ballet Flat.
13. Sequin Sneakers Wedge Suede Platform Heels.
14. Rhinestone Sparkling Suede Dress Shoes Loafer.
15. Loafers for Men in Embellished Suede with Spiked Heels.
16. Wedge Platform Heel Fashion Sneakers High Top Flats with Rhinestones.
17. Slip On Shoes for Men with Metal Tips and Jewels.
18. Dress Shoes Slip-on Flats Long Rivet Party Shoes.
19. Incredible Bling Shoes: Laser Cut Sneakers with Rhinestones.
20. Low Wedge Heel Closed Toe Wedding Party Dress Shoes.
21. Pointed Toe High Ankle Fashion Boot with Rhinestones.
22. Incredible Bling Shoes: High Heel Ankle Boots with Rivets.
23. Leopard Print High Top Canvas Lace Up Sneakers with Rhinestones.
24. Pointed Toe High Heels with Geometric Crystals.
25. Green Rhinestone Wedding Shoes with Matching Clutch.