Thoughts of sewing with sequin fabric can keep even the most competent seamstress awake at night.
But with one BIG secret, our other handy tips, a dose of courage, and one possibly-not-very-pretty first attempt, you'll confidently add sequin dresses to your sewing repertoire.
Some quick words of advice right off the bat.
While you can use a machine to sew sequin fabric, if you're a novice, sequins are not the place to start on your quest to sewing superstardom.
Learn with regular fabrics and build up your skills.
When you're adept at sewing a variety of regular fabrics, then you're ready to move on to something more sparkly!
How Complicated is it to Sew a Sequin Dress?
Go online and search for instructions for how to sew a sequin dress.
Or watch videos on YouTube.
You'll find overly complicated procedures which include:
removing the sequins along the seam allowances and darts
buying and using special needles for your sewing machine using special scissors
hand-finishing along the seams of the dress
having a nervous breakdown
At SequinQueen we've been sewing with sequins for over 20 years, so if you remember our one simple secret, you can dispense with all that advice.
And the nervous breakdown.
You'll even discover that sewing a dress with sequin fabric is not much more difficult than any other sewing project.
And that's because the secret is in the fabric you use.
Types of Sequin Fabric
Many of our dresses at SequinQueen have the sequins hand-stitched onto the finished fabric base dress.
But we also make and sell dresses for retail customers using sequin fabric.
And, as we've found over the last couple of decades, that one big secret for buying and sewing sequin fabric depends on the type of sequin fabric you use.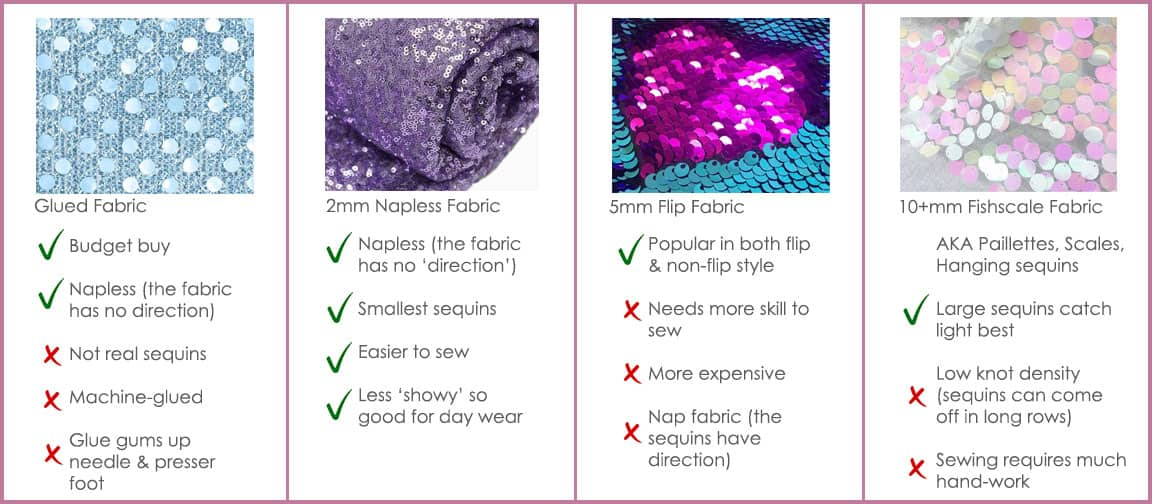 Glued Sequin Fabric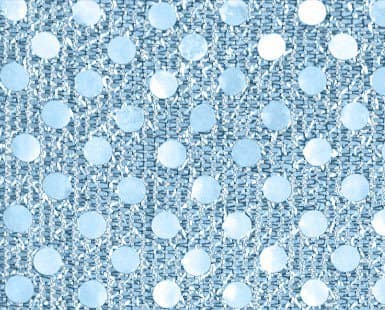 How is sequin fabric made?
With glue sometimes!
But if you've got a children's party and need some sparkly sequin tablecloths, then glued sequin fabric is a budget godsend.
Ditto for elementary school plays, sequin Halloween costumes, Fourth of July and Christmas bunting. Or almost anything that requires minimal sewing.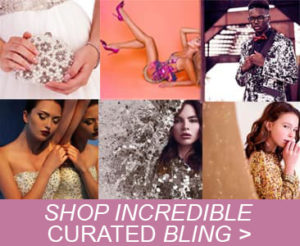 On this fabric, very thin sequins are glued to the base, rather than sewn.
When you use it for sewing, the glue under the sequins gums up the needle, presser foot and serger (if you're using one).
Not pretty. And not easy to clean off. Though wine rubbing alcohol helps.
5mm Reversible Sequin Fabric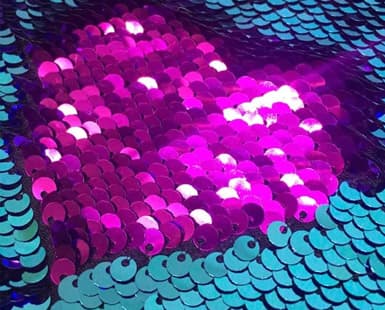 A very popular, machine-made sequin fabric, available in most fabric stores and online, uses 5mm sequins sewn in a shingle arrangement.
Have you seen the fabric you can brush with your hand, making the sequins flip over and the fabric change color?
That's 5mm reversible sequin fabric.
Though it's the sequins which are reversible, not the fabric.
It's certainly possible to work with flip fabric at home, but better to start with something easier.
Fishscale Sequin Fabric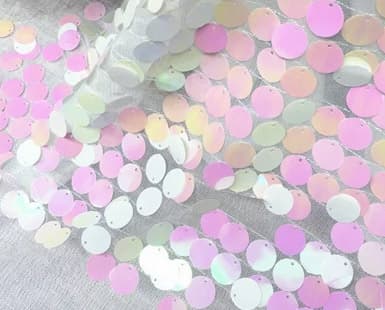 Also called paillette sequin fabric, some fishscale sequin fabrics are made with 15, 20 or even 30mm sequins
And they really catch the light.
But because the sequins are so large they won't pass easily through your sewing machine. You'll have to unpick the sequins from the area you want to sew and then re-attach them along the seams.
With the sequins not individually knotted, you'll also need to tie off each sequin you remove to avoid a run of sequins dropping to the floor like pearls off a broken necklace.
So in general avoid fabric with sequins larger than 5mm.
The Holy Grail is 2mm Sequin Fabric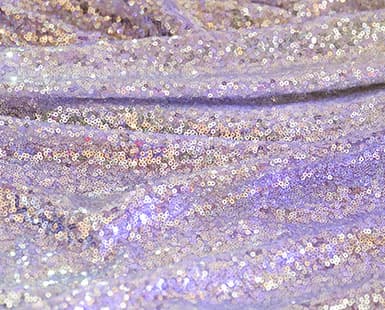 Sequins smaller than 5mm are easiest to work with.
And the best fabric has sequins that look tiny because they are miniscule.
Only 2mm wide in most cases.
And this means when the fabric is machined in the factory, the sequins are so small they can only be applied randomly, and not in shingle lines.
This makes the fabric napless, so when you are sewing you don't need to worry about the direction the sequins go in.
Plus, those tiny sequins give the fabric more flow and drape than other varieties of sequin fabric.
So there you have it.
The One Big Secret for sewing a sequin dress is:
Buy real sequin fabric with 2mm size sequins.
If you do that you'll be able to sew almost anything you can sew now but with sequin fabric.
And while this secret makes sewing with sequin fabric a breeze, there are some other handy tips to keep in mind.
Before you Sew your Sequin Dress
Use a drop cloth
Sequins go everywhere when you sew a sequin dress!
So unless you want to be picking sequins out of the nooks and crannies of your house for the next century, put a drop cloth or blanket underneath your sewing machine and work area.
Find some older scissors
Prepare an old pair of scissors and make sure they are as sharp as possible.
A lot of seamstresses will tell you cutting sequin fabric ruins scissors.
While that's not strictly true, it does help to use an old pair of scissors unless you are planning on having your usual pair sharpened soon.
Cutting sequin fabric dulls, but does not ruin, scissors.
Use the correct needle
Your machine will sew through sequins.
Much online advice advocates using a special needle–such as leather-sewing needle.
However these needles can stick in the sequins as you sew through them.
So it's better to just use a long, sharp, hard needle of the best quality you can find.
Choose a simple pattern
The simpler your pattern, the fewer the seams.
Try a sequin skirt, a sequin tote bag–or even a cushion to liven up your sofa.
Once you gain experience and confidence, you can graduate to that haute couture gown you've got a hankering to make yourself.
While Sewing your Dress
Don't unpick the sequins
Don't remove or cut off the sequins along the seam allowance or within the darts.
If you've taken our advice about the one big secret to heart and are only using napless 2mm sequin fabric, then any kind of sequin unpicking is totally unnecessary.
And that is a huge relief.
If you've ever tried it, you know what a nightmare cutting off sequins one-by-one is.
How to line a sequin dress
The base fabric that sequins are machined onto is often a polyester net or other strong kind of fabric–and these can be uncomfortable worn against the skin.
So, with all wearable sequin items a lining is necessary.
If you're sewing a dress or skirt then it is possible to hand stitch the lining into the lower hemline once you're done. But it can also look just as good, and be a lot easier, to make the lining about one inch shorter than the sequin hemline and just let it float freely.
Don't use your sewing machine's serger
Sequins will become stuck inside the serger.
They will also dull the serger blades. Using a serger when sewing a sequin dress or any other kind of sequin item is not necessary and should be avoided.
Sew slowly
Sew a little more slowly than you normally would but otherwise, if you're using the smallest 2 mm size napless sequin fabric, sew as if you're using regular fabric.
There are no special techniques or other skills needed.
After-sew Sequin Dress Care
Keep a piece of sacrifice fabric
You've sewn up a storm and have a glamorous sequin statement or event dress to wear and be proud of.
But sequin fabric is a delicate material.
So keep a piece of sacrifice fabric, about 3 inches by 3 inches.
You may need to replace sequins that come off with use, or any sequins that dull in areas receiving particular wear.
So that you don't lose it, we recommend sewing this sacrifice fabric into an inconspicuous place between the lining and the sequin fabric.
Test before washing
Most sequin fabrics are better off dry-cleaned–although, because they are a specialty fabric, the dry cleaning costs are high.
With a piece of sacrifice fabric you can also test for color fastness.
If the sequins hold the color well, simply hand-wash your sequin item.
The best method is to use a delicates laundry liquid such as Woolite and cold water to gently bathe your item by hand.
Then rinse in cold water and dry flat.
You'll be able to sew reversible sequin fabric too
Remember the one big fabric secret? If you're using only real sequin fabric with 2mm sequins you'll be a sequin dress professional in no time.
You can even progress to 5mm sequin fabric (like the flip sequin fabric) and use all the same tips above.
We sew 5mm sequin fabric in the same way we sew 2mm sequin fabric.
There is no need to unpick sequins on the seam allowance or hand-finish the garment along the seams.
Sewing Sequin Fabric Conclusion
Plus some sequin fashion inspiration
Don't jump in unprepared with sewing sequin apparel.
By following our tips and hints, and starting with 2mm real sequin fabric, you'll become competent surprisingly quickly.
But just in case you get to the point where you wonder how on earth anyone ever gets a whole sequin dress made, check out these shimmering examples of the finished product.
And because sequin fabric is so plentiful nowadays, and comes in such variety, there is no end to the inspiration.
Or to what you'll be able to make.
And try sewing this sequin skirt!
Almost all the information about sewing with sequin fabric we came across online was overly complicated.
Except for this excellent YouTube video.
Melissa at Melly Sews makes short work of sewing a sequin skirt. And she uses the 2mm fabric we recommend.
Her techniques are fast, simple and practical.
Give it a try yourself–and happy sewing!