Stunning SILVER SEQUIN Dresses. Because this wardrobe staple never disappoints.
Everyone knows what an LBD is.
The Little Black Dress.
It's every girl's best fashion friend.
Because it is so versatile.
And if it is made up in black sequins then watch out!
Even more stunning.
Best of all?
You can color it any way you want just with your accessories of shoes, bag and jewelry.
But there's another staple wardrobe color that you should never be without.
The silver dress.
And silver looks best in sequins.
Silver is perfect for sequins.
Again, dress it with any accessory colors you like.
Have your silver sequin dress short and you will stand out from all the LBDs at the cocktail event.
Wear a long silver sequin gown and you will shine at any classy venue.
Be it a wedding reception hall, a rooftop bar on New Year's Eve, or even a ballroom.
If your silver sequin dress is very intricately beaded, sequined and crystallized, keep your coat, shoes and bag in a block color.
But if your dress is a plainer silver sequin, add even more personality with some colorful patterns on whichever accessories you like.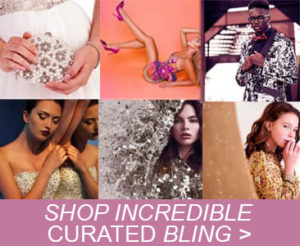 Here at the SequinQueen Sparkling Life Magazine we know your time is precious.
And the choices for silver sequin bling dresses utterly overwhelming.
So we've found the example of this glittering fashion staple we love best.
Find them all below.
Just for you.
Then browse even MORE amazing examples on our Pinterest board for silver sequin dresses.
1. Long Silver Sequin Formal Gown with V-Neck and Tie Back Dress.
2. Long Sleeve High Slit Silver Sequin Party Dress.
3. Long Sleeve Deep V-Neck Silver Sequin Short Dress.
4. Silver Sequins Spaghetti Strap Ruched Backless Dress.
5. Spaghetti Strap Silver Sequin Cut Out Stretch Bodycon Mini Dress.
6. Silver Sequin One Shoulder Bodycon Going Out Party Dress.
7. Silver Sequin Luxury Deep V-Neck Elastic Split Maxi Gown.
8. Luxury One Shoulder Split Stretch Style Long Gown.
9. Full Sequin Off One Shoulder Luxury Split Gatsby Long Gown.
10. Silver Sequin Long Wrap Stype Gown with Deep V-Neck and Long Sleeves.
11. Short Silver Deep Plunge Cowl Neck with Long Sleeves.
12. Silver Sequin One Shoulder Long Sleeves Plus Size Mini Dress.
13. Silver Sequin Cowl Neck Top with a Pull On Sequin Skirt Set.
14. Silver Mirror Sequin Maxi Gown with Long Sleeves and Open Back.
15. Silver Sequin Wrap Dress with Deep V-Neck, Long Sleeves and Hemline Fringe.
16. Vintage Silver Sequin Maxi Floor. Length Gown with Halter Neckline.
17. Draped Sequin Bodycon Dress in Nude Silver Sequins with Off the Shoulder Short Dress.
18. Silver Sequins Plunging Dress with Strap Top and Open Back Short Dress.
19. Silver Sequin Short Cami Bodycon Dress with Adjustable Straps.
20. Silver Sequin Mini Wrap Dress with Deep V-Neckline and Long Sleeves.
21. Silver Metalic Sequin Spaghetti Strap Dress with Open Back Short Dress.
22. Silver Sequin Short Dress with Long Balloon Sleeve.
23. Silver Sequins Mini Spaghetti Straps Party Dress.
24. Short Silver Hologram Sequin Dress with Bell Sleeves and V-Neck.
25. Silver Sequin Short Chainmail Design Backless Mini Dress.