Best Bling Home Decorating 2021. Because you kids should know by now that too much bling just isn't possible.
Spesh not in the privacy of your own home.
Now Miss Cee has been gifting all and sundry friends and fambly members with sequin cushions for YEARS. There is really no better go-to pressie for your nearest and sometimes dearest.
With the result that every Quin household looks like Aladdin's cave.
But in a very tasteful manner, natch.
But given the YUUUUGE array of sequin, rhinestone and crystal homeware available nowadays, Miss Cee is feeling the pressure to up her bling décor game.
Not for the rellies. Lord no. They've got more that enough, like I said.
But for the BLING ROOM.
The BLING ROOM is everything you imagine it would be. One room of Miss Cee Cee Quin's house given over wantonly to the decadent pursuit of bling furniture and home accessories.
BIG bling, poppets.
And a LOT of it.
Basically it's a room that stuns guests when the lights go on.
Literally stuns.
To the point of retina burn.
There's really no other option when you can have crystal chandeliers, rhinestone studded sofas, embellished mirrors, strass edged rugs, mirrored coffee tables and a million of the aforementioned sequined and bedazzled throw cushions.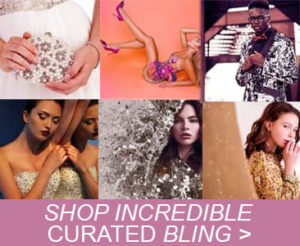 It's not a room for those with delicate constitutions.
But Miss Cee SURE does love it herownself. And that's who counts.
So browse SequinQueen's edited Instagram video inspiration, luvbugs. Go FEARLESSLY on your own bling homeware binge.
And once you've had your be-blinged fingers are itching to melt your credit card pop on over to our gorgeous section of amazing bling homeware ready to buy and ship right to your very own BLING ROOM.
1. Silver Coated Center Table with Rhinestones Inside The Table Top.
2. Elegant Pair of Bling Photo Frames with Rhinestones.
3. Crystallized Cross Wall Art with Rhinestones.
4. Best Bling Home Decorating 2021: Silver Sequin Long Shower Curtains.
5. An Iced Out Make Up Room Vanity Mirror with Rhinestones.
6. Bling-ed Out Champagne Bucket with Rhinestones For Your House Party.
7. Small Couch Pillow Covers with Rhinestones and Sequins.
8. Best Bling Home Decorating 2021: Amethyst and Rose Quartz Diamond Rhinestone Soap Dispenser.
9. Living Room Center Table Decor with Silver Candle Holders and Diamond Rhinestones.
10. Best Bling Home Decorating 2021: Blinged Out Living Room.
11. Glass Table Top Dining Table with Crystal Chairs.
12. Silver Accessories Tray and Tissue Box Holder with Rhinestones.
13. Add Extra Glam To Your Living Room with This Crystal Hanging Chandelier.
14. Pink Rhinestones with Butterfly Design Switch Board.
15. Best Bling Home Decorating 2021: Stunning Glass Wall Mount Mirror.
16. Stunning Silver Sequin Bed Spread with Crystal Hanging Chandilier and Table Lamps.
17. Stunning Wall Mount Glass Mirror with Rhinestones.
18. Living Room And Dining Table Tall Crystal Glass Flower Vase.
19. Silver Glitter Plates with Silver Napkin Rings Made with Rhinestones.
20. Wooden Coasters with Rhinestones For Your Bar Table.
21. Bling Out Your Kitchen with This Glittering Chopping Board and Champagne Bottle with Rhinestones.
22. Let Your Time Sparkle with This Wall Mount Clock with Rhinestones.
23. Best Bling Home Decorating 2021: Wash Basin Tap with Rhinestones.
24. Stunning Wall Mount Glass Mirror and Two Table Lamps with Hanging Crystals For Your Dressing Room.
25. Velvet with Crystal Pinned Bed Backrest with Hanging Crystal Lights in the Bedroom.