Where to buy fake nails with bling? Why on Amazon of course!
You don't need to spend a fortune at a nail salon for gorgeous blinged out fingernails.
And the acrylic nails on Amazon come in more variety than just DIY nails.
You'll find a myriad of pre-varnished press on nails with the crystals and rhinestones already applied.
Nothing could be simpler for upping your fingernail fashion game.
After all, fingernail art with bling is gaining traction as a true art form.
Here at the SequinQueen Sparkling Life Magazine we couldn't agree more. We've already published a curated collection of the incredible acrylic nail styles we love best.
Even Miss Cee is onboard. Being notoriously difficult to please she tends to favor nails with silk overlays for herself. Plus the nail varnish colors she likes are quite subdued. But she loves the glam new craze of nail rings.
What's not to love when you can add even more layers of bling to your fingers, or even you whole hand.
Happily there are ALL manner of stylish and dramatic appliques for your nails. So if you're unsure of nail rings or hand jewelry it's best to start at the top.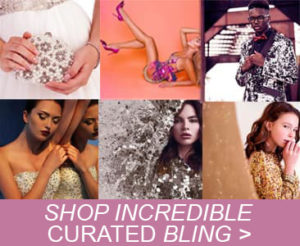 The top of your fingers that is. Or even your toenails, if the mood takes you. There are press-on nails for your toes too.
The kind of already made acrylic nails you can buy on Amazon with just a few clicks are definitely the easiest way to introduce yourself to heady world of nail bling.
Once your gain confidence and find the styles you like best you may even graduate to making your own bling fingernail designs!
If so take a look at the wild bling nails on our Pinterest boards. You'll find a ton of ideas and inspiration!
1. Where to Buy Fake Nails with Bling? 3D Marble Pink Glossy Extra Long Salon Party Wear Full Cover Nail.
2. 24pcs French Nude Ballerina Diamond Long Glossy Coffin Flash Fake Nails.
3. 3D Bling Glitter Pink Nude French Ballerina Coffin False Fake Nails.
4. Gradient Natural Press on Daily Office Finger Wear UV Nails.
5. 3D Rose Black Metallic Rhinestones Frosted Ballerina Coffin False Nail.
6. Ballerinas Matte Burgundy 3D Rhinestones Wine Red Pre-design Full Nail Tips.
7. 3D False Nails Bling Glitter Fake Full Nail Tip Imperial Crown Rhinestone.
8. Bright Neon Orange Press on False Nails 3D Diamond Extra Long Nail Tips.
9. 3D Bling Nail Art Jewelry Glitter Rhinestone Flower Decor Fake Nail Tips.
10. 3D Bling Nail Art Jewelry Glitter Rhinestone Pink Bowknot Decor Nail Tips.
11. Bling Crystal Rhinestone Full Cover False Press on Nails Tip.
12. Diamond Grey Marble Stone Pattern Press on False Nails Extra Long.
13. Extra Long Ombre French Jewelry Pre-designed Nails Natural Stiletto.
14. Press on Pedicure False Toe Nails Diamond Bling.
15. Exquisite Bling Rhinstones Bridal Fake Nail for Toes Full Cover.
16. French Blue Ballerina Diamond Long Glossy Coffin Fake Nails Press on.
17. Hot Pink French Press on Nails Extra Long Fake Nails with Rhinestones.
18. 3D French False Nails Shiny Extra Long Pointy Bling Strass Press-ons.
19. Rose Hot Red Nail Long Sharp Curved Head Fake Nails with Rhinestones.
20. AB Rhinestones Frosted Fake Nails Press for Daily Use.
21. 1840pcs Rhinestones Nail Art Set with Gems Iridescent Clear Class Multi-Shape Tips.
22. 10 Pcs Rhinestones Crystal Rhinestone Nail Art Manicure Pedicure Kit.
23. Ballerina Fashion Party Press on Nails with Rhinestones.
24. Glossy Press on Red Rhinestone Long Oval Glitter Fake Nails.
25. 24Pcs Oval False Nails Bling with Rhinestone Press Ons.