Best Hip Hop Bling on Instagram 2021 will have your street cred OFF the charts just by looking at it.
Miss Cee's loyal stalkers fans have long known her weaknesses.
30 to 40 lattes per day.
Ruinously expensive bling coupled with a penchant for poor decision making in jewelry stores.
And Hip Hop stars. Spesh if they're partial to some big bling grillz.
In fact, hip hop wannabes will do just fine too.
Think you can rap? Great. Got your lewk sewn up yet?
Well here at the SequinQueen Sparkling Life Magazine we've got all shades of hip hop help for up and coming rappers.
From TDF curated men's bling in general in our ULTRA shimmery shop.
To FULLY iced out watches.
Even bling baseball hats.
After all there's no such thing as too much bling. You wanna make the big time, you've gotta get noticed, kids.
You've run around like a berserk bower bird and picked up all your bling. So what's next?
Stylin', luvbugs.
STYLIN'.
Miss Cee doesn't have the first clue about what does and does not pass for thot, hawt or just plain hot hip hop looks.
And neither does anyone else in this bling obsessed office.
Rappers are pretty thin on the ground here at SequinQueen.
Unfortunately.
So Yours Truly did what she does best.
Ordered a latte, which Min brought WAAAAY too slowly. And cracked the bejewelled office whip till the best Hip Hop bling on Instagram miraculously appeared.
So cast your shine-hungry eyes below for all the style cues you will ever need to make yourself into the hip hop hottie you KNOW you are.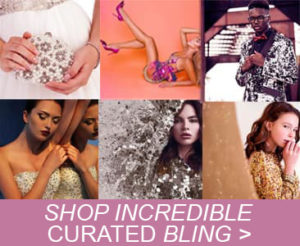 And check out our SMOKIN' HOT Hip Hop bling board on Pinterest too.
Once last quick thang. You may have read SequinQueen's bling style rules about how to wear bling in a way that is not too OTT.
FORGET those style guide rules for your hip hop bling look.
The MORE bling the better. Go for gold.
Literally.
1. Gold HipHop Tennis Bracelets with Glittering Rhinestones.
2. Hip Hop Star Baguette 10K Gold Ring with Round Full Cut SI Diamonds.
3. Bling Young Money Necklace Pendant with Glittering Rhinestones.
4. Iced Out New Drops with Baguettes Diamond HipHop Pendants.
5. BEST HIP-HOP Bling on Instagram 2021: Iced Link Hip Hop Chains.
6. Iced Out 14K Diamond Rings Collection.
7. Locked and Loaded Glittering Hip Hop Jewels and Watches.
8. Glittering Flawless Tri-Color Diamond Grillz.
9. Blinged Out Gold and Diamond Pendant with Rhinestones.
10. Ski Mask Shows Off His Glittering Puzzle Chain Pendant.
11. OHB Young Money Shows Off His Shimmering Chain and Pendant.
12. HipHop BSF Pendant with Rhinestones.
13. Glittering Diamonds on a Gold Link Chain with Pendant.
14. Hard Baby Shows Off His Glittering Hip Hop Jewellery.
15. Elegant Crucifix on Watch Chain with Iced Out Dial.
16. Spin The Wheel Diamonds Pendant with Gold and Shining Rhinestones.
17. Rhinestones Embellished 'Cigarette' Holder.
18. Lil Baby Icing Out Rylo with a Glittering Gold Link Chain and Pendant with Shining Rhinestones.
19. Hip Hop Pup in Shimmery Chain and Dog Face Pendant.
20. Iced Out Custom Made Pendant and Chain Links with Rhinestones.
21. Johnny Dang's Best Bling Teardrop Diamond Implanted Near the Eye.
22. BEST HIP HOP Bling on Instagram 2021: Twinkling Iced Out Grillz.
23. Kodak Black Shows Off His Glittering Grillz and Hip Hop Jewels.
24. Lil Uzi Vert Has a $24 Million Pink Diamond Implanted in His Forehead.
25. BEST HIP HOP Bling on Instagram 2021: "Dior" Iced Out Shiny Necklace Pendant.