Best Met Gala bling. Because bling fashion just does NOT get any weirder or more wonderful than this.
Quite a lot of peeps are perplexed by the Met Gala and the outlandish costumes.
And lordy knows Miss Cee sure can understand why.
For a start
It looks like a convention for every single one of Effie Trinket's long-lost relatives.
And then there's the unashamedly elitist atmosphere. It's SWIMMING in celebrities and Noo Yawk bigwigs. Plus it's considered THE social event of the year in New York City.
Unless you're invited, tickets cost about $30000 EACH with about 600 being available.
Actually, tickets used to cost just $20000 each but the organizers decided to jack the price up 50% in order to make the event even MORE exclusive.
Reading between the lines that mean nouveau riche types who deplete the free bar by 6:15 p.m. are no longer welcome.
Yes, it's a fundraiser.
But it's not benefiting the underprivileged. Or the planet.
Or Miss Cee.
Instead, funds raised go to the Metropolitan Museum of Art's Costume Institute. The selfsame institute of which Anna 'Nuclear' Wintour is the chairman.
Yes, she of The Devil Wears Prada fame and a woman so HANGRY-looking that chair legs quiver when she passes.
The theme of the ball changes each year. And by theme Miss Cee means some cryptic crossword style confusion.
They could make it simple and have a theme like 'Girl Scouts' or 'Inebriation'. Maybe even something like 'Black and White.
Oh, hang on. That's already been done by Truman.
But no. Nothing so simple. Past Met Gala themes include 'Manus x Machina', 'Art of the In-Between' and 'Impossible Conversations'.
Frankly, Yours Truly finds EVERY conversation impossible till she's three drinks in. Can't imagine having to bling up along those lines.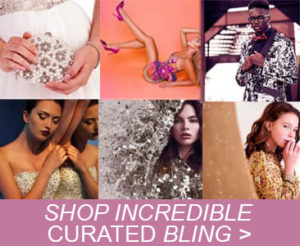 But to be fair the theme DOES relate to a fashion-related exhibition curated specifically by the Met for the night, and then open to the public for a limited time after.
But you may be just like us and not really care what the background of the Met Gala is. Instead preferring to just get lost in the sheer spectacle of it.
Here at the SequinQueen Sparkling Life Magazine we confess we LOVE looky-looing at all the incredibly inventive uses for bling.
So enjoy some of the best Met Gala lewks we've curated for you below.
If you're craving more take a gander at our Pinterest Met Gala Board packed full of astounding museum quality bling.
And for an inside look at the sumptuous venue for the gala read this excellent article by Architectural Digest.
That's about as 'insider' as you're going to get, chickadees. With a selfie and social media ban strictly enforced each year since 2015, what goes on during the night remains hidden from mere mortals like us.
1. Best Met Gala Bling: Gwen Stefani Wearing a Beautiful White Bodice with Colorful Gems and Rhinestone Embellished with Fishnet Stockings.
2. Joan Smalls in a Long Black Sequin, Bead and Mesh Gown with Long Sleeves and Head dress.
3. Candice Swanepoel Wearing a Long Off The Shoulder Rhinestone Dress with High Slit.
4. Kendall Jenner in a Versace Orange Long Gown with Deep V-Neck and Embellished Sequins and Rhinestones and Feathered Hemline.
5. Gigi Hadid Wearing a White Long Sleeves Jumpsuit with Sequin Embellished Long Coat and Head Dress.
6. Emily Blunt in a Michael Kors Collection Long Sleeves Gold Sequin Gown Inspired with Flowers Design and Floor Length Train and Deep V-Neck.
7. Mindy Kaling Wearing a Long Gold Sequin Gown with One Shoulder with Bow Tie up and Side Slit.
8. Celine Dion Shows Off a Long Sequin Silver Gown with Deep V-Neck and High Slit which has Sequins and Beaded Fringes.
9. Katy Perry Wearing a Silver Off The Shoulder Sweetheart Neckline Bodice with a Chandelier Head Dress.
10. Best Met Gala Bling: Alicia Keys Wearing a Long Peppermint Green Sequin Gown with Long Train, Hood and Deep V-Neck.
11. Ciara Wearing a Dundas Long Emerald Green Gown with Sequins and Embellishments and High Slit.
12. Gemma Chan Wearing a Tom Ford Long Sleeves with Deep V-Neck Silver Crystal Gown and Cape.
13. Miley Cyrus in a Saint Laurent Off The Shoulder Mini Dress in Black and Green Sequins with High Pumps.
14. Emma Stone Wearing a Louis Vuitton Long Sleeves with Deep V-Neck Sequin Silver and Black Jumpsuit.
15. Best Met Gala Bling: Beyoncé in a Givenchy Long Sleeves High Neck Gown with Embellishments and Pearls.
16. Kim Kardashian in a Balmain Long Sleeves, High Neck and On The Thigh High Slit with Silver Sequin and Pearl Gown.
17. Chloë Grace Moretz Wearing a Coach 1941 Long Black Sleeveless Gown with Deep V-Neck and Train Hemline.
18. Poppy Delevingne Wearing a Marchesa Long Sleeveless Gown with Beads, Rhinestones and Gems with Clutch.
19. Hailey Baldwin Wears a Long Sleeves High Neck Black and Silver Stripe Gown with High Slit.
20. Demi Lovato in a Moschino Long Off The Shoulder Short Sleeves Gown with Silver Sequins and Train Hemline.
21. Kate Upton in a Topshop Silver Sequin Long Gown with One Shoulder Sleeves and Train Hemline.
22. Jennifer Lopez Shined Bright in Her Silver Fringe Beaded Versace Dress Featuring a Sky-High Slit, Plunging V-Neck and Beaded Wig.
23. Kylie Jenner Wearing a Balmain Long Sleeves High Neck Jeweled Gown.
24. Kate Bosworth Wearing a Dolce & Gabbana Long Sleeveless Embellished Jeweled Gown.
25. Best Met Gala Bling: Elton John Wearing a Black Jacket with Formal Gold Metallic Pants.