Best bling watches on Instagram. Because these days a watch of any kind is SO extra.
And a watch that also has a whole passel of bling on it is EXTRA extra.
The very best aspect of owning a rhinestone, crystal, diamond or otherwise bejewelled watch is a practical one though.
All you darling chickadees know Miss Cee Cee Quin is not one for practicalities.
Theatrics, dramatics and prismatics are more usual.
Yes, poppets, even in the hallowed offices of SequinQueen.
Well, the staff does need to be kept on its collective toes.
Which reminds moi. Where IS Min with my 2:45 p.m. latte?
She's late with my latte.
Again.
No wonder my thoughts keep wandering.
Were we discussing diamonds?
WATCHES.
And the surprising practicality of BLING watches.
No watch glistening with bling EVER needs to be wound.
Or have a dead battery changed.
It doesn't matter what time the motionless hands are stopped at.
Why?
Because anyone looking at your watch will be too bedazzled by the shimmering bling to see the actual time.
Crystallized and gem bedecked watches are JEWELRY rather than timepieces.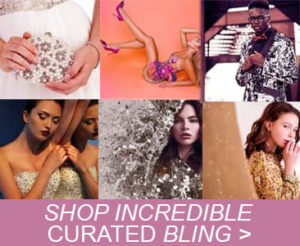 Here at the SequinQueen Sparkling Life Magazine we LOVE bringing you best of bling from all corners of the Internet.
Our curated Instagram videos below showcase the some of THE most amazing horological bling available. From elegant period watches to modern marvels with complications up the wazoo.
Plus see some more incredible examples of watch bling on our Pinterest watches board.
1. Best Bling Watches on Instagram: The Astronomia Tourbillon Baguette Multicolor Sapphires from Jacob & Co.
2. Cartier Two-Tone Watch with Metal Strap and All Over Rhinestones.
3. Rolex Watch with All-over Diamonds and Silver Tone.
4. An Apple (iWatch) a Day Keeps the Doctor Away.
5. Damiani All-over Two Tone Rhinestone Dial with Leather Strap Watch.
6. Audemars Piguet Royal Oak Watch with All Over Crystal Dial and Black Straps.
7. Jacob & Co Twin Turbo Furious Baguette Watch with Crystal Gems Dial.
8. Beautiful Ladies Watch with Rhinestones Dial and Beaded Strap.
9. Jacob & Co Metal Watch with Multi-Color Rhinestones on Dial and Metal Strap with Rhinestones.
10. All Over Diamonds Watch with Metal Strap.
11. Audemars Piguet Metal Watch with All Diamonds Dial and Link Straps.
12. Jacob & Co. Brilliant Flying Tourbillon Baguette Rubies on Dial Watch with White Strap.
13. Graff Diamond Halo on Watch Dial with Black Straps.
14. Jacob & Co Fully Iced Out Watch with Clear Diamonds.
15. Glenn Spiro's Lotus Flowers Designed Watch that Opens to Reveal the Time.
16. Men's Silver Metal Watch with All Rhinestones and Matching Bracelet.
17. Audemars Piguet Gold Embellished Rhinestones Metal Strap Watch.
18. Two-Tone Rolex Watch with Date In Champagne Dial and Metal Straps.
19. 18k White Gold Case and Bracelet Watch Paved with Invisibly Set Diamonds.
20. Best Bling Watches on Instagram: Round Dial with Dual Tone Diamond Strap and Matching Bracelets.
21. Fiji Blue Cartier Watch with Square Dial and Metal Link Bracelet Straps with Rhinestones.
22. Luxurious Rolex Watch with Round Blue Dial and Diamond Embellished Straps.
23. Custom Rose Two-Tone Royal Oak Round Dial Watch with All Diamonds and Bracelet Strap.
24. Audemars Piguet Gold Tone Round Dial with Diamond Halo and White Straps.
25. Rolex Round Dial with Metal Link Bracelet Straps and Diamond Embellished Watch.