Shop Amazon's best pet bling. Because pets are people too and want to sparkle just as much as you do.
Pet owners know their little darlings have their own personalities.
Likes and dislikes.
Quirks and endearments.
Anyone who thinks pets don't have feelings and emotions has never spent much time around animals.
In short, there's not much difference between pets and people.
Though people do tend to be nastier just for the sake of it.
Unfortunately.
So let's concentrate on animals.
Specifically the animal you may have in your own home.
Your dog. A cat. Maybe a bird or some fish.
Here at the SequinQueen Sparkling Life Magazine we don't want you to ever be without bling and that goes for your pets too.
So if you have some money to spend on your best friend why not add some glam and glitter to their day?
After all their lives are shorter than ours.
Unless you're a Galapagos tortoise.
And not too many people have those at pets.
By far the most well known form of pet bling is pet clothing embellished with sequins, beads or crystals.
But bling for your pet also comes in a whole universe of accessories.
And most of the world's best and most reasonably priced pet bling can be found on Amazon.
You might fancy a cats' or dogs' rhinestone encrusted food bowl.
Or maybe a too cute blinged out bow for styling long hair.
A crystal encrusted collar is also a popular type of bling for all sorts of pets.
Maybe not for birds or fish though.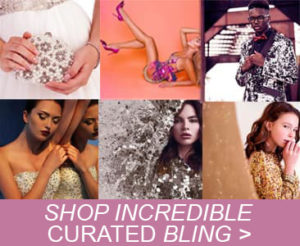 So you'll need some handy suggestions from the sparkly people at SequinQueen who live, breath and sometimes even eat bling.
We've scoured Amazon to bring you the best bling we can find.
Yet again.
And this time for your pet.
And if you still don't think your pet understands bling just buy some for them.
You'll get all kinds of appreciation.
Well, maybe not from your cat. But your dog will be thrilled.
If you need even more bling pet inspiration find heaps on our shimmery Pinterest pet bling board.
1. Shop Amazon's Best Pet Bling: Soft Adjustable Sparkling Jeweled Pink Necklace Puppy Collar.
2. Pet Holiday Accessories Dog Christmas Collar with Bells.
3. Iced Out 4 Pieces Rhinestones Cat Collars.
4. Blingy and Sparkly Rose Gold Rhinestone Dog Collar.
5. Shop Amazon's Best Pet Bling: Handmade Bling Rhinestones Stainless Steel Pet Bowls Double Food Water Feeder.
6. Bling Crystal Bone Shaped Pet Waste Bag Dispenser.
7. Black Sequin Pet Hat Cap with Bow Tie.
8. Round Crystal Rhinestones with Pretty Paw Print Pet ID Tag.
9. Shop Amazon's Best Pet Bling: Sequin Crown Elastic Headband Hair Accessories with Bow Tie.
10. Pet Costume Ballet Flower Bling Sequins Princess Tutu Tulle Skirt.
11. Shop Amazon's Best Pet Bling: Sequin Devil Dog Costume.
12. Fifteen Pairs Dot Rhinestone Pet Dog Hair Bows W/Rubber Bands.
13. Soft Suede Rhinestone Leather Dog Harness Leash Set.
14. Soft Suede Leather Bling Rhinestone Jeweled Collar Leash Combo Set.
15. Shop Amazon's Best Pet Bling: Mardi Gras Sequin Necktie Pet Costume.
16. Small Medium Dogs Frog Hair Clips for Grooming.
17. Four Pieces Pet Rhinestones Necklaces with Crystal Heart.
18. Shop Amazon's Best Pet Bling: Pet Dog Clothes for Small Dogs and Cat Outfit.
19. Rhinestone Dog Collar with Full Bling Crystals.
20. Shop Amazon's Best Pet Bling: Fashion Pet Dog Bow Tie with Sequins.
21. Custom Engraved Personalized Gold-Plated Bone Shape with Swaroski Crystals.
22. 2-Piece Dog Pearl Collars and Pet Pearl Necklace Set.
23. Shop Amazon's Best Pet Bling: Pet Necklace Adjustable Pet Collar.
24. Princess Suspender Layered Dog Dress Tutu Gauze Skirt.
25. Shop Amazon's Best Pet Bling: Unicorn Tiered Layer Tutu Tulle Dogs Birthday Party Dress.
26. 5 Rows Full Sparkly Crystal Diamonds Studded PU Leather Dog's Collar.
27. Custom Bling Pet Animal Collar with Name and Charms.
28. Rhinestone Luxury Pet Puppy Dog cat Hairpin Hair Bows Tie.
29. Bling Rhinestone 30 Colors Combination Dog Bow Tie Diamond Dog Flower Collar.
30. Dogs Harnesses Vest Bling Rhinestone Bowknot Dog Accessories.
31. Gold Dog Chain Collar with Secure Buckle with Ice-Out Cubic Zirconia Stones.
32. Dog Collar Bows and Flowers Bling Attachment for Girls Puppies and Cats.
33. 3 Rows Rhinestone Pet Collar with Diamonds Necklace Heart Pendant.
34. Tutu Flower and Sequin Dot Wedding Lace Dress for Small Dogs.
35. Beam Waist Pet Costume Dog Skirt Satin Camp.