Cara Delevingne Rocks (in) Sequins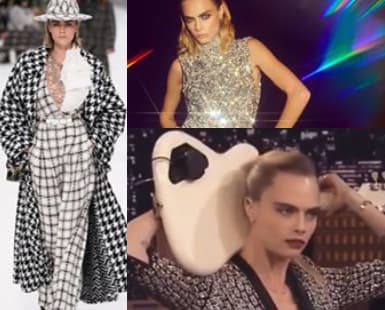 Pixie-esque British model and actress Cara Delevingne, known for her work with Chanel and friendship with the late Karl Lagerfeld, loves wearing sequins and knows how to rock a sequin look. In fact, Cara knows how to rock in a sequin look.
Cara strutting in Coco Chanel's favorite colors
Cara recently appeared on The Tonight Show Starring Jimmy Fallon in a black, crystal-embellished neckline-to-the-waist Azzaro Couture blazer mini dress. The eagle-eyed duo at Tom+Lorenzo have a plethora of perfect screen caps showing off the dress, and Cara, in all shimmery glory.
Azzaro, while not as well known in the U.S. as other European haute couture fashion houses, nonetheless works sequins, beads and crystals with charismatic skill, as their current collections attest.
According to the Shoe Gurus at FootwearNews, Cara accessorized with Aquazzura satin and crystal pumps.
Cara Delevingne doing the rounds to promote her Amazon show Carnival Row
Taking time out from the usual talk show banter, Cara played "Sweet Home Alabama". On an electric guitar. Behind her head.
And Cara's not a stranger to letting a tune rip with Jimmy, having previously beatboxed in Balmain beaded palazzo pants.
More talk show sparkle, in a sequin and bead embroidered jacket
Cara's many historical sequin, bead and crystal clothing statements testify to her love of glam with a touch, or more, of glitter. But her fashion sense is ever-evolving, with Ms. Delevingne unafraid to take risks and step out looking fearlessly fashion-forward.
Transparent flat sequins and a transparent skirt. Cara Delevingne in David Koma
---
---
Links to shopping partners support our website at no extra cost to you.
If you enjoyed this post please share us: