5 Pieces of Bling on Steroids by Fenty and Rihanna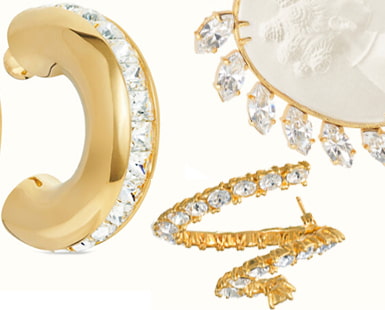 But first the bad news. Miss Cee can take or leave the Fenty clothing line. The Fenty jewelry line, however, is as big, bold, brassy, ballsy and blingy as Rihanna herownself.
Rihanna partnered with LVMH
Ever since Robyn Fenty got out her umbrella-ella-ella, Yours Truly has been a die-hard fan. And if you've NOT been living under a rock and/or had your internetta-etta-etta disconnected, you'll know by now that Ri-Ri, in conjunction with LVMH, released a line of both beauty products and fashion under the Fenty label.
---
---
Fenty Beauty, trading commendably on inclusivity, launched with a range of makeup concealers in forty shades in 2017. The prices were reasonable, and therefore also inclusive.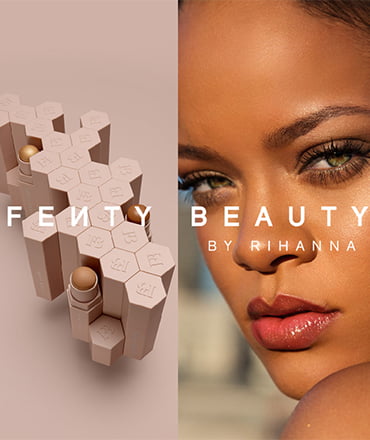 Fenty Beauty's makeup has done big business
In 2018, according to the fount-of-all-knowledge-any-damn-fool-can-edit (Wikipedia, if you're not keeping up) Fenty Beauty did an astounding $570 million in revenue.
So why they've also produced a line of clothing and accessories under the 'House of Fenty' label is UTTERLY bewildering.
The saving grace of Fenty fashion is the jewelry
Now git out yer crayons and write this skoolin' down, kids. Miss Cee's hard and fast rule about artwork is, NEVER buy a painting that looks like you could have slapped it out yourownself. And the same applies to fashion. Spesh if it also costs hundreds of dollars. And is a t-shirt.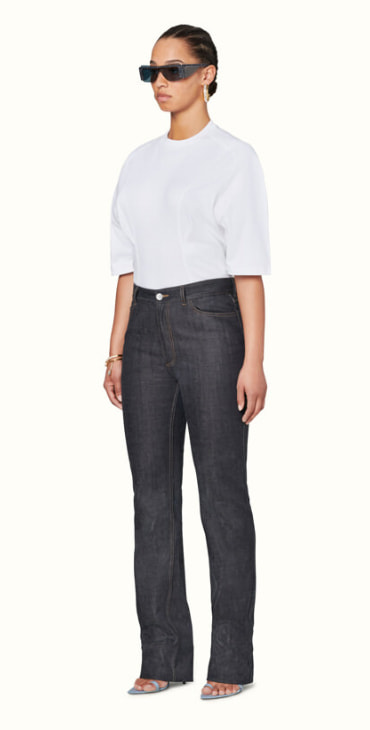 Fenty denim straight-fit pants plus corset t-shirt. Yours for only US$ 650
And yes, Fenty's parent company, LVMH, has to keep up appearances and can't be thrifting with price. But HONESTLY.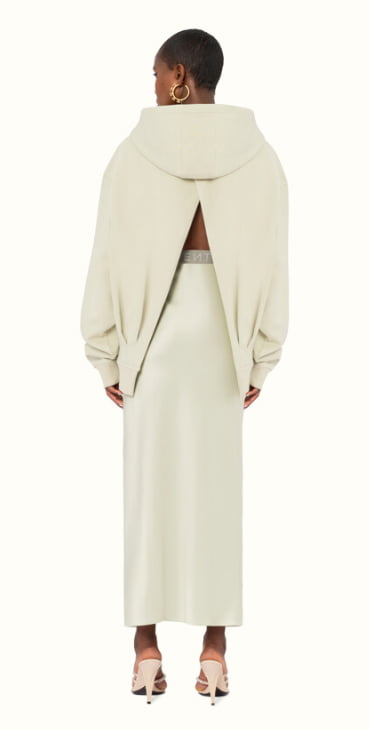 Fenty open back hoodie. EVERY draft is gonna find you
To make matters worse, the nimble fingers at the House of Fenty fashion must not have got the Fenty Beauty memo about inclusivity. Because not only is their fashion pricing prohibitive, but the website also forgets inclusivity is as much about body size and shape as ethnicity and skin tone.
---
---
Appaz this current Fenty clothing and jewelry collection embraces the 'joy of dressing in haste'. Not sure about you poppets, but Miss Cee is trying to recall ever NOT dressing in haste–with haste, in this case, being the very opposite of joyful.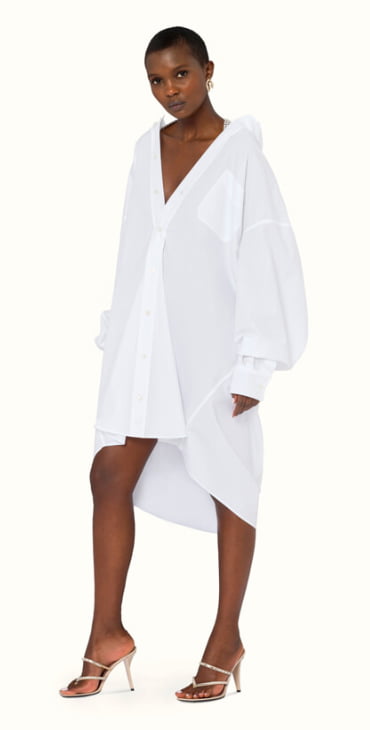 Fenty shirt dress. Undeniably well-made but oversized pieces are hellannoying to wear
Praise the lordy lord, there IS one bright note for Yours Truly on the Fenty fashion online store though.
The jewelry.
Fenty jewelry is big, boisterous bling
While the prices for their costume jewelry are similarly off-the-charts for a fashion house whose artistic director isn't a bona fide designer, fortunately for Fenty, if you wave something shiny in front of one Cee-Cee Quin, price be damned.
Fenty costume jewelry earings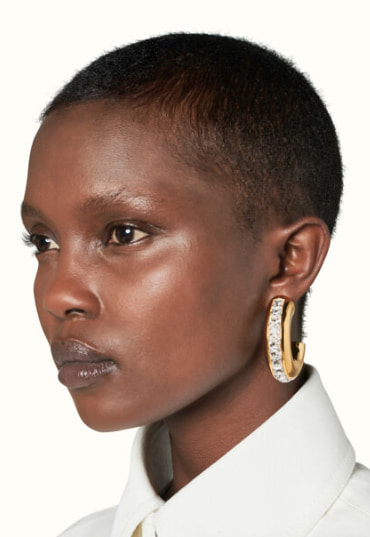 Fenty half-glazed hoop earrings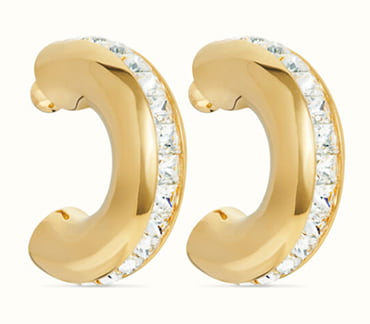 Fenty half-glazed hoop earrings close up
Get in line, chickadees, Miss Cee saw these oversized, square-Swarovski-crystal-embellished offerings to the Goddess of Bling first. While understated jewelry has its time and place, at other times, in other places, you just want to project an I've-got-the-biggest-earrings-in-the-room-so-don't-eff-with-me-vibe.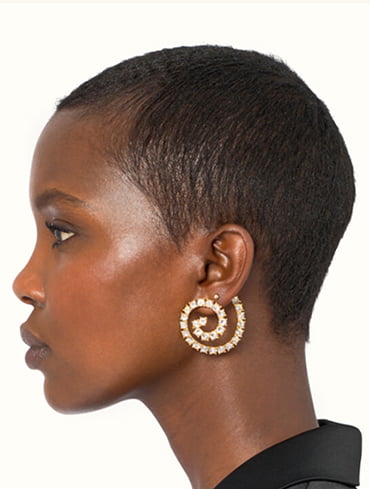 Fenty fashion spiral earrings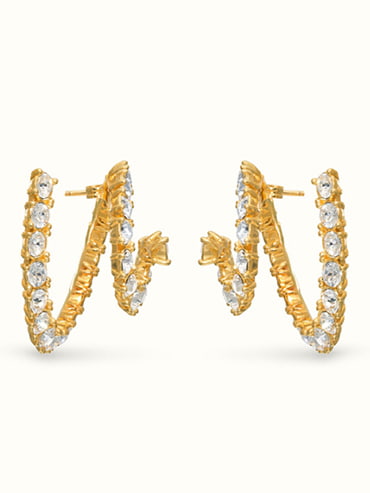 Fenty spiral earrings side view
Bet you thought these Swarovski crystal earrings in gold-tone where just yer run o' the mill spirals.
Nup.
As the side view shows, the shape, based on the curves of a shell, allows the earrings to sit behind the earlobe AND project out from it. Note to self: remove if in any danger of actually doing sports or picking up a child.
Fenty jewelry hat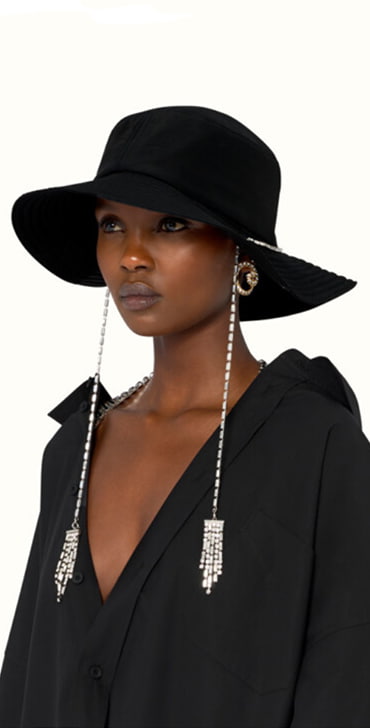 Fenty black tie bucket hat. Though ditch any earrings if wearing
THIS is the hat Miss Cee was born to wear. BORN to wear. The chain, in various sizes of crystal, is detachable and modular. So you can wear the chain as a necklace, as a necklace attached to the hat, or just hanging from the hat as shown.
---
---
Mercifully, instructions ARE included. Let's hope Min can work them out for Miss Cee who, none of yorl should be surprised to learn, is HOPELESS with anything from a suggestion and up.
The only possible drawback to this heroic hat–if you're wearing it with the crystal chain wrapped around your neck while you blaze all kinds of trails–is that it'll choke the life RIGHTOUT of you if'n you inadvertantly stumble into a tornado.
Fenty jewelry cameo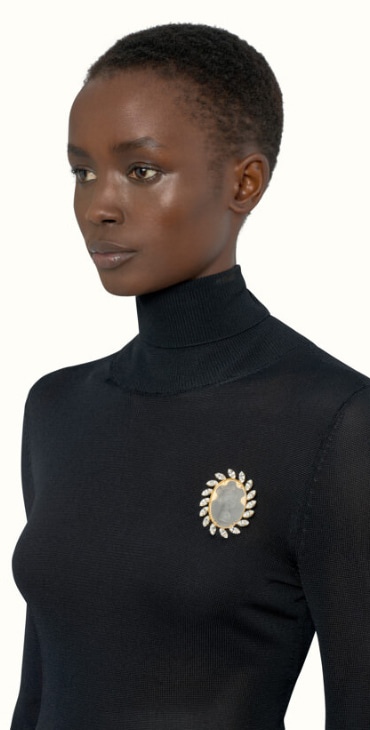 Fenty transparent resin and crystal cameo brooch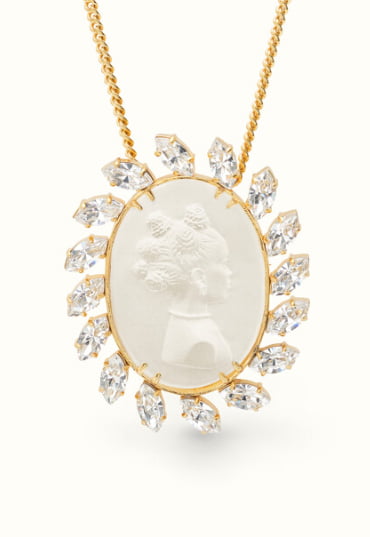 Able to be worn as a pendant on its gold-tone chain too
The still-very-much-with-us Grandma Quin is a fan of cameo brooches. And Miss Cee confesses to lusting after them in the past and wishing they would come back as a jewelry option. So, POOF! Wish granted.
The jaunty offset of the marquis-shaped Swarovski crystals updates the concept beautifully, as does the queenly pose of the brooch's subject in transparent resin.
Fenty Sunglasses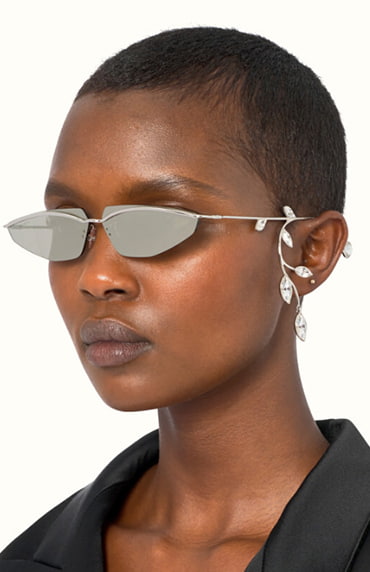 Fenty side-eye sunglasses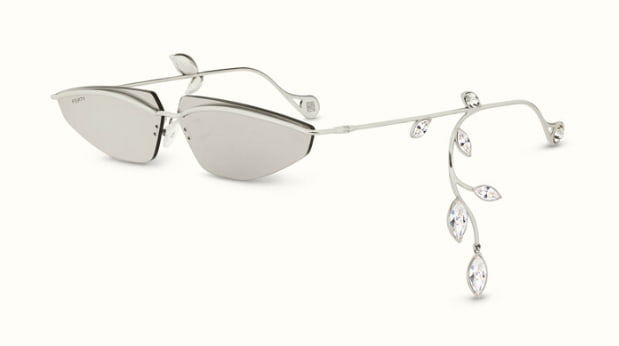 Inspired by ear cuff jewelry, these Fenty butterfly sunglasses in silver tone metal and Swarovski crystals are worn to best effect if you have short hair. And successfully getting more bling where you might not expect it ALWAYS gets the Miss Cee Seal of Approval.
---
---
Virtual-try-on these glasses today with your phone through the Fenty website, just in case you're somehow unsure if more bling will look amazeballs on you or not.
Conclusion
Fenty COULD stick to makeup. And possibly a side line of jewelry, shoes and bags. But they're full-steam-ahead on the ever-exhausting full-fledged fashion house merry-go-round.
The current collection plays with shape and form in interesting ways, especially with their oversized costume jewelry peices. And they ARE just staring out. Whether they can produce fashion that makes that hauty world sit up and take notice is yet to be seen.
But they've got the success of Fenty Beauty, and the VERY deep pockets of LVMH to back them while they give it a shot.
Just maybe, then, Fenty also doing fashion is NOT as utterly bewildering as Miss Cee first thought.
---
---
All image credits; LVMH and Fenty.com
---
Links to shopping partners support our website at no extra cost to you.
If you enjoyed this post please SHARE SequinQueen :