Best Bling Beyoncé Videos. Instagram is chock full of little Bey-Know shaking her bedazzled bootie.
Any why?
Because no one does bling like Beyoncé.
Well, maybe not NO one.
At the SequinQueen Sparkling Life Magazine they may have forced a certain Miss Cee Cee Quin into conceding her crown as THE Queen of Bling.
Perhaps that WAS a tad hasty.
After all no one knows bling like Yours Truly, poppets.
However Beyoncé is all kinds of sequin, bead and crystal stylin'.
ALL kinds.
There's no denying that.
And when Beyoncé brings the big bling guns out on stage, Glitterists the world over know they are in for a TREAT.
So prepare to be amazed at the shimmering lewks Beyoncé is serving and which Miss Cee has commanded be curated into this shining list.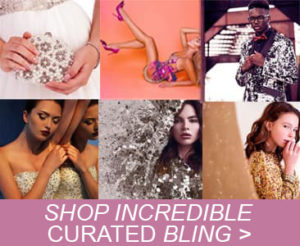 That's right. The best bling Beyoncé videos from Instagram.
Just for YOU.
But if you're feeling a little nervous about your own bling know-how after watching a queen at work, you're not alone, kids.
Follow SequinQueen's bling style rules to make sure you do yerownself proud with your bling clothing and accessories.
1. Beyoncé in a Skin Toned Long Sleeves Leotard with Glittering Chunky Rhinestones.
2. Beyoncé Wearing a Long Sleeve Orange Crystal Suit with a Tie-up Bow Belt.
3. Bling Multi-Color Sequin Gown with Puff Sleeves and Flower Motif.
4. Beyoncé Wearing a Crystal Over-Skirt with Choker, Hoop Earrings and Rhinestone Sunglasses.
5. Beyoncé Wears a Two Piece Crystal Bikini Fringed in White Bead Strands.
6. Beyoncé Wearing a Glittering Fuchsia Long Sleeve Sequin Jersey.
7. Beyoncé Wearing A Sleeveless V-Neck Gold Crystal One Piece with Oversized Bow.
8. Beyoncé Wearing a Blue Long Sleeves Mirror Leotard.
9. Beyoncé Shines in a Sparkling Silver Crystal and Bead Bodice with a Glittering Face Mask.
10. Beyoncé Performs in a Deep V-Neck Long Sleeves Embellished Grey Leotard.
11. Beyoncé Wears a Sequin Trim V-Neck Handkerchief Top with Sequin Booty Shorts.
12. Beyoncé in a Yellow Pullover with Sequins and Shiny Knee High Boots.
13. Beyoncé Looks Queenly in an Animal Print Sequin Jumpsuit.
14. Beyoncé Wearing a Purple Sequin Suitcoat with Black Lapels.
15. Beyoncé Singing in a Black and Gold Sequin Long Sleeves Mini-Dress.
16. Beyoncé Wearing a Shiny Yellow Leotard with Above The Knee Patent Leather Boots and Yellow Fur Coat.
17. Beyoncé in a Black Long Sleeves Suit Gown with Heavy Crystal Adornments.
18. Beyoncé Performing in a Black and Gold V-Neck One Sleeve Sequin Leotard.
19. Beyoncé Wearing a Shimmering Sequin Jersey Leotard.
20. Beyoncé in a Black and Yellow Hanging Sequin and Beaded Tassel Bikini.
21. Best Bling Beyoncé Videos: Beyoncé Wearing a Deep V-Neck Sleeveless Short Gold Gown with Bejewelled High Heels.
22. Beyoncé Dances in a Long Sleeves Silver Sequin and Beaded One Piece.
23. Beyoncé in a Padded Shoulder Silver Crystal Long Sleeves Wrap Top.
24. Best Bling Beyoncé Videos: Beyoncé Sings in a Lilac Long Sleeveless Gown with a V-Neck and Embellished Rhinestones on the Waist.
25. Beyoncé Wears Her a Versace Medusa Emblem Rhinestone Studded Leotard with Gold Headpiece.