Sequin Skirts for the Office ARE doable. In fact they make a perfect fashion forward addition to your workwear wardrobe.
Do you love our tips about how to wear sequins at work but are stuck for clothing ideas?
Our curated selection of sequin skirts (an easy essential to get started with) will add some pizzazz to your working day.
1. Sequin Skirts for the Office: Sequin High-waisted Pencil Skirt from VIJIV
An elegant cut, perfect for the office. Comes in a variety of colors but the burgundy and what VIJIV call gold (but we'd call metallic tan) are both muted and eyecatching.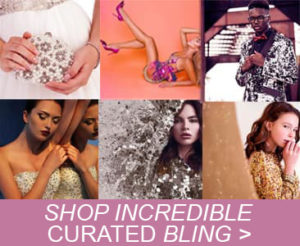 2. Sequin High Waist Flared Midi Skirt from PrettyGuide
Pink, but in a dusky hue and shot-through with highlight sequins. This feminine style has an elastic waistband for comfort.
3. Multicolored Striped Skirt from ECI New York
You'll get complimented in this heavenly horizontal piece. Zipper closure and machine washable, in addition to being fabulous. The colors are muted and the pattern low-key enough for the office.
4. High Waist Sequin Pencil Skirt from PrettyGuide
Matte Champagne color is pure understate glamour for work. The sequins are applied in a vermicelli pattern. Concealed zipper and stretch lining add to its charms.
5. Sequin Skirts for the Office: Sequin Mini Skirt from MANER
Metallic silver, rose gold and coffee are a triumphant trio on this divine skirt. If the length is okay for your office, pair with a coffee-colored satin blouse and accent with silver accessories.
6. High Waist Ruffled Pencil Sequin Skirt from PrettyGuide
Able to be paired with any other color, you can't go wrong with classic black for the office. This skirt has an elastic waist and a concealed zipper to help the skirt hug your curves better. Comes in a richly dark green, black-gold and burgundy also.
Sequin Skirts for the Office Conclusion
Sequin skirts upgrade office dull to office chic.
Has this taster has whet your glitter appetite?
Check out SequinQueen's Women's Bling section for hundreds more curated sequin fashion statements.
All of them perfect for your workday.