Miss Cee's Weekly MUST-Haves. Sequin Holiday Gifts and More! December 2nd 2019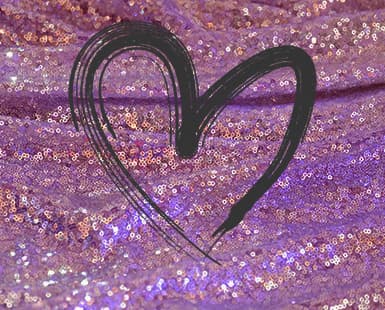 Poppets, there're only three weeks (or fewer) till Christmas so it's time to start putting off what you need to do now, in order to have a COMPLETE breakdown when you actually DO try to get it done on December 24th. Ditto for food and drinks — this is your last chance to lose the weight you'll stack on over the Holiday Season. IF, however, you make the adult decision to start shopping now for sparkly and sequin holiday gifts, this week's MUST-Have's are chock-full of seasonal, credit-card-obliterating goodness.
Sequin Travel Bag
Let's put this sequin travel bag in the Unique Glitter Gifts category. Except Yours Truly will NOT be giving it to anyone else. It comes in several colors, including pink sequins and black sequins but, for the Holiday Season, what could be more perfect than green sequins? After heading over to our Bijou and Costume Jewelry section and buying about fifty brooches for Min to pin through this bag's sequins with her already-calloused hands, Miss Cee will have an even more Hella Bling Bag to plonk down in hallways and scare friends and relatives alike that she's come to stay.
---
Lace Applique Beaded Mermaid Evening Gown
Now THIS, my little chickadees, is a gown. Available in about nine-thousand other colors, Miss Cee's pick is this champagne, beaded applique show-stopper. So there's your Christmas day lewk all sewn up. PLUS, once you settle that enormous mermaid hemline around you at the Yule dining table, no one else's chair will be anywhere near. Thank the Lord.
---
Glittery Red Sequin Lips T-Shirt
Miss Cee will be trying, prolly in vain, to bite her tongue (then lips, fingers, and nails) all through the Holidays. So why NOT have a sequin t-shirt to match? And, something sparkly for the everyday is a wardrobe essential, kids.
---
Men's Sequin Suitcoat in Green and Gold
This year, Miss Cee is tasked with picking up Grandma Quin's capacious carcass and wheeling her to the family manse for the festivies. Rudely, Min is not available that day to do the heavy rolling (something about her own time, her day off, blather blather) so whichever too-muscled rent-a-stud has the well-paid pleasure of being Miss Cee's paramour-by-proxy that day will be wearing this DIVINE green and gold sequin men's suitcoat.
---
Personalized Flip-Sequin Stockings
Christmas stockings with pizzazz. This four pack of festive fantasy makes an ideal sequin holiday gift too, expecially for rellies with kiddies. Don't be misled by the 'personalized' description — here it means that you can doodle on the flip sequins. But that is BIG fun and sure to give the aforementioned kids hours of completely wholesome enjoyment.
---
Perfect Sequin Holiday Gift — Unique Nutcracker
'Nutcracker' gets SOOO much use around the Holidays in the Quin household. There's the utensil we use to actually crack assorted shell-inexplicably-still-on nuts, the ballet we all schlepp to for the fortieth time and counting each December, and what will be happening to senile great-uncle Jack if'n he pats Miss Cee's backside one more time. So why not add a decorative AND sequined ornamental nutcracker to that mix? And if you've got someone who's difficult to buy for but loves Christmas, THIS is the perfect glitter gift.
---
---
Swarovski Santa Claus Figurine
When it comes to crystal gifts for adults, one cannot go past Swarovski. Basically EVERYTHING they make is perfect for Holiday Season gifting. Grandma Quin is getting this jaunty crystal Santa from Yours Truly this year. Afterall, Miss Cee DOES need to ensure she stays in Quinny's good graces, and thus in The Will…that Miss Cee helped the lawyers draw up.
---
30-Light Crystal Snowflake Treetop
The second, the literal SECOND, Miss Cee's greedy but perfectly-lashed little eyes latched on to this top-of-Christmas-tree snowflake light, the heirloom, handmade Austrian angel that had beatifically graced the top of the Quin Christmas tree for generations went straight in the rubbish bin. Well, that IS a bit of an exaggeration. Yours Truly gave it to Min. To sell on eBay. So, if you're on the hunt for sparkly gifts for friends, or gifts-that-will-score-you-major-points, this WOW-moment tree-topper is a winner.
---
Formal Sequin Evening Dress
Silver sequins are a sparkly dress choice for the Festive Season. Color-neutral, you can add bursts of additional color with your shoes and bag — but don't forget to check out our Style Guide for handy tips about how to wear and accessorize sequins.
---
1.5 Carat Natural Emerald and Diamond Pendant
'Sparkling Gifts for Her' don't get much MORE sparkling than this utterly FABULOUS emerald pendant. The design is classic, the combination of diamonds with the emerald is timeless, and the need for someone, ANYone to give it to Miss Cee is urgent.
---
Bejewelled Women's Sandals
Miss Cee has a rule about bling on shoes. Go hard, or go home. Your shoes get a bit of initial attention, usually when people first see you and your outfit, but are quickly forgotten. UNLESS you've got crystals on them the size of quail eggs. Just like these getting-delivered-tomorrow crystal sandals. YUMMY.
---
Red Sequin V-Neck Evening Gown
A red sequin gown is never more appropriate than during the Holiday Season. I'd pair this one with a white mink jacket (faux or not, depending on your budget principles) for the perfect Santa's Little Helper lewk. Except that Miss Cee will be helping herownself. To all the eggnog.
---
Conclusion for Sequin Holiday Gifts
Miss Cee will take one of each of these unique glitter gifts — and keep them ALL. Except that Swarovski crystal Santa, for obvious reasons.
---
---
Links to shopping partners support Miss Cee's latte addiction, at no extra cost to her ADORING public.
And don't forget to SHARE the BLING: