Nail ring bling. Quite frankly Miss Cee had NO idea nail rings even existed.
But the Saint of All Things Shiny came down from on high and skooled Yours Truly in these latest bling miracles.
What ARE nail rings?
Breathless Glitterists the world over DEMAND to know.
Not even the rarified ranks of celebrity jewelry wearers seem to have picked up on this latest bling fashion trend.
But it's about time they did. And it's about time YOU did too, poppets.
Everyone at SequinQueen is nuts for nail rings.
Why?
Because you'll never have to buy another ring. Or have another manicure.
Simply slip as many nail rings onto your delicate fingies as takes your fancy and SHIMMER through your day.
Nail rings are a fingernail shaped piece of jewelry that fit over your fingernail.
Sometimes they are called cuticle rings. Sometimes nail caps. Or even fingertip rings.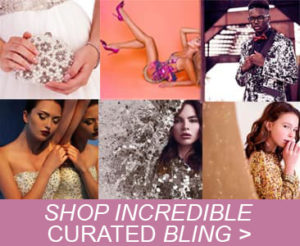 Sounds pretty simple. But like all bling, the variations are mind boggling.
Some nail rings enhance your nails with delicate outlines of gold or rhinestones or crystals. Others cover the whole nail. Some almost cover your entire finger.
No matter what style of nail ring bling you like best, they are ALL kinds of DIVINE, luvbugs.
All kinds.
1. Nail Ring Bling: Glittering Gold and Silver Nail Rings Covered with Rhinestones.
2. Nail Ring with Rhinestones, Crystal Stones and a Pearl.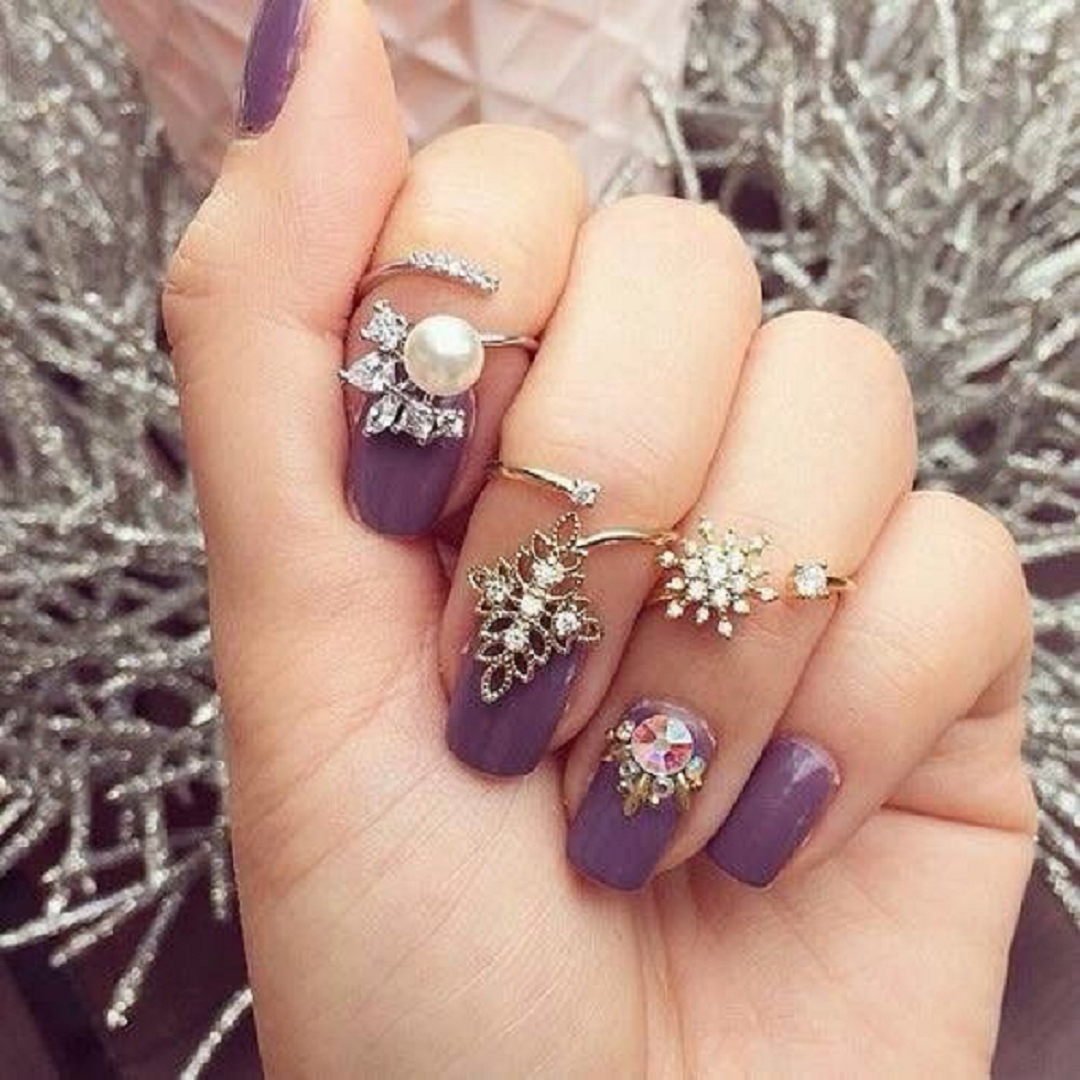 3. Nail Ring Bling: Sparkling Rhinestone Nail Caps with Bracelet Attached.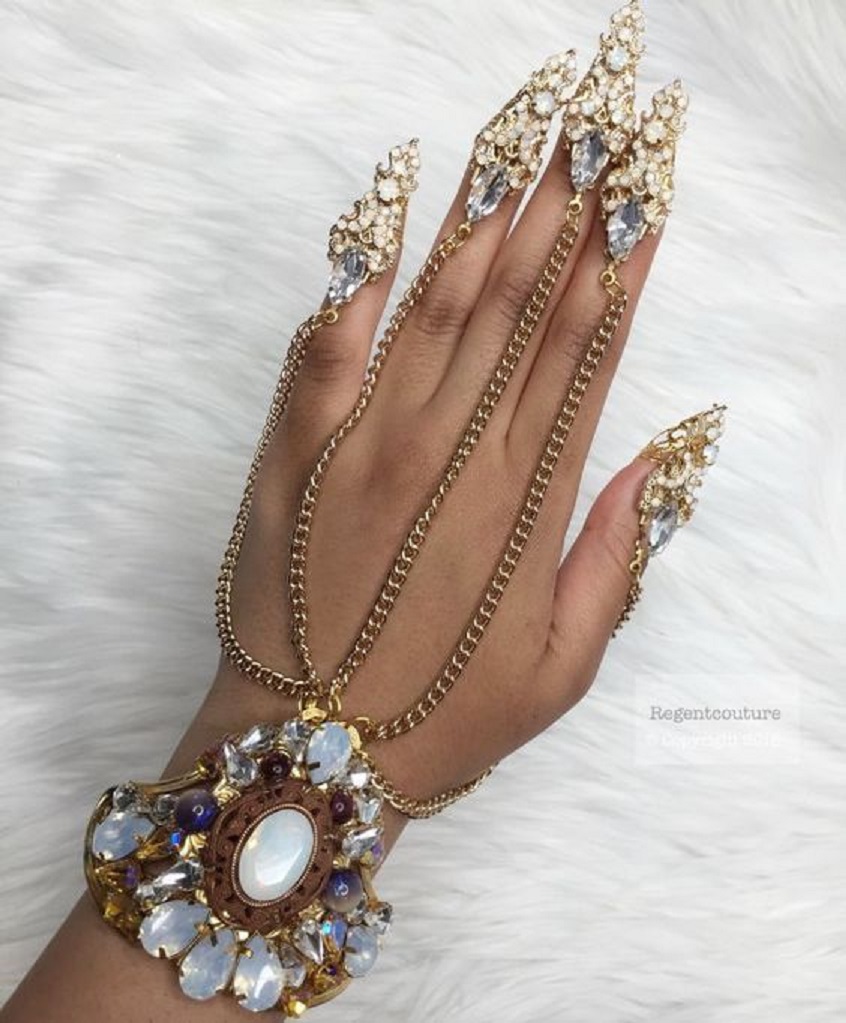 4. Gold and Silver Fingernail Rings with Flowers and Dragonflies Engraved with Rhinestones.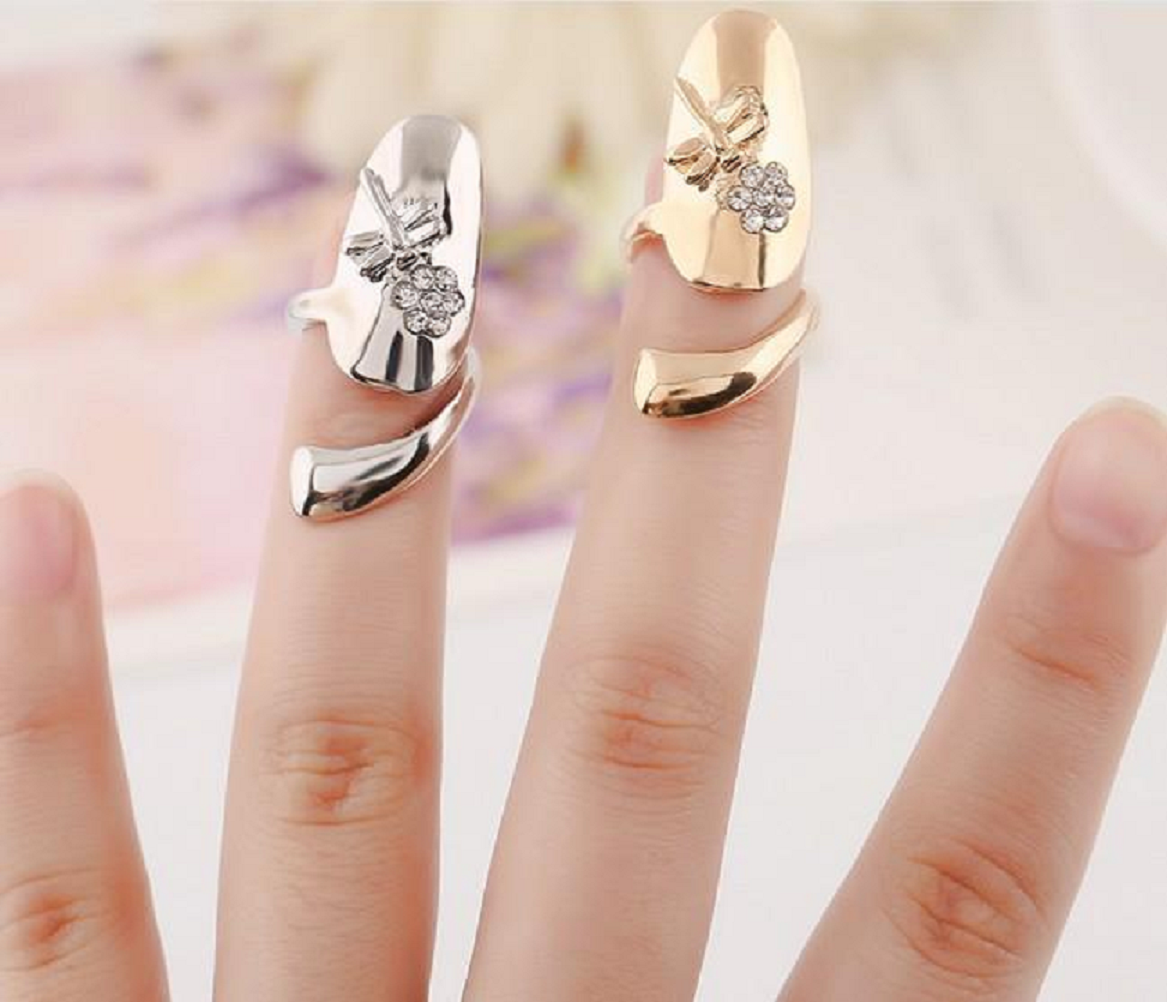 5. Gold and Silver Plated Full Nail Cover Ring with Glittering Tear Shaped Diamond Stones.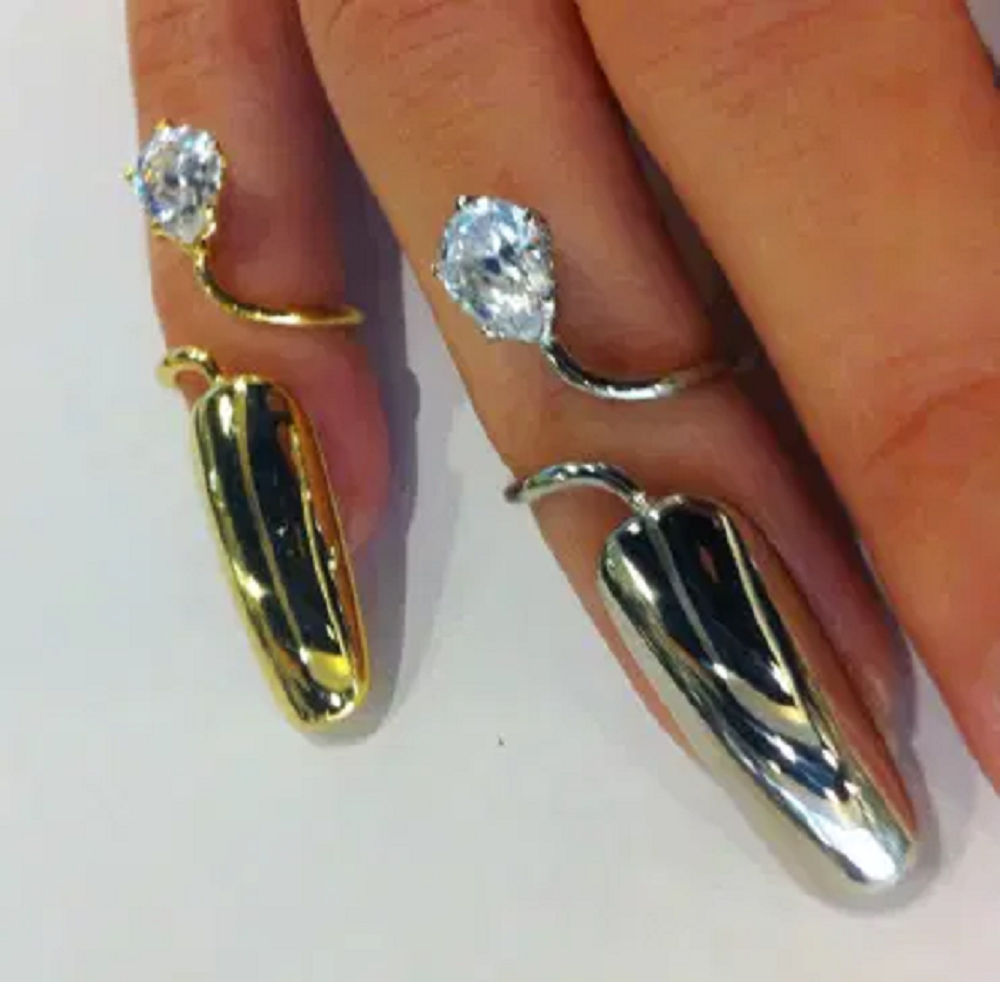 6. Metallic Silver with Gold Engraved Design and Rhinestones Embellished Nail Ring.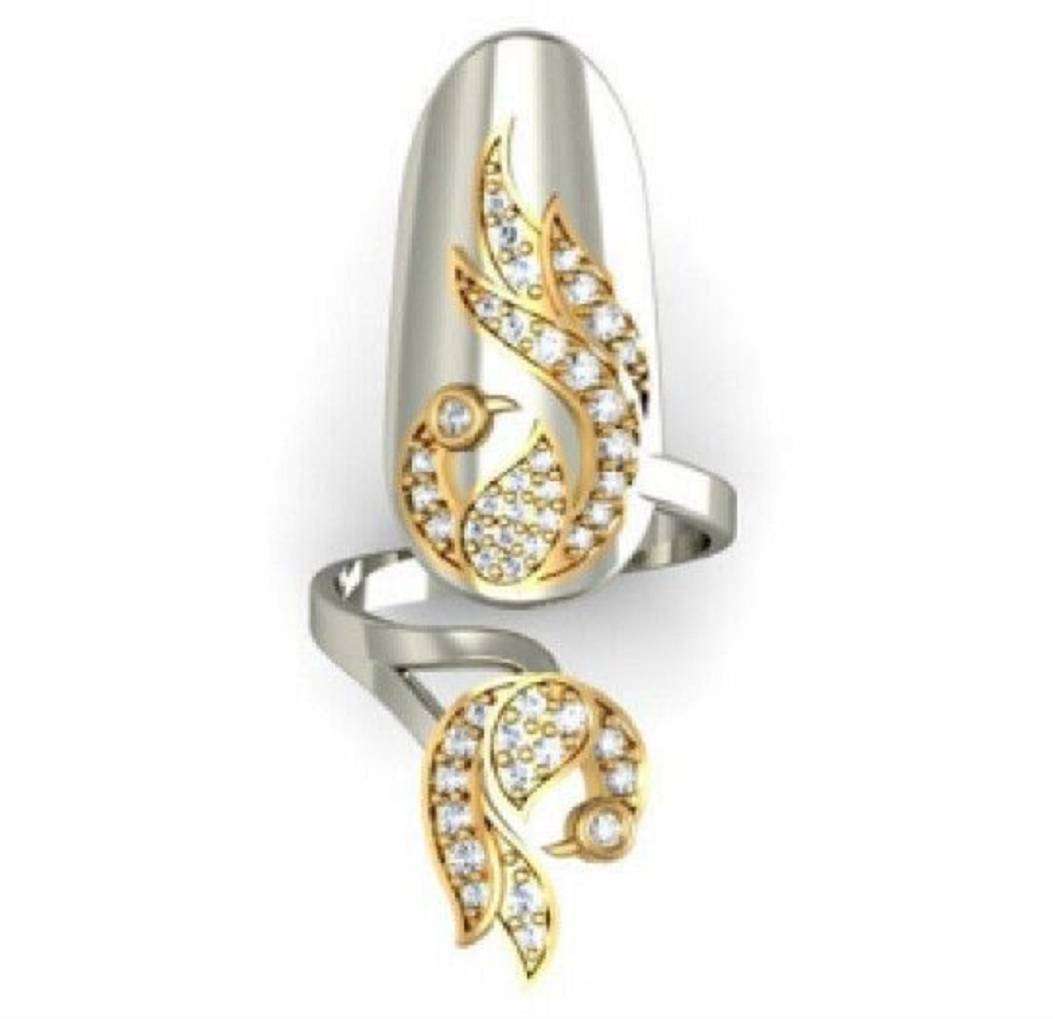 7. Glittering Silver Metallic Full Nail Cap Ring with Gold Design and Rhinestones.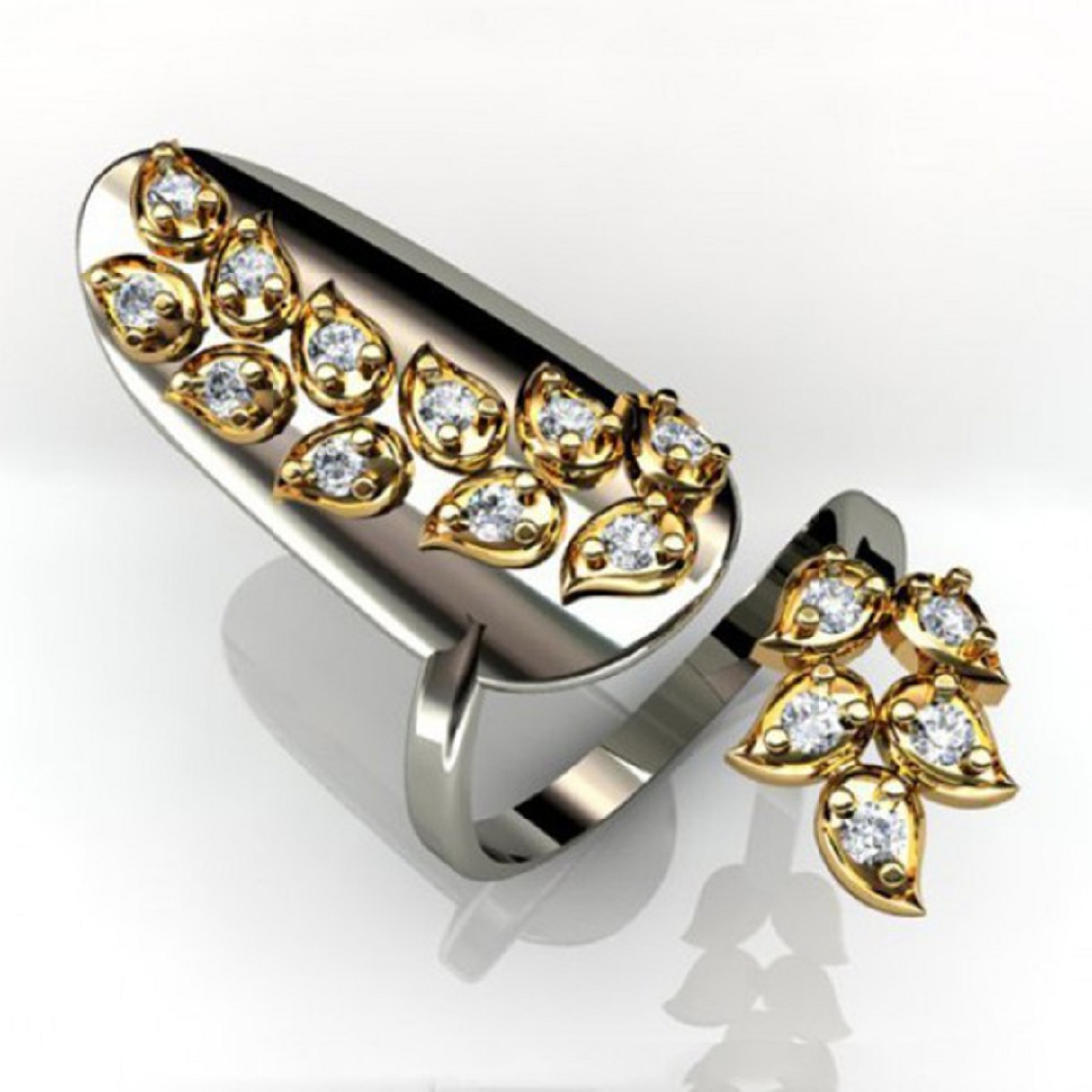 8. Nail Ring Bling: Delicate Gold Flower Design Nail Rings with Rhinestones and White Pearl.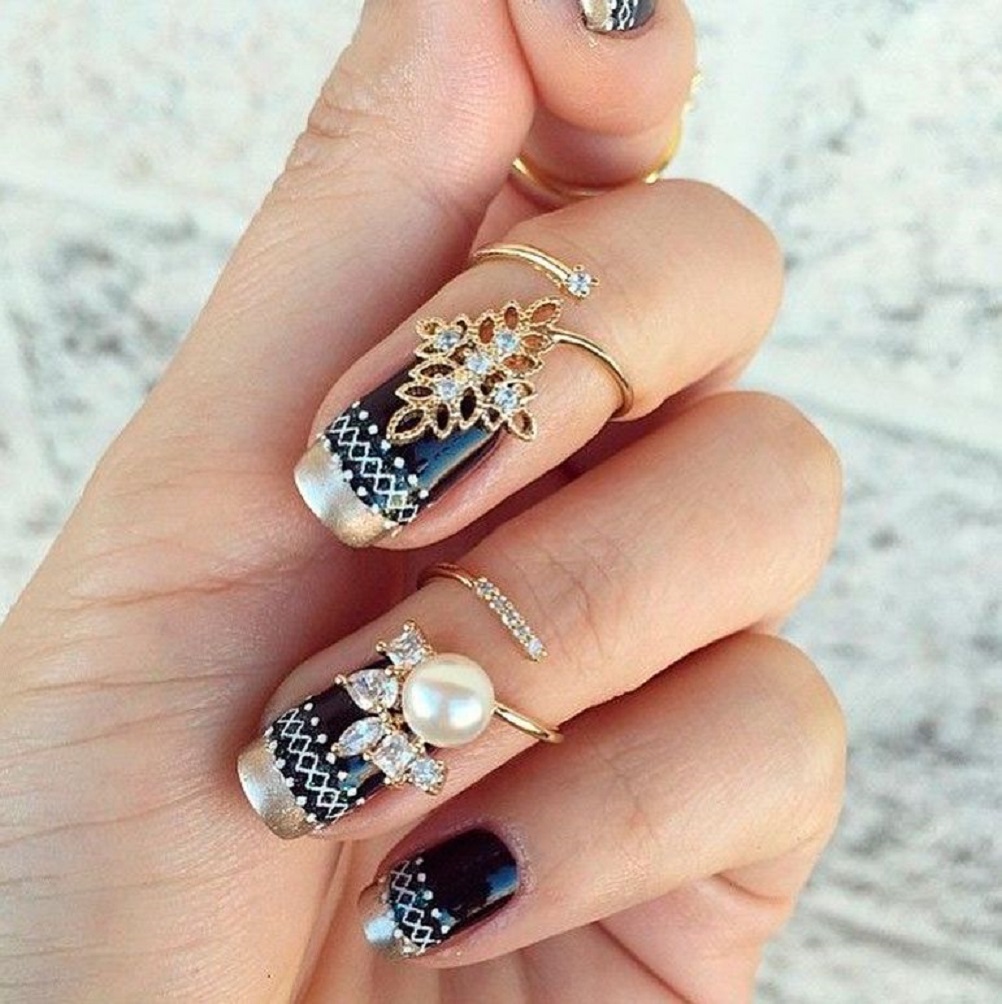 9. Glittering Gold King, Queen, Bows Design Nail Rings with Rhinestones and Multicolor Crystals.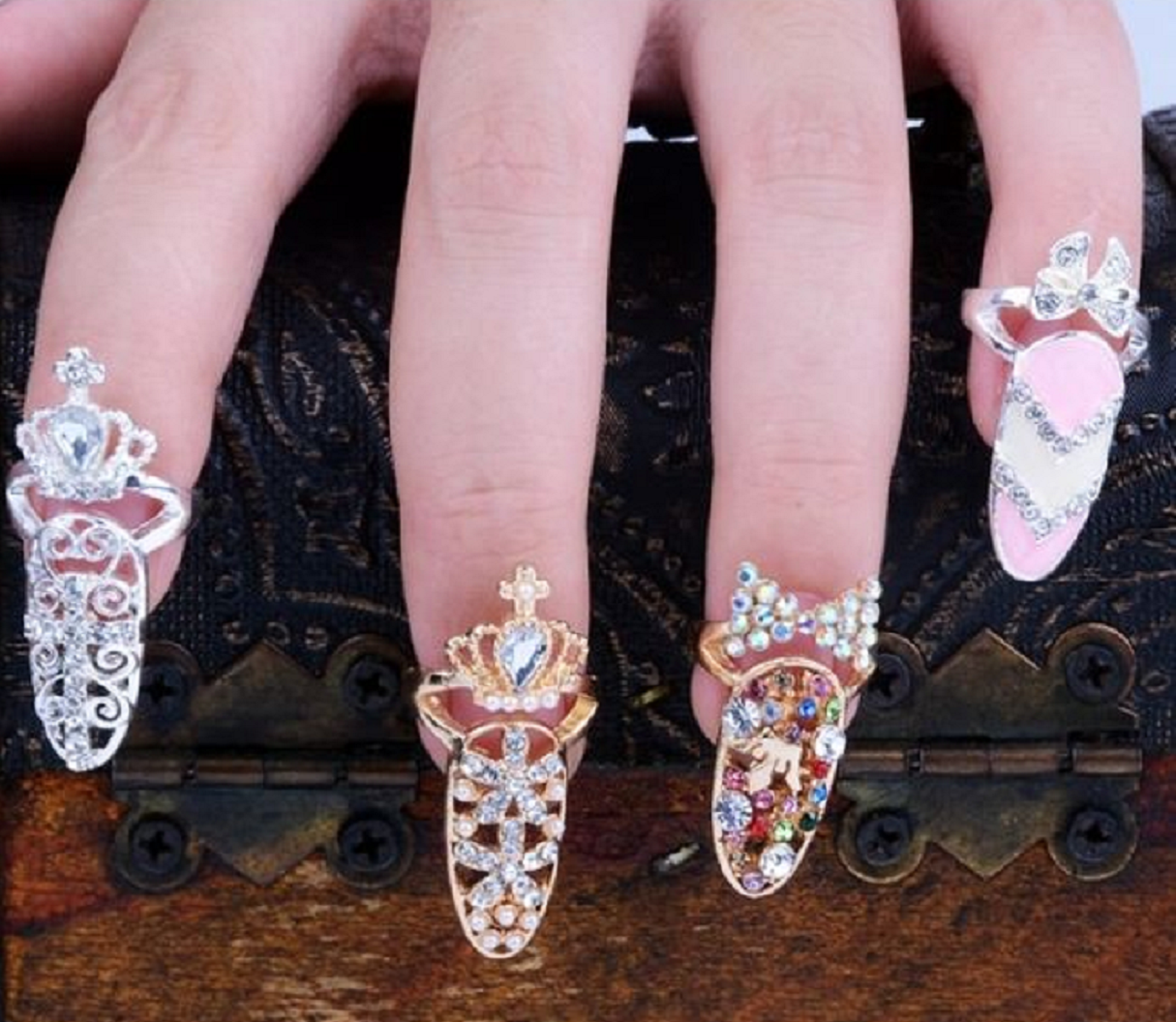 10. Nail Ring Gold Hearts and Pave Rhinestones Statement.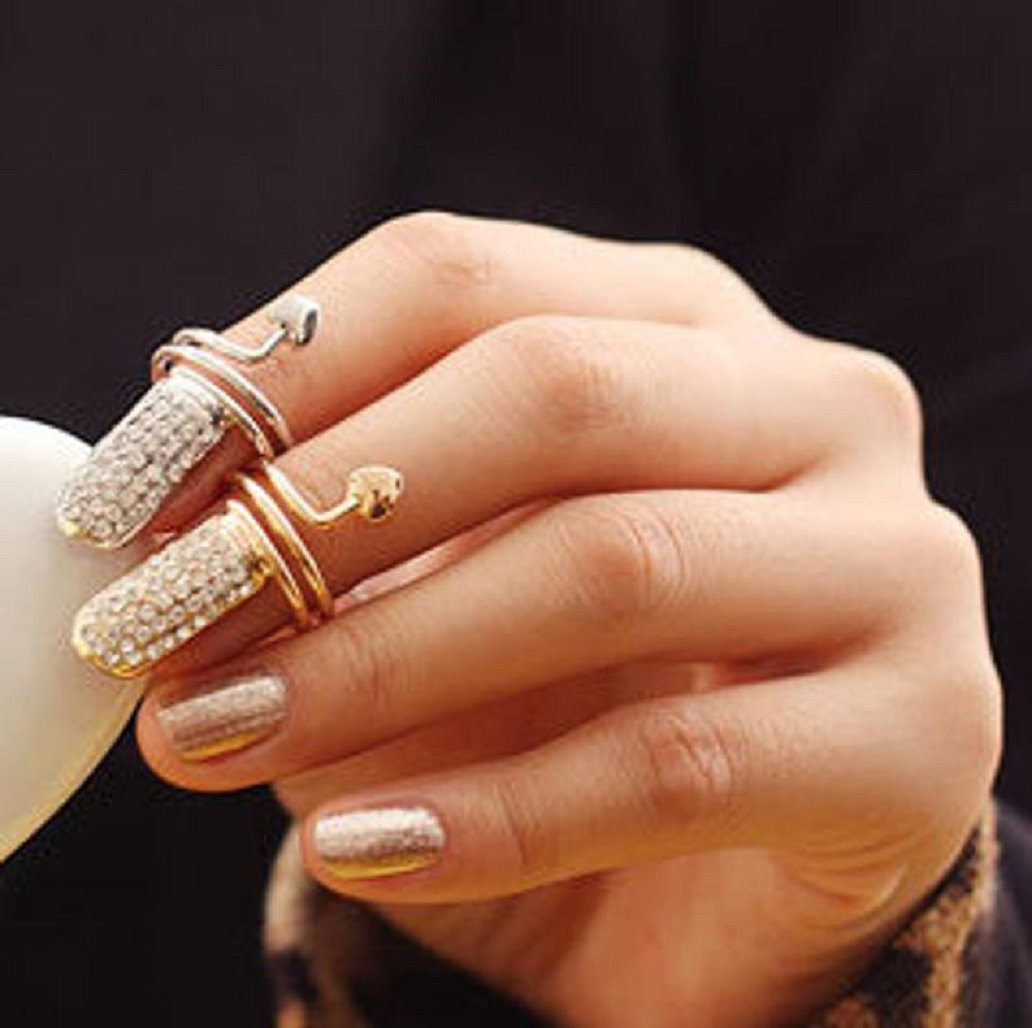 11. Full Silver Hand Armor Claw Nail Rings with Bracelet.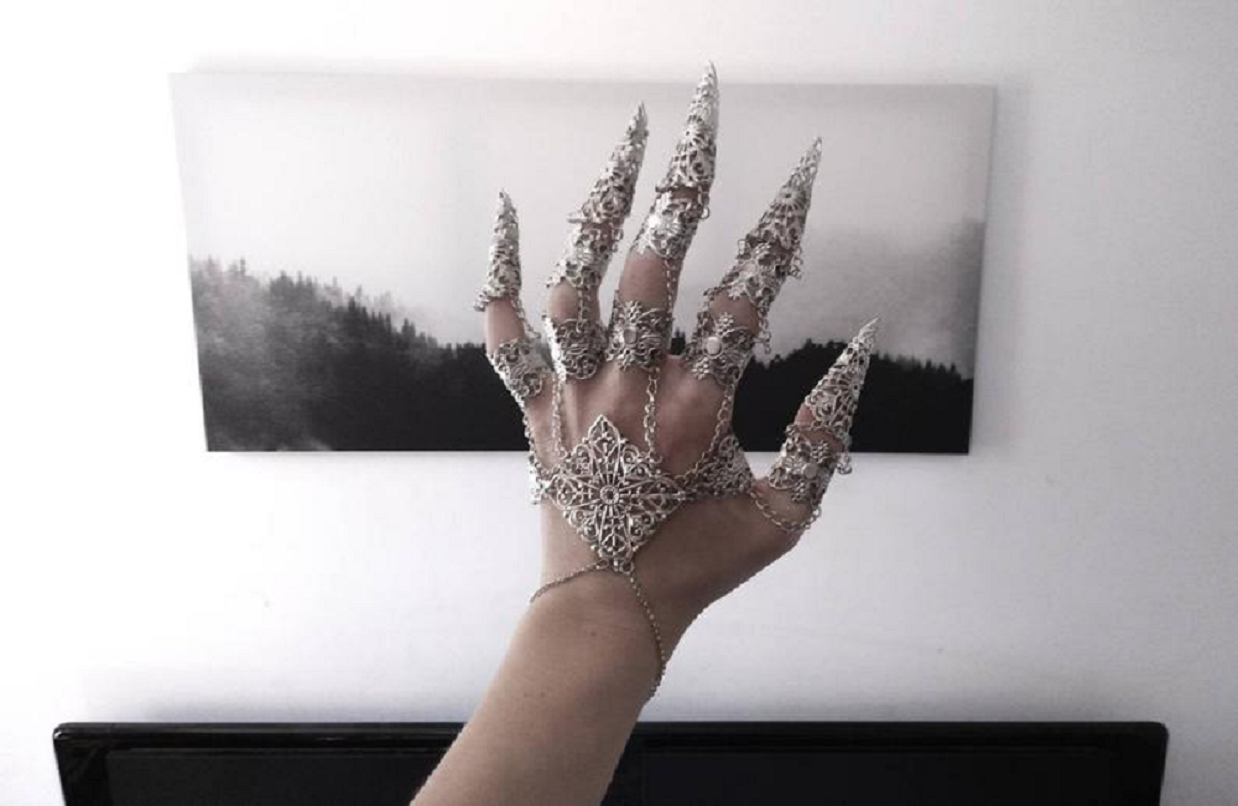 12. Glamour Nail Ring Connected by Filigree Chain to a Rose Outline Finger Ring.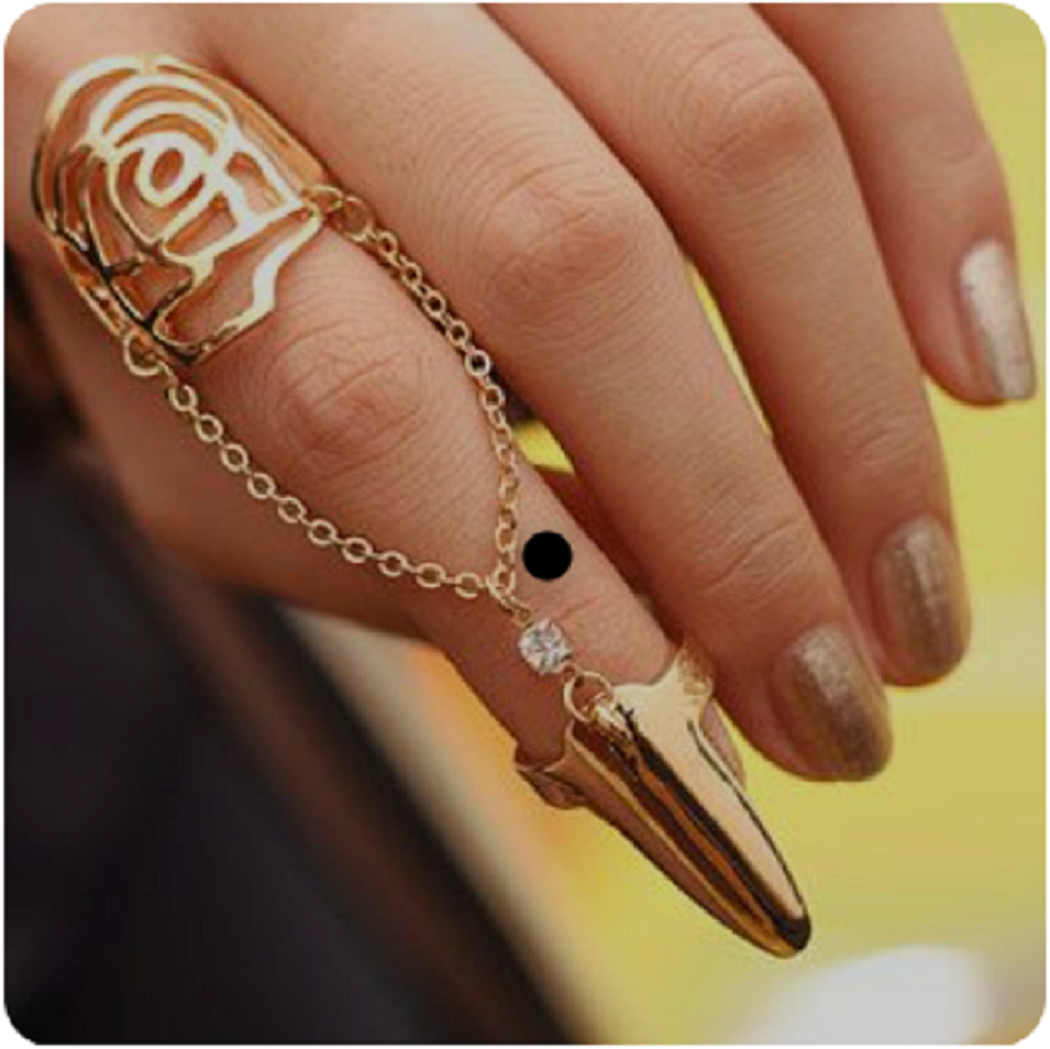 13. Gold Cuticle-Hugging Nail Ring with Emerald Green Stone and Clear Crystal Stone.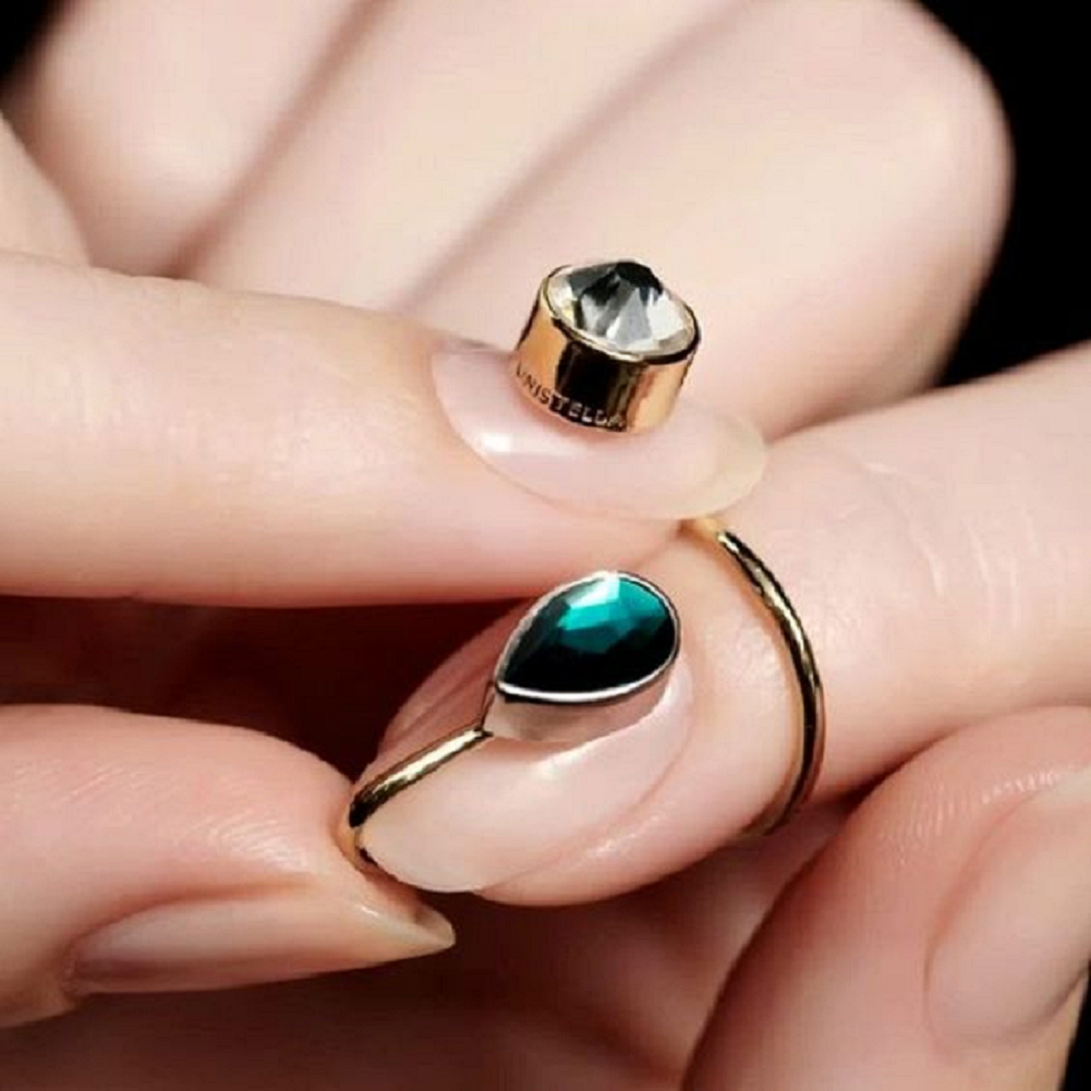 14. Retro, Gothic Eagle Claw Nail Rings in Gold and Silver.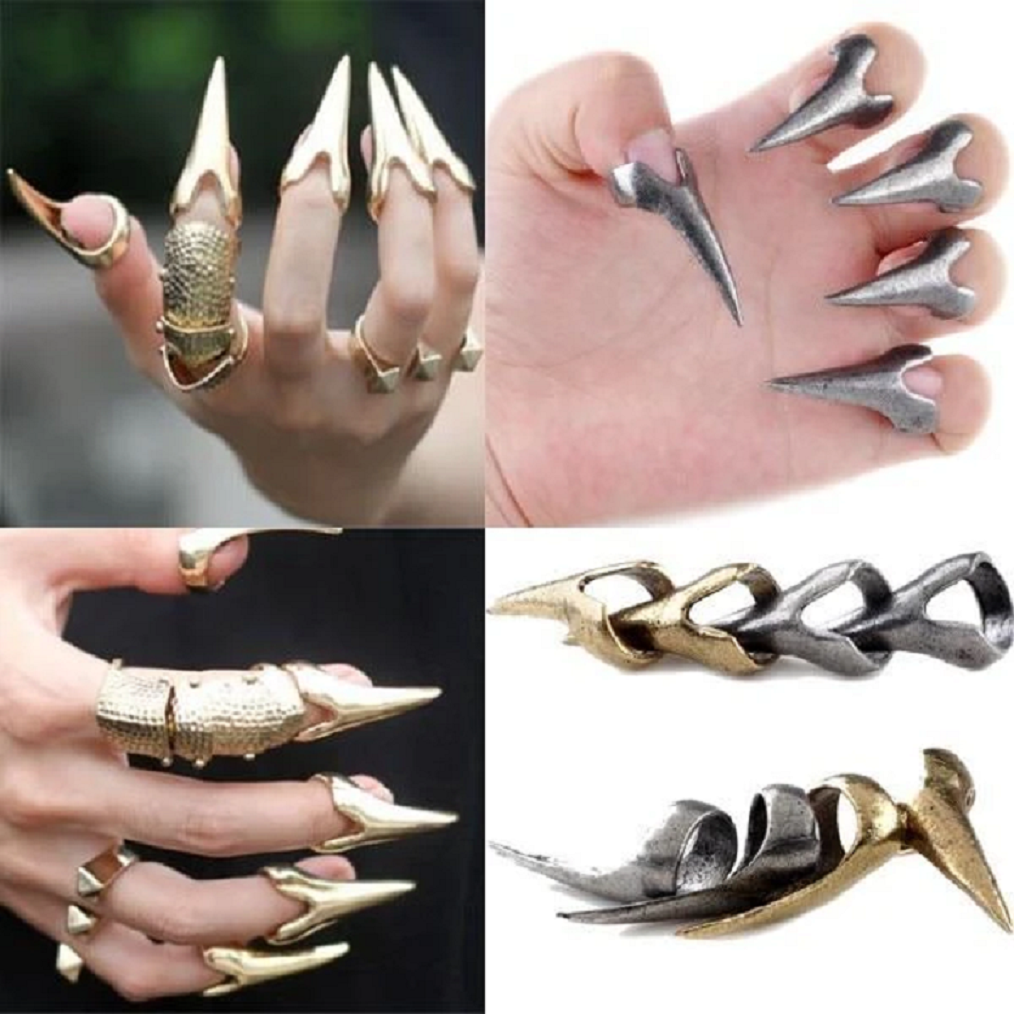 15. Gold Color Ornate Ring Claw Set of 5 with Iridescent Crystal Stones.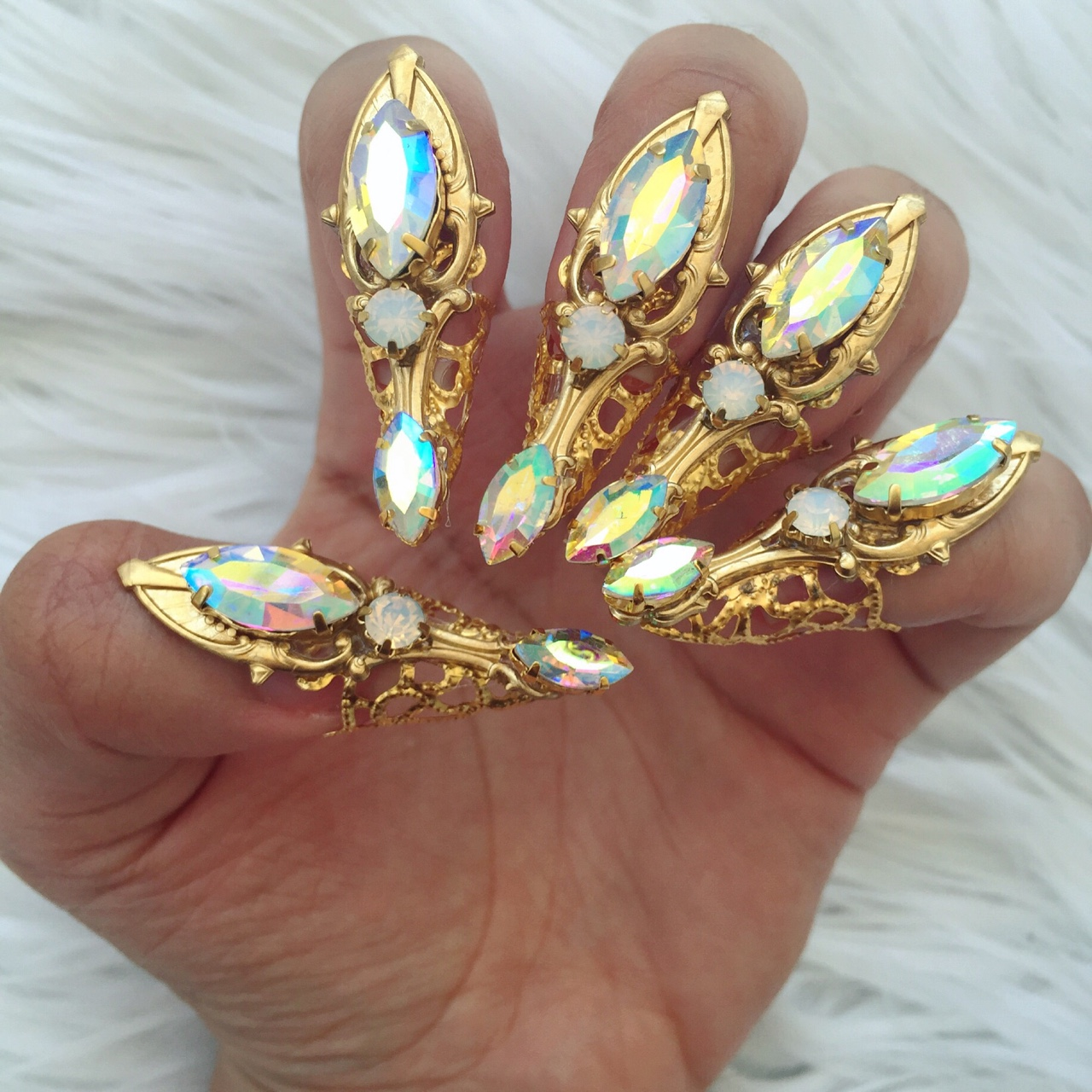 16. Cuticle Rings are Reusable and Designed to Replace Bling Manicures.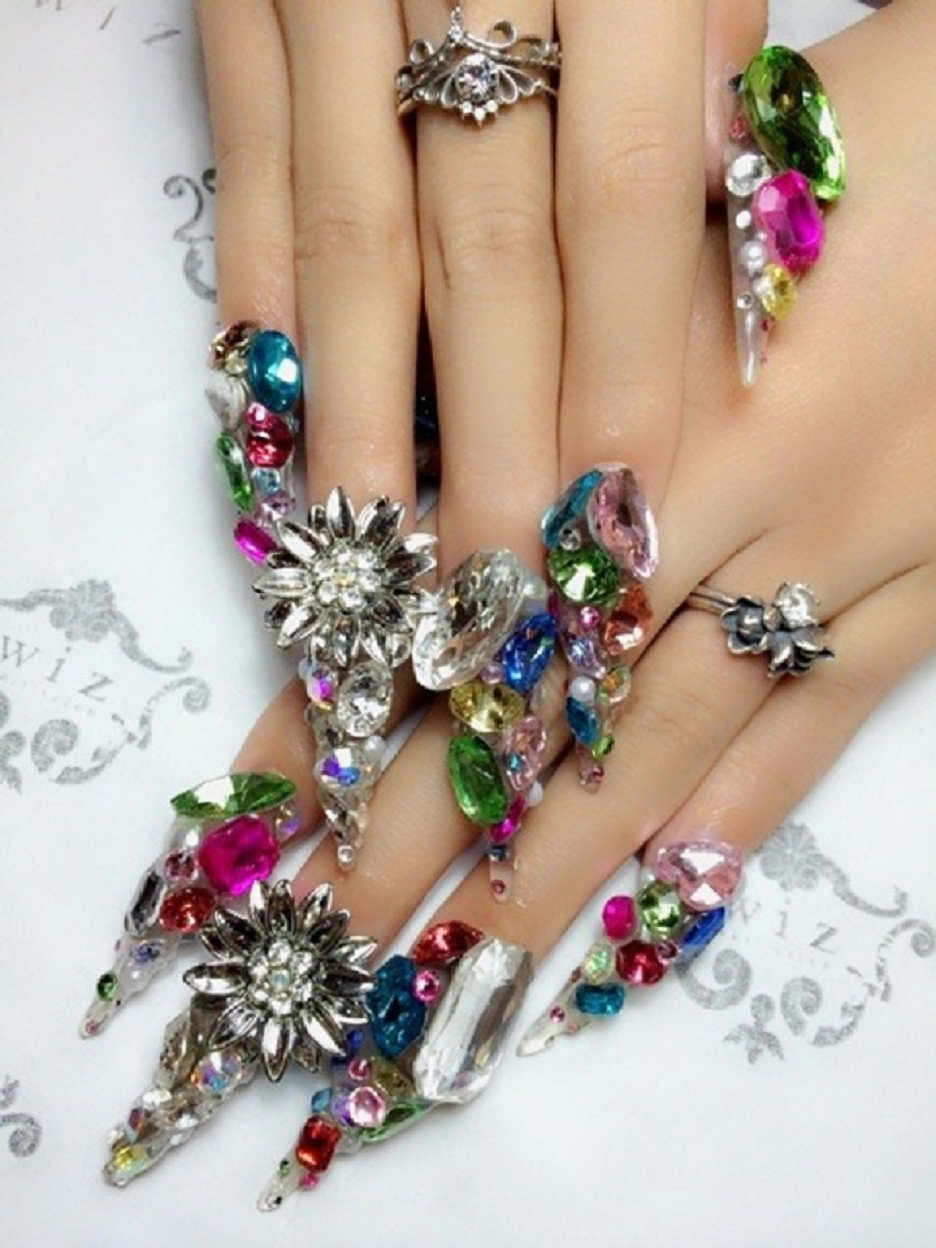 17. Classic Gold and Silver Colour Full Nail Cap with Rhinestones Cuticle Ring.
18. Silver and Crystal Nail Ring Set.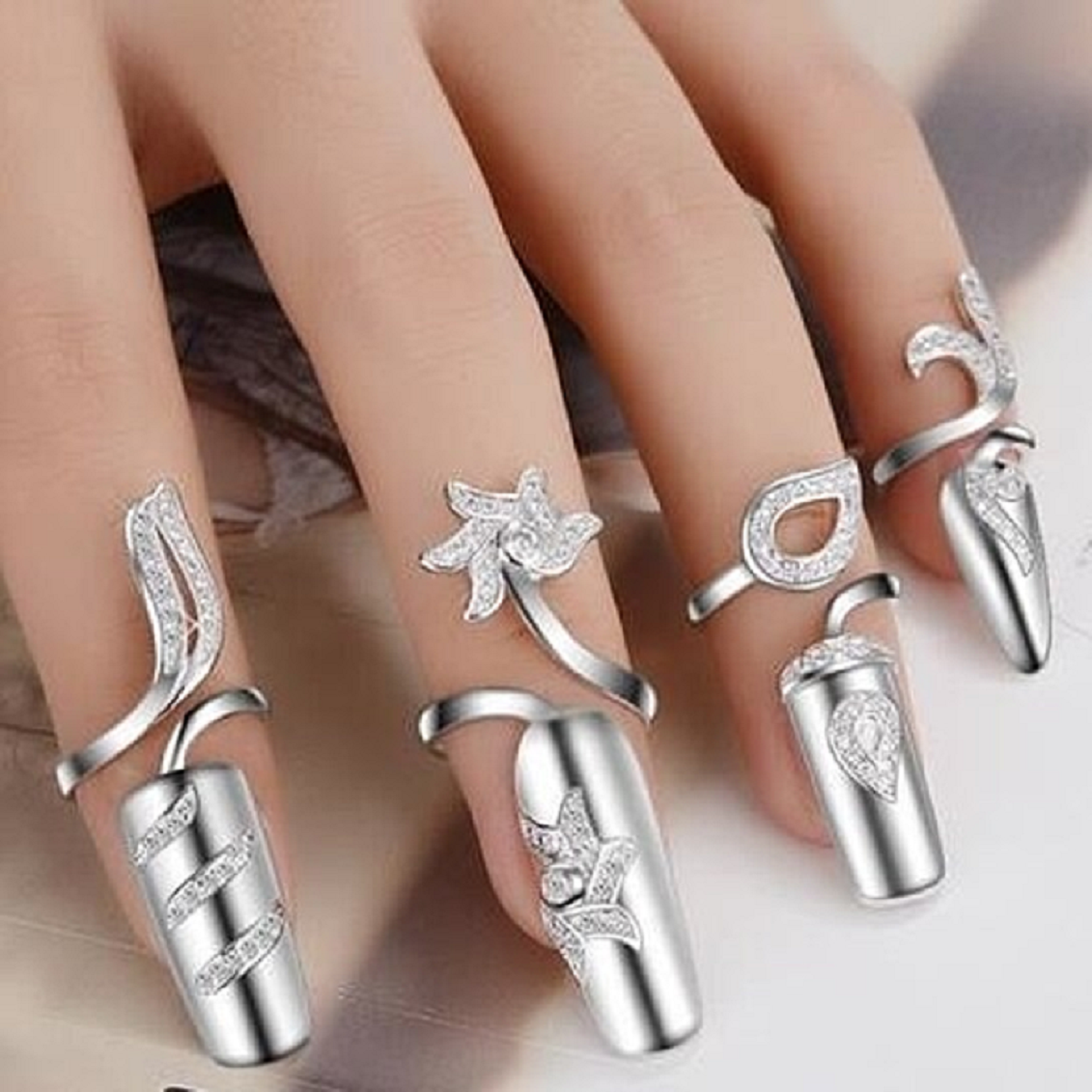 19. Nail Ring Bling: Cuticle Hugging Gold Nail Ring with Diamond and Rhinestones.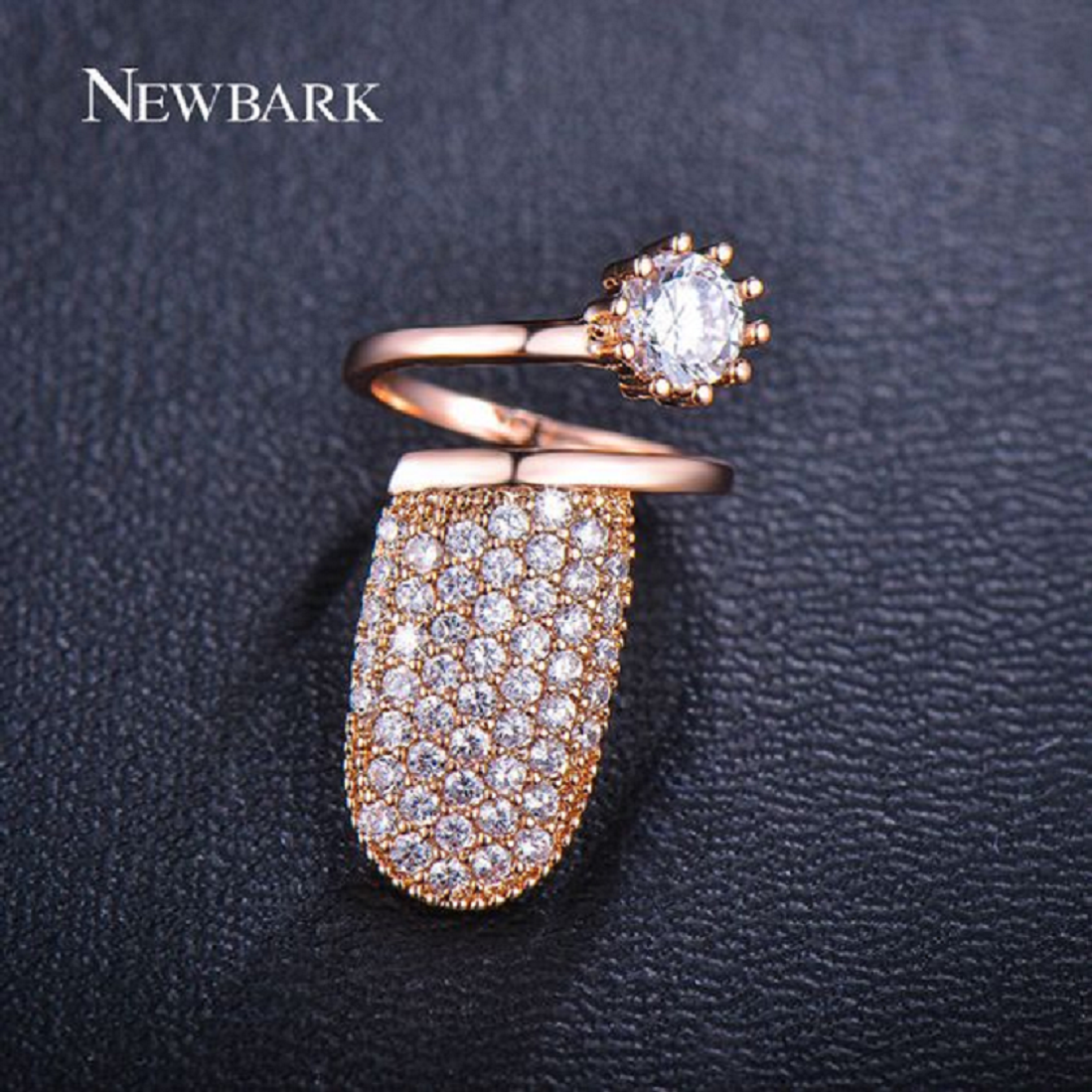 20. Set of Various Crystal and Pearl Fingernail Rings.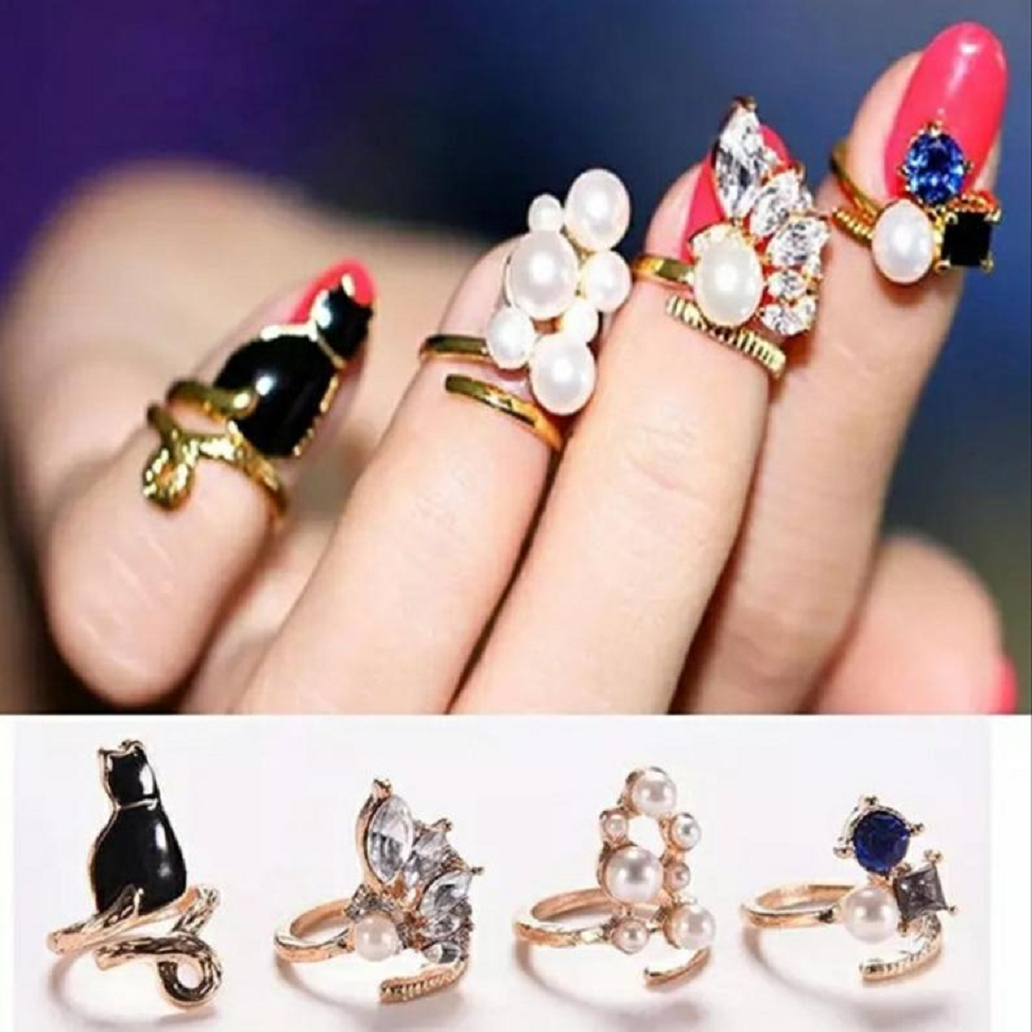 21. Geometric Gold Finger Nail Ring in a Vintage Design with Rhinestones.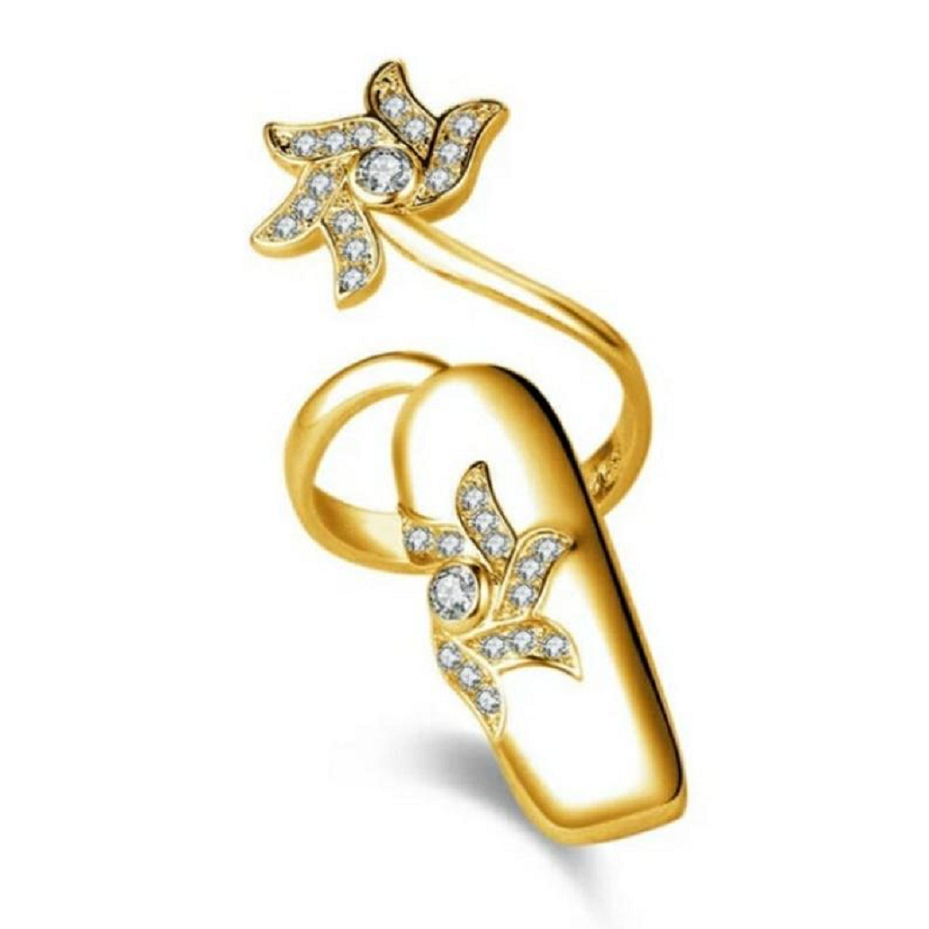 22. Fingernail Protective Cuticle Ring with Pearls and Rhinestones.
23. Fingertip Nail Rings with Rhinestones.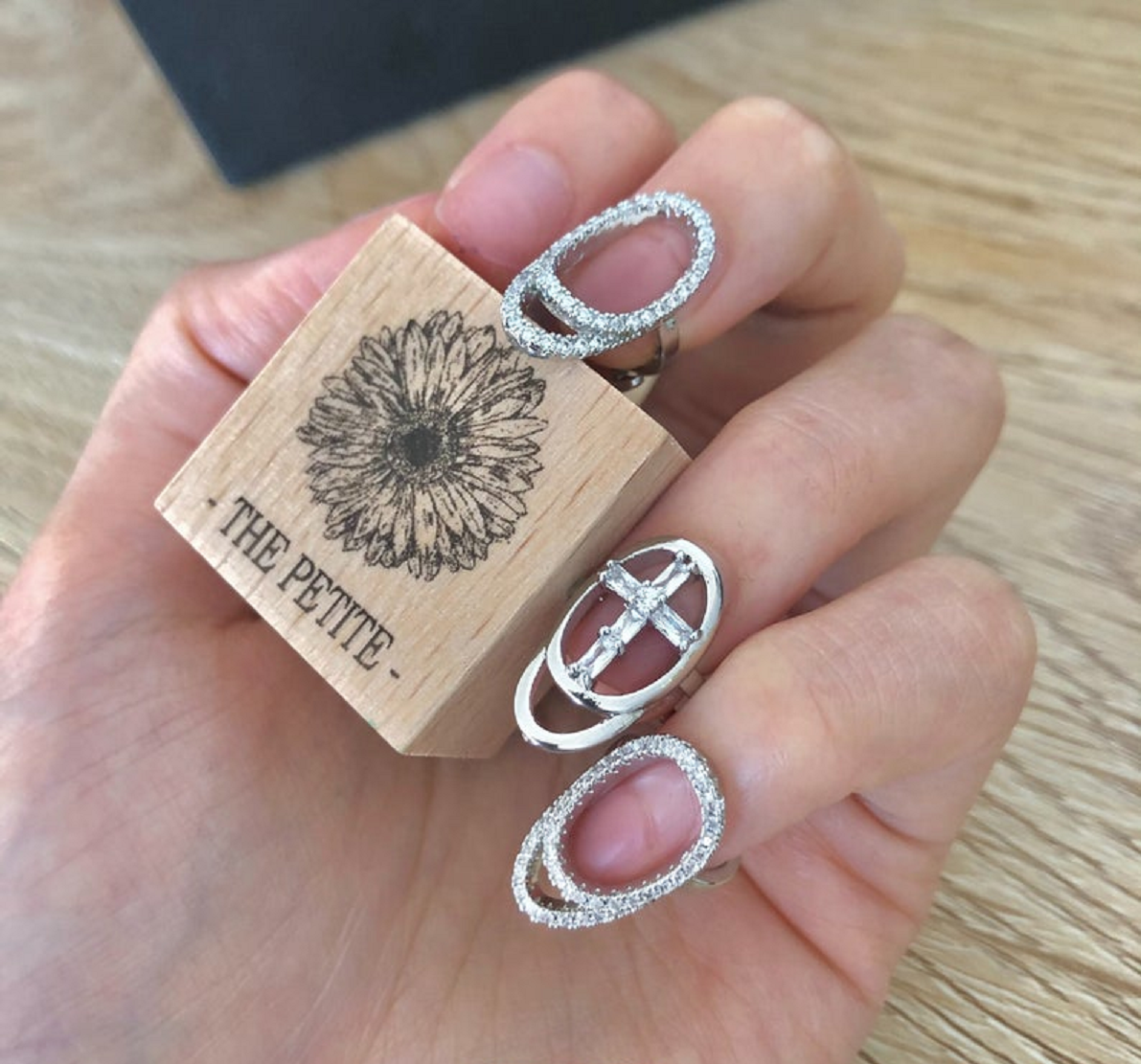 24. Rhinestone Decorated Gold and Silver Tone Fingernail Rings with Flower Pattern.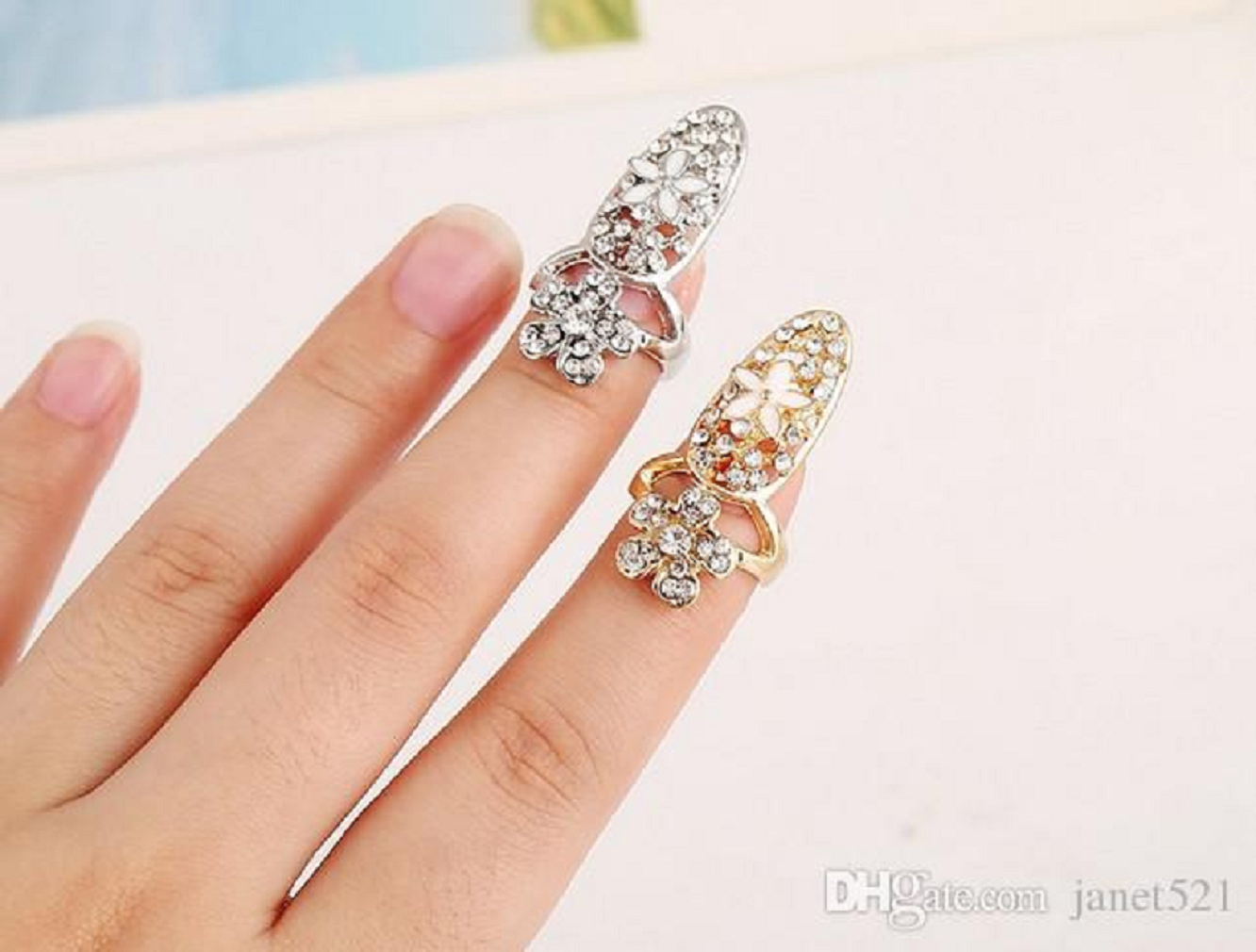 25. Nail Ring Bling: Black Oval Nails with Gold Fingernail Ring Jewelry.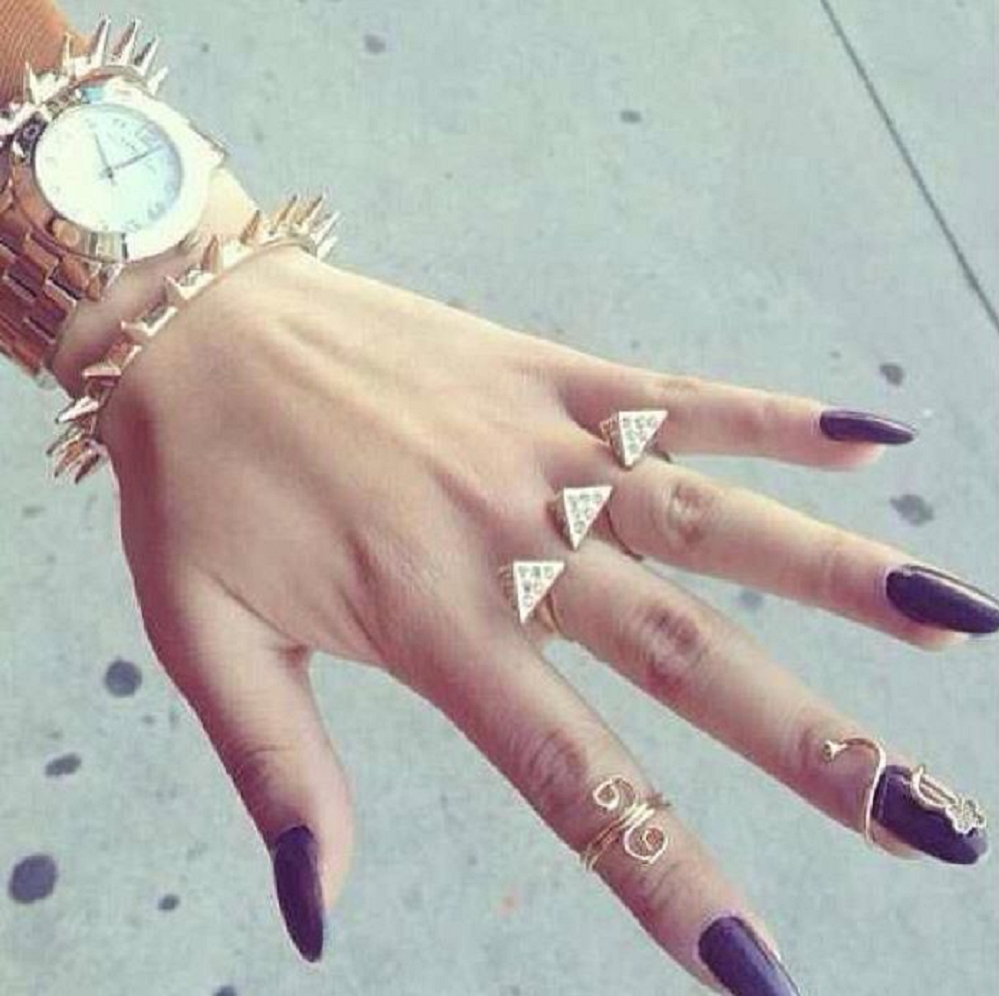 26. Bling Nail Ring in Silver and Yellow Gold with Rhinestones.
27. Flat Yellow Gold and Sterling Silver Nail Rings with 1 Tear shape Diamond Rhinestones.
28. Colorful Rhinestones with Big Crystals In Between with Hanging Crystals.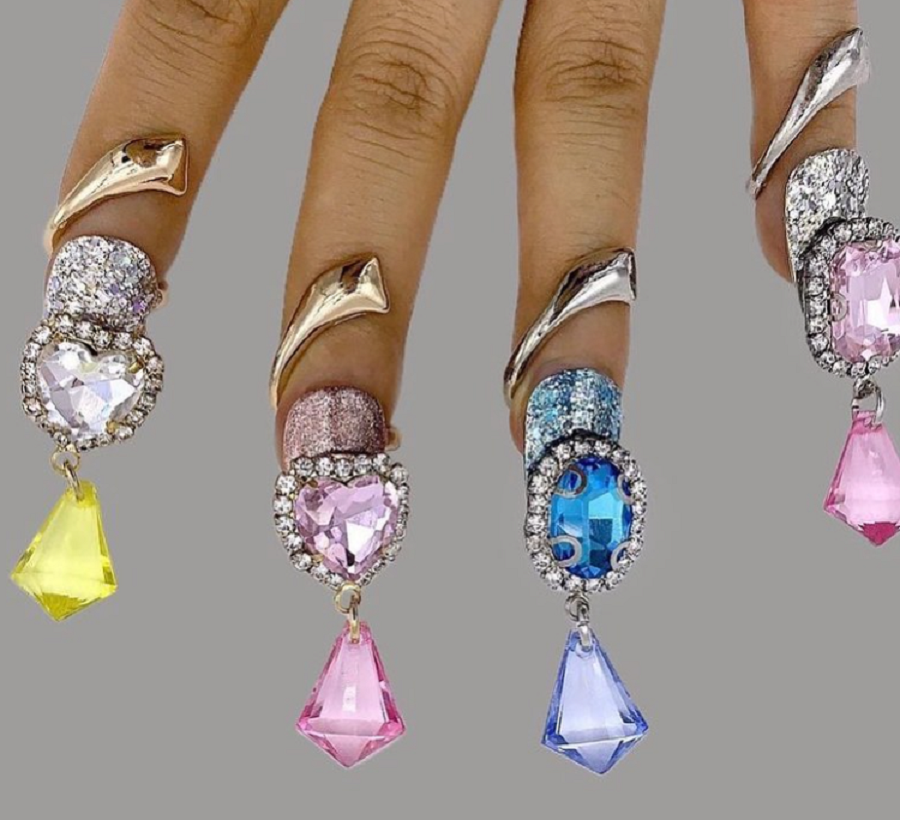 29. Nail Rings In Silver with Glittering Rhinestones.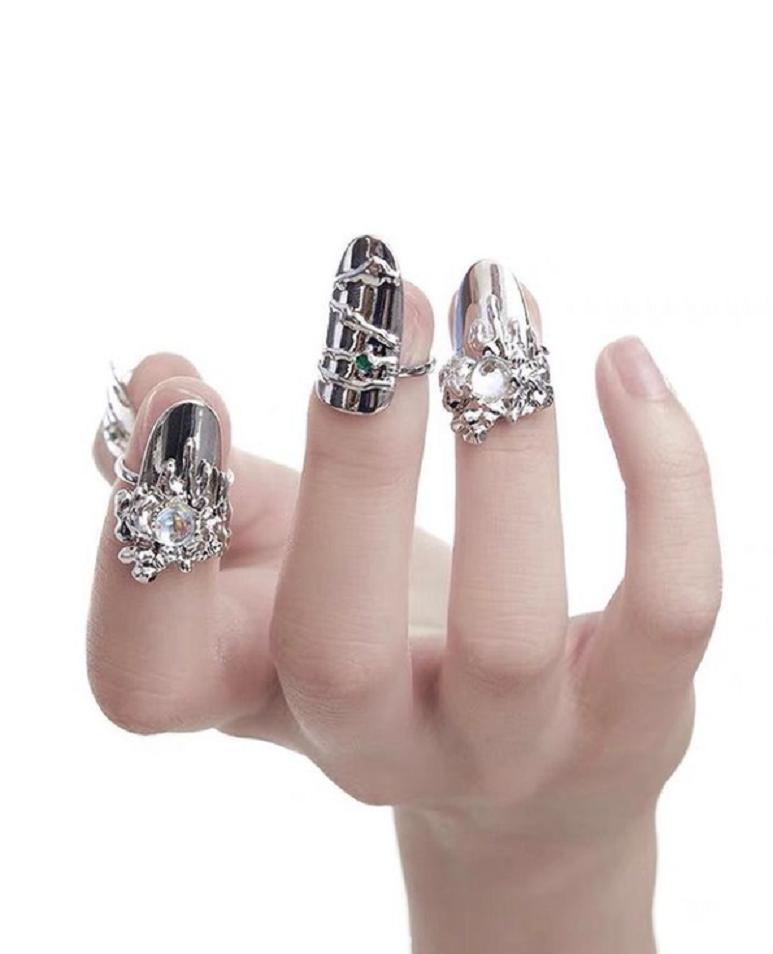 30. A Pair Of Nail Rings with Glittering Rhinestones and 2 Crystals In the Middle.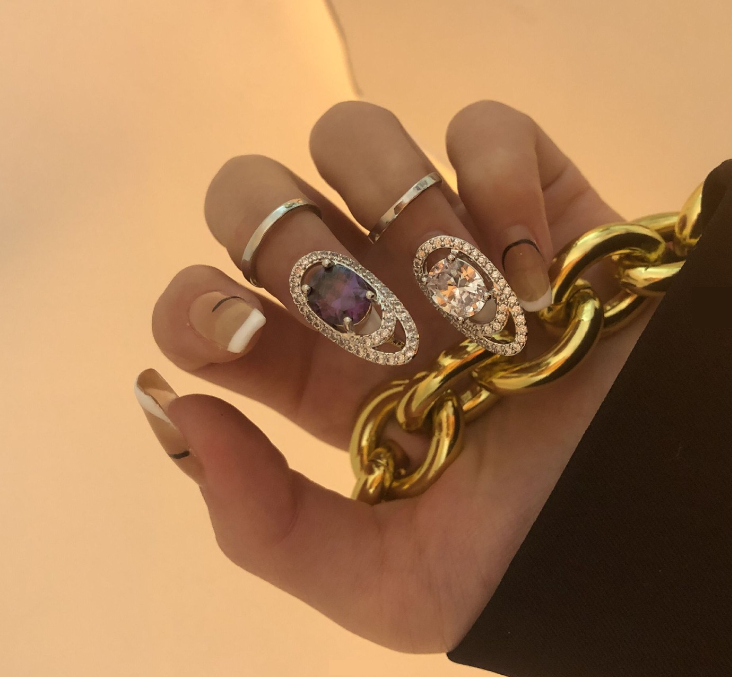 31. All Yellow Gold Nail Ring with Flower Design and Embellished Colorful Rhinestones.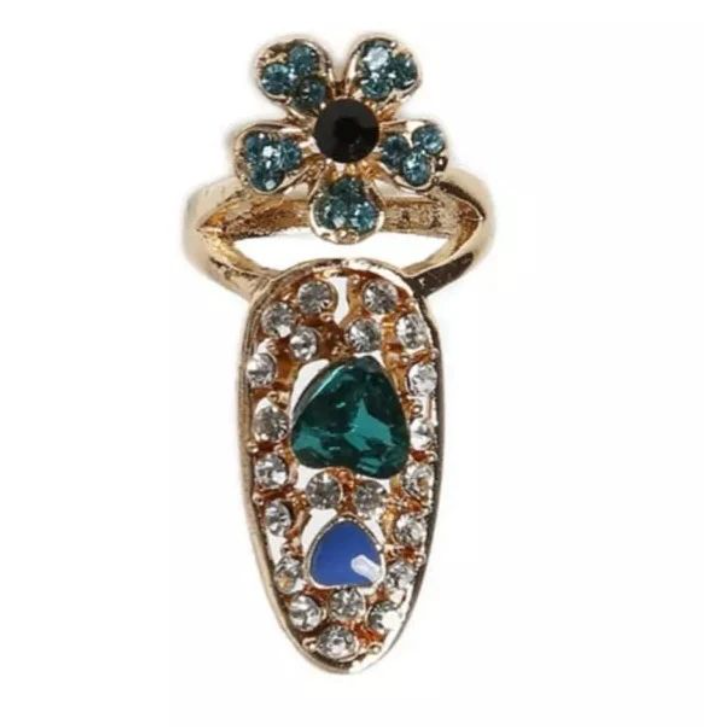 32. Sterling Silver with Sparkling Crown Fingernail Finger Tip Ring.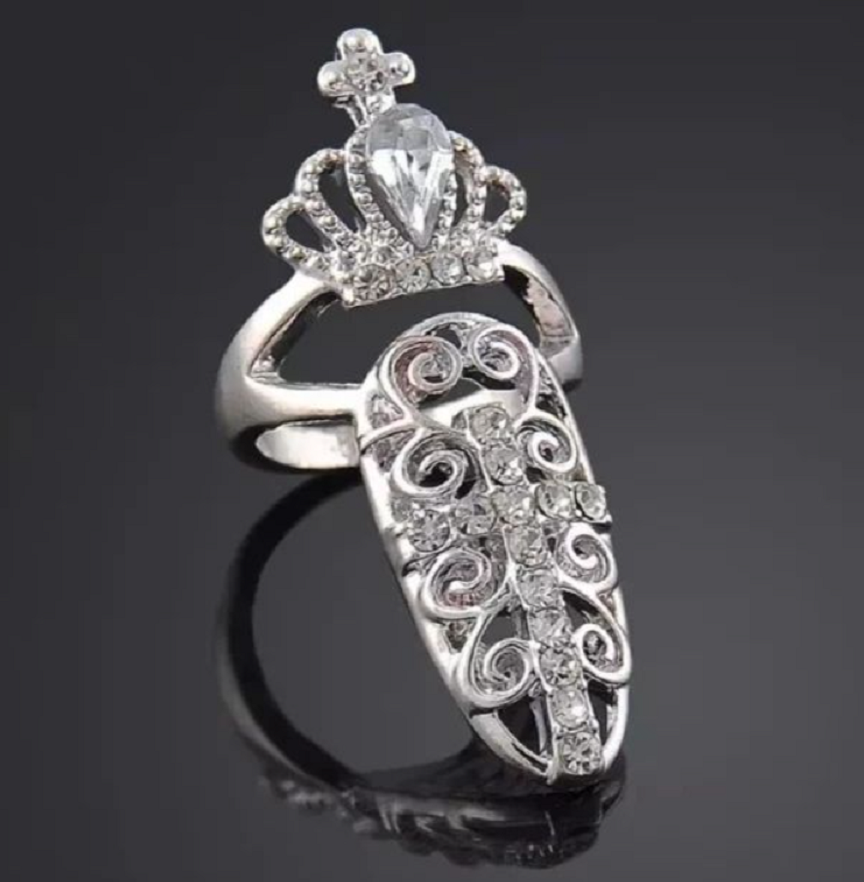 33. All Yellow Gold Finger Tip Nail Ring with Rhinestones.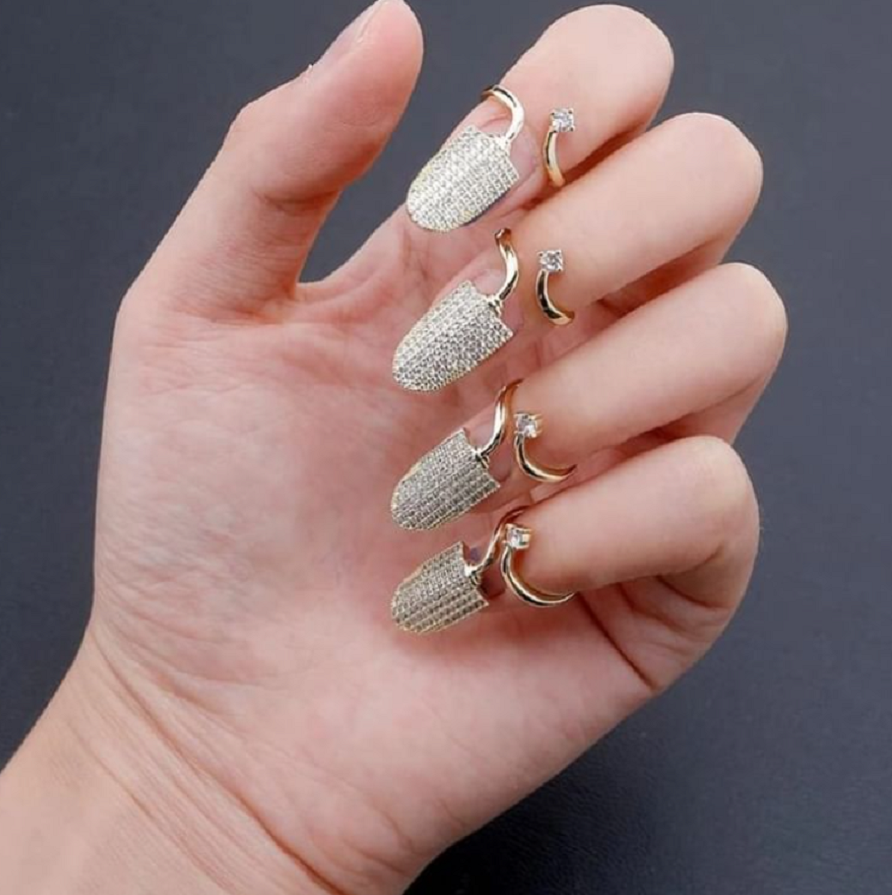 34. Blacked Out Finger Tip Ring with Purple Opal Stone.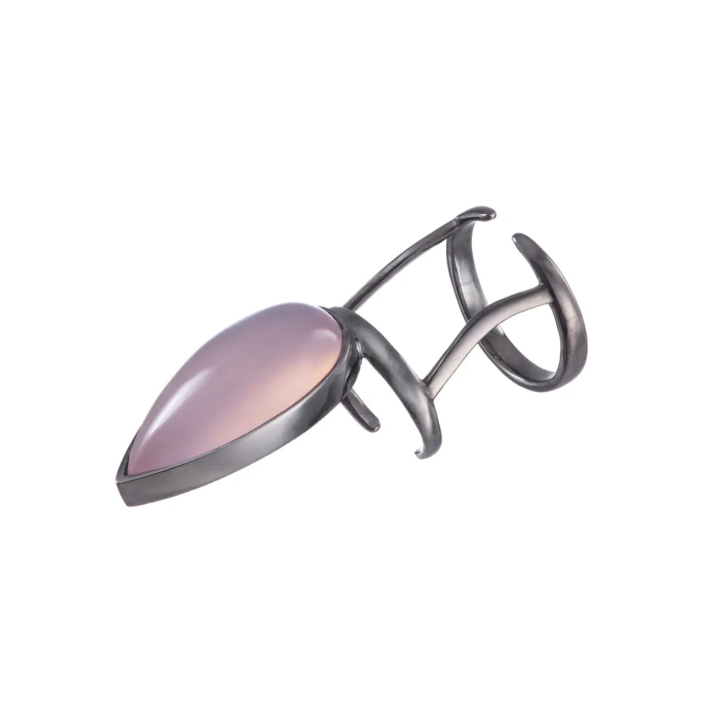 35. Free To Put On And Take Off Crystal Finger Tip Ring Jewelry.