Instagram's best sequin dress videos. Because if you need bling inspiration these dresses are just that.
Ah, the good old sequin dress.
Beloved fashion staple of Glitterists the WORLD over.
Including your truly, the ever sparkly Miss Cee Cee Quin.
If you faithful glittery readers are ANYTHING like Miss Cee you prolly got first dose of bling lust from a sequin dress.
For most of us a bling prom dress is first contact with sequins or crystal or rhinestone fashion.
And for many budding fashion mavens a sequin prom gown may be their first big sequin purchase.
Because NOTHING beats a blinding entrance to prom.
You're in your physical prime.
You might even be the one who spikes the punch and gets away with it.
Like Min wishes she did.
And if you're wearing BIG BLING with an embellished prom dress you'll be getting all sorts of lewks.
ALL sorts.
Here at the SequinQueen Sparkling Life Magazine that's what we LOVE.
Bling drawing attention to the fabulousness that is YOU.
Some of you lucky poppets out there will also have some red carpets in their future.
And you can't go wrong with another sequin dress for each and every one of those events.
You'll be in couture of course.
There's NOTHING designers like better than showing off their haute couture skills with a sequin gown.
Become a big enough star and you won't even have to buy the red carpet dress.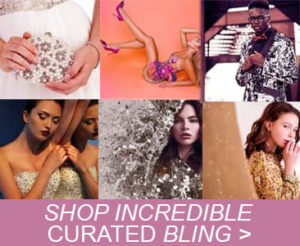 Become an even bigger star and you'll even get to keep the dress.
But right now you need to start planning.
What type of sequin dress would you most love?
What style of glittering gown will look the most flattering on you?
Take your time and DROOL over the FABULOUS inspirational bling sequin dress videos we've curated for you from Instagram below.
And if that's STILL not enough sequin gown inspiration take a look at all the sequin outfits in our Red Carpet Bling Pinterest board for even more!
1. Helen Mirren in a Dolce&Gabbana Sequin Gown with Long Sleeves and Dress Train.
2. Deep V-Neck Sleeveless Beaded See Through Short Dress in All Black.
3. All Red Hanging Metallic Sequins Long Gown with High Slit.
4. All Black Long Sleeves High Neck with Open Back Short Dress.
5. Pink Short Embellished Rhinestones and Beads Short Sleeves with Oranza Ruffle Dress Train.
6. Black Sequin Short Off Shoulder Strap Sleeveless Dress.
7. Long Sequin USA Flag Sleeveless Gown.
8. Long Sleeves Embellished Gown.
9. All Back Boat Neck with Sleeveless Embellished Short Dress.
10. Gold Sleeveless Sequin Maxi Sleeveless Dress with V-Neck.
11. Long Red Gown with One Shoulder Cris Cross Strap with Embellished Trims.
12. Red and Sliver Sweetheart Neck Strap Dress with Beaded Hemline.
13. 1960s Handmade Sequin Gown Wrap Dress with Adjustable Taffeta Cross Back Straps.
14. Halter Neck Sleeveless Sequin Gown with Open Back.
15. Mirror Mirror On The Wall, Glass Sequin Short Dress.
16. Blue Mirror Sequin Sleeveless Dress with V-Neck.
17. Rose Gold Long Dress with Boat Neck and Sleeveless Dress.
18. Which Sequin Gown Would You Choose?
19. Maxi High Collar Sequin Long Sleeves Evening Gown.
20. Long Sequin Dual Shades of Blue Sleeveless Gown with High Slit.
21. Pink Classic Neck Line with Short Sequin Dress.
22. Off Shoulder Sleeveless Dress with Long and Short Hemline.
23. One Shoulder Sleeveless Chiffon Dress with Sequins and High Slit Gown.
24. Purple Long Sleeves Short Embellished Dress with See Through Top and Low Back.
25. Black Deep Neck Plunge Sleeveless One Shoulder Embellished Dress with High Low Hemline.