Best Instagram bling sunglasses videos. Because when you can't be bothered doing your eye makeup bling sunglasses will save your day.
Okay gurlz. Hands up if'n your sick and tired of doing your makeup.
Yup.
Miss Cee is too.
Yes, you're going to look better.
Maybe improve your self esteem.
Perhaps you need your makeup for work.
But wouldn't it be wonderful to just roll out of bed, scratch your butt and be ready for your day right then and there?
Like every damn male on the planet.
In that case reach for your nearest pair of fabulously rhinestone bedecked sunglasses.
Fix them firmly to your natural and DEEVINE face.
And get on with your day.
Oh, but wait!
What about your HAIR, luvbugs.
No problems there either.
Your bling education.
Here at the SequinQueen Sparkling Life Magazine we believe most all of life's issues can be solved with BLING.
Indeed there's a bling solution for every issue.
Big OR small.
So grab your blinged out baseball cap and hide your hair the sparkly way.
The best thing about bling sunglasses and bling baseball caps?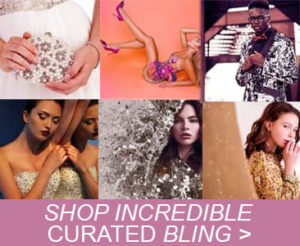 They don't cost a fortune.
Though of course there ARE some totally Over The Top examples you'll pay more for.
On the whole though poppets you'll find you can afford a different shimmering sequin, bead or crystal pair of sunglasses for EACH day of the week.
But if you're still having trouble imagining yourownself in a pair of sparkly shades look no further than the INCREDIBLE examples below.
Curated just for you.
And if that's STILL not enough glitter eyewear inspiration take a look at our Bling Sunglasses Pinterest board for even more!
1. Square Over Sized Sun Glasses with Embellished Rhinestones.
2. Square Vintage Shape Sunglasses with Rhinestone Embellished Frame.
3. Slay the Beach with these Square Sunglasses with Rhinestones.
4. Black Plastic Square Frame Sunglasses with Blue Rhinestone Embellishments.
5. Heart Shape Sun Glasses with Red Shade Glass with Pearls and Rhinestones.
6. Retro Style Square Glasses with Rhinestones and Fur.
7. Broad Square Frame Glasses with Rhinestones.
8. Oval Metal Shaped Glasses with White Glass and Rhinestones.
9. Blacked Out Glittering Rhinestone Shades.
10. Square Plastic Frame Barbie Sunglasses with Rhinestones.
11. Retro Style Elongated Cat Eye Glasses with Transparent Frame and Rhinestones.
12. Different Shade Cat Eye Sunglasses with Pearls and Rhinestones.
13. Oversized White Bride Glasses with Rhinestones.
14. Oval Shaped Black Out Sunglasses with Rhinestones.
15. Red Oval Shaped Glasses with Crystals.
16. Over Sized Square Sun Glasses with Crystal Framed.
17. Oval Frame White Glass Sunglasses with Rhinestones Embellished Frame.
18. Purple Metal Square Frame Glasses with Rhinestones On the Top Side.
19. Aviator Style Metal Frame Sun Glasses with Rhinestones.
20. Transparent Square Frame Sun Glasses with Rhinestones.
21. Cat Eye Model Sun Glasses with Rhinestones.
22. Irregular Shapped Sun Glasses with Rhinestones and Hanging Crystal Chains.
23. Shimmering Rhinestone Embellished Sun Glasses.
24. Over Sized Plastic Frame Sunglasses with Rhinestone Embellishments.
25. Transparent Cat's Eye Frame Sunglasses with Rhinestones.