Shop kids' bling on Amazon. Because the range of shimmering kids' items is incredible.
Here at SequinQueen we love bling for all ages.
And all situations.
But we especially love bling for children.
Not only is kids' bling inventive but it's also functional.
And even educational.
Not to mention cute and comforting.
Functional kids bling enlivens everyday items from girls' skirts to boys shirts and rhinestone or sequin shoes for all ages.
Not to mention school backpacks and bags that are perfect for the little princess in your life.
But kids' bling can also be educational.
Did you know you can get kids' art activity sets that use sequins and rhinestones?
And if they need a bit of comforting there are all types of children's plushies glittering with embellishments.
The best thing about the functional kids' bling is that most of it is machine washable.
So you can shop with peace of mind.
No one wants to hand wash their children's clothing.
We moms are far too busy for that!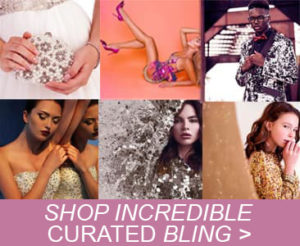 But what if you've got a more formal event to take your children too?
A wedding for example.
Then you'll love Amazon's princess dresses with hints of sequin sparkle and crystal glitter.
And for the boys?
They don't get left out. Sequin dress shirts and vests abound.
Otherwise you can find grillz for sale on Amazon.
A lot of them.
In almost any color.
Buy just for fun or as a special gift.
Shop kids' bling on Amazon to fill up holiday stockings.
Or scroll down for our edited section of kids' bling. There's always a birthday coming up!
And if you need more inspiration check out our kids' bling board on Pinterest. You'll find hundreds of ideas there.
1. Shop Kids' Bling on Amazon: Baby Flower Girl Dress with Gold Sequin Bow and Sequin Fabric Headband.
2. Embroidered Sequins and Diamonds Embellished Lace Girls' Black Formal Dress.
3. Girls' High Neck Maxi Blue Romper Dress with Embellished Waist Belt.
4. Sequin Little Girls Flower Dress Toddler Ball Gown in Pink and Gold.
5. Sequin Princess Tulle Party Dress with High Waist in Blue.
6. Sequins Fashion Hip Hop Long Sleeves Kids Jacket in Silver and Pink.
7. Glitter Flip Sequin Girl's Sleeveless Tank Top.
8. Girls Toddlers Gold Short Sequin Pants with Satin Bow.
9. Embellished Velvet Outfit Sequin Hoodie Sweatshirt Top and Pant Set.
10. Shop Kids' Bling on Amazon: Girls' Short Sleeve Sequin 'Love' Cut Tee.
11. Silver Sequin Short Sleeve Tops T-Shirt with Casual Shorts.
12. Flip Sequin Dinosaur Kids Long Sleeves T-Shirt.
13. Sequin Zipper Coat Jacket for Toddler with Long Sleeves in Gold.
14. Glittery Boys' Sequined Long Sleeve Dress Shirt with Collar.
15. Shop Kids' Bling on Amazon: Summer Clothes Short Sleeve Sequins T-Shirt Top + Elastic Short Boys Set.
16. Red, White and Blue Romper Top with Sequin Shorts and Headbands Set.
17. Black Sequins Vest Shirt Outerwear Dance Costume for Boys.
18. Boys' Sequin Jacket in Gold.
19. Glittering Flip Sequin 3 in 1 School Backpack for Girls.
20. Shop Kids' Bling on Amazon: Crossbody Shoulder Bags Fashion Envelopes Bag.
21. Reversible Sequin Unicorn Pencil Bag with Sparkly Pink Zipper.
22. Plush Seal Stuffed Animal with Reversible Sequins.
23. 7 Sheets Adhesive Gems Stickers and 3 Glitter Glues Activity Set for Children.
24. Girls Mary Jane Rhinestone Studded Slip On Ballet Flats.
25. Child Flip Kicks with Reversible Sequins Flat Sneaker.
26. Unisex-Child Jcoultrr Sneaker with Multi-Color Rhinestones.
27. Ballet Flats with Rhinestone Studded Ankle Straps for Kids.
28. Girls Mary Jane Ballerina Flat Dress Shoes with Rhinestones.
29. Skechers Unisex-Child Unicorn Wings Sneaker.
30. Candy Corner Tie Dye Multicolor Slip-On Slide with Rhinestone.
31. Serena-100 Mary Jane Ballerina Flat Shoes with Ankle Strap and Embellished Rhinestones.
32. Rhinestone Embellished Mary Jane Ballerina Flats with Bow At Back.
33. Girl's Peep Toe Rhinestone Ankle Strap with Adjustable Buckle Wedge Sandals.
34. Girl's Fur Lined Winter Boot with Rhinestone Details.
35. Girls' Big Rhinestone Logo Organic Stretch Jersey T-Shirt.