Shop affordable jewelry on Amazon. Because you may as well make the MOST of your time online, luvbugs.
That's right. When one Miss Cee-Cee Quinn is online it's to SHOP.
Who cares about YouTube or FaceLook, is it? FaceBOOK.
If you've got ANY time to spare at the end of your hectic day use it wisely.
By SHOPPING online.
You may be a spring chicken.
Like Miss Cee used to be.
Perhaps you can't even remember a time BEFORE online shopping.
But everyone ELSE will sorely appreciate a spree in the comfort of their own homes.
That's right, kids.
People used to have to get dressed, get in the car and DRIVE to the mall to go shopping.
Here at the SequinQueen Sparkling Life Magazine we know how traumatizing that was.
Which is why we are advocates for online shopping.
ESPECIALLY for bling.
And JEWELRY in particular.
Now, we're not talking the Real Deal here.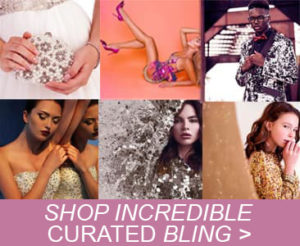 Though you can find pa-lenty of precious jewels and 24 carat gold to buy online too.
We're talking about paste.
Bijou.
Costume jewelry.
The kind EVERYONE needs a bit of in their everyday.
Male. Female. Or anywhere on the gender spectrum.
And what better place to find it that on Amazon.
A HUGE selection.
Reasonable prices.
Home delivery.
What's NOT to love?
AND you can do it in your pajamas.
So it's AMAZON to the rescue, luvbugs.
Once again.
Drool over SequinQueen's edited selection of the best jewelry bling on Amazon.
Curated just for YOU.
There isn't a necklace, earring, ring, brooch or belly ring they don't have online.
And ALL of them UTTERLY dripping in rhinestones, strass and bling.
Then check out even MORE bling jewelry on our shimmery OTT jewelry Pinterest board.
1. Shop Affordable Jewelry on Amazon: Necklace and Earring Set with Crystal Bracelet.
2. Sparkle Resin Rhinestone Wrapped Hoop Dangle Earrings.
3. Blue Diamonds 10k Yellow Gold Small Heart Necklace Pendant.
4. 18K Pink Gold Plated Ring with Created Emeralds and Rubies.
5. Shop Affordable Jewelry on Amazon: Wide Rhinestone Stretch Bracelet in Dual Color.
6. Rhinestone Hand Bangle Chain Link to Finger Ring Bracelet.
7. Rhinestone Bar Layered Yellow Stacking Stretch Bracelet.
8. Hamsa Hand of Fatima Hoop Earrings in 14k Gold Plated.
9. Flower Brooch Pin with Crystal Rhinestones Breastpin.
10. Shop Affordable Jewelry on Amazon: Rhinestone Round Fringe Design Statement Chandelier Earrings.
11. Shop Affordable Jewelry on Amazon: Big Red Resin Stone Ring with Rhinestone Halo.
12. Red Necklace Earrings Set with Rhinestones.
13. Green Rhinestone Drop Rattan Hoop Dangle Fringe Earrings.
14. Shop Affordable Jewelry on Amazon: Open Hoop Rhinestone Chandelier Earring.
15. Rhinestone Devil Heart Belly Button Rings 14G Surgical Steel Navel Barbells.
16. 20 Pieces Stainless Steel Rhinestone Nose Stud Rings.
17. 2 Pairs Stainless Steel Nipple Ring CZ Barbell Rhinestone Studs.
18. Crystal Rhinestone Tiara Crown Necklace with Link Bracelet and Drop Dangle Earrings Set.
19. Pink Ribbon Jewelry Crystal Rhinestones with Pretty Glass Beads Bracelet.
20. Shop Affordable Jewelry on Amazon: 925 Sterling Silver Simulated Sapphire Women's Ring.
21. Vintage Fancy Flower Leaf Imitation Crystal Brooch.
22. Shiny Crystal Rhinestone Silver Plated Pendant with Chain Necklace and Stud Earring.
23. Shop Affordable Jewelry on Amazon: Rhinestone Crystals Teardrop Dangle Statement Earrings.
24. Double Rhinestone Butterfly Finger Open Adjustable Toe Ring.
25. Shop Affordable Jewelry on Amazon: Crystal Choker Statement Necklace with Teardrop Dangle Earrings.
26. 18K Gold Plated Crystal Cable Bangle Bracelet Cuff with Rhinestones.
27. Silver Halo Round Cut Flower Green Sapphire Necklace Bracelets Earring Set.
28. Unique Bohemian Oversized Acrylic Resin Flower Dangle Drop Earrings.
29. 14K Gold Plated CZ Stones, Sterling Silver Tennis Necklace Bracelet Set.
30. Open Statement Adjustable Butterfly Ring with Rhinestone.
31. Simulated Pearl Jewelry Set of Necklace, Dangle Earrings and Link Bracelet.
32. Rhinestone Crystal Party Flower Leaf Vine Brooch.
33. Nipple, Tongue and Belly Button Ring in Stainless Steel Rhinestone Crystal Disco Ball.
34. 2 Pairs Barefoot Sandals- Beach Anklet Chain with Starfish Design and Rhinestones.
35. Multicolour Cubic Zirconia Gold Plated Sterling Silver Post Hoop Earrings.