Best sequin dresses with sleeves 2021. Because a sequin sleeve hides a multitude of sins.
Well, usually that gets said about a well-cut men's suit.
But it also applies to any beautiful sequin dress with sleeves.
First, the sequins are going to enhance your gorgeousness.
That just goes without saying.
And the sleeves are going to hide the fact you haven't been going to the gym.
Though there is really no excuse to do just a few pushups at home every couple of days.
Okay, we know.
You've got a job.
Some kids too.
A house to run.
Errands.
Maybe a side hustle.
So here at the SequinQueen Sparkling Life Magazine we think all that means you deserve a treat.
A sequin dress treat to be exact.
So we've gathered the most divinely gorgeous sequin dresses.
With sleeves. Just in case.
To inspire you.
Because everyone needs a good splurge now and then.
Especially you.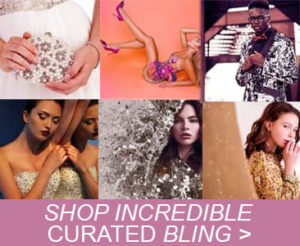 So take some time out of your busy day.
Get a cup of your favorite warm beverage.
Kick back.
And enjoy the incredible sequin dresses and sequin gowns with sleeves we've curated for you below.
And if that's STILL not enough shimmering inspiration take a look at our Bling Sequin Dresses with Sleeves Pinterest board for even more!
1. Blue Sequin Fabric Dress with Long Sleeves V-Neck and Dress Train.
2. Pink Glittering Sequin Short Dress with V-Neck and Bat Sleeves.
3. Red Sequin Dress with Deep V-Neck and Long Sleeves with High Thigh Slit.
4. Silver Sequin Fabric Dress with High Low Hemline and Cold Shoulder Sleeves.
5. Black Glittering Sequin Dress with Off Shoulder Long Sleeves, High Slit and Dress Train.
6. Gold Sequin Short Dress with Loose Fit Long Sleeves.
7. Long Red Sequin Off Shoulder Gown with Sweetheart Neckline, Long Sleeves and High Slit.
8. Gold Sheer Net Short Sleeves Gown with Bouncy Gold Flower Head Piece and Gloves.
9. Gold Shimmering Sequin Short Dress with Long Sleeves.
10. Grey Embellished Maxi Dress with V-Neck and Long Sleeves.
11. Glittering Gold Sequin Wrap Short Dress with One Shoulder Long Sleeves.
12. Black Short Dress with Long Sleeves and Embellished with Rhinestones.
13. Multi-Color Sequin Wrap Dress with Long Sleeves.
14. White Long Gown with Embellished Top and Long Sleeves with Rhinestones.
15. Black Beaded Fringes with Sequin Gown and Long Sleeves.
16. Burgundy Red Maxi Wrap Dress with Sequins and 3/4 Sleeves.
17. Gold Sequin Fabric Short Dress with Cris-Cross Long Sleeves.
18. Long Silver Sequin Gown with High Neck, Long Sleeves and Dress Train Hemline.
19. Silver Embellished Mini Short Dress with Long Bell Sleeves.
20. Long Sequin Dress, with Rectangular Metallic Iridescent Green Sequins with One Shoulder Long Sleeves.
21. Long One Shoulder Sequin Dress with Long Sleeves and High Slit.
22. Gold Embellished Long Gown with Beaded Fringed Sleeves.
23. Shimmering Short Sequin Dress with One Shoulder Long Sleeves.
24. Black Sequin Short Dress with Long Sleeves and High Neck.
25. Best Sequin Dresses with Sleeves 2021: White Off Shoulder White Short Dress with Glittering Rhinestones Trim with Long Sleeves.