How to Wear Sequins at Work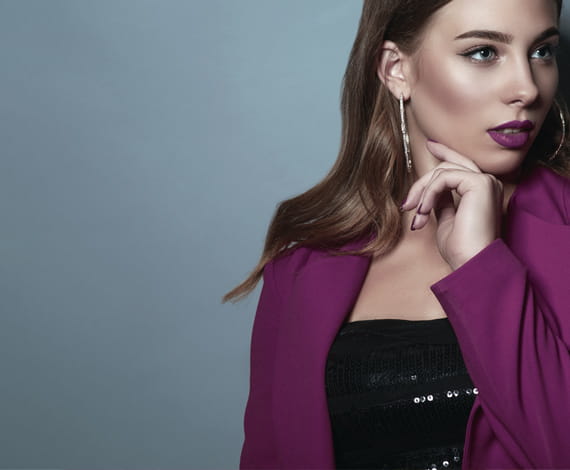 Sequin attire at the office can be tricky. Often associated with evening wear, sequins can look equally as amazing at work, as long as you keep a couple of tips in mind.
How to Wear Sequins at Work: Tip #1
Lower the Wow Factor
For day wear, any sequin clothing in muted shades and matte-finish sequins looks more understated. The shinier the sequins, the more suited they are for evening, in venues with lower lighting.
The Wow Factor. Best deployed under lower lighting.
How to Wear Sequins at Work: Tip #2
Think twice about patterns
Patterns are best kept simple, or non-existent, as color blocking gives a classier effect, perfect for the office.
Divine though this is, some patterns are a bit too much for the office.
How to Wear Sequins at Work: Tip #3
Follow your workplace's attire norms
Wearing sequins doesn't mean abandoning all workplace decorum, no matter how liberating that could be. So check the length of your sequin skirt, for example, isn't shorter than whatever your office norms are.
If only the office norms were this much fun.
How to Wear Sequins at Work: Tip #4
Avoid sequin dresses
Care of the gurus at SequinQueenCUSTOM, one huge tip for how to wear sequins at work is to avoid a whole sequin dress, either short or long–even if it's one of theirs. (Or especially then!)
Accidentally throw on your blingiest dress in a pre-caffeine morning stupor and you'll find that what looked incredible at the bar looks like a disco ball gone berserk in the office.
Smaller sequin items, like skirts, minimize any garish effect. As do items such as blouses with a touch of sequins.
DvF's blouse is on point for work.
How to Wear Sequins at Work: Tip #5
Layer, layer, layer
Layer your sequin apparel as one part of an outfit so that you limit the sequins to one item. A sequin skirt with a non-sequin blouse, for example, or a sequined jacket with a dress made from regular fabric. One sequin piece is more than enough in general but especially for work.
Anna Wintour has sequins on her jacket but not her dress.
How to Wear Sequins at Work: Tip #6
Keep everything else plain
Keep jewelry as plain as possible, particularly if your sequin item is a blouse or jacket and therefore situated next to necklaces and earrings. It's best to keep other accessories simple too, so avoid shoes and bags with any sequins, beads or crystals on them.
---
Read more about wearing and accessorizing sequins in our Style Guide How to Wear Sequins: The Rules AND How to Break Them
---
How to Wear Sequins at Work: Tip #7
Look for washable sequin garments
Don't worry that your sequins might not be practical for work because it's difficult to have them cleaned. Many modern sequin items are able to be either hand washed or machine washed on a gentle cycle–just check the tags and other manufacturer information before buying. (And if you do wash sequin clothing in the machine, use a laundry bag to prevent any loose sequins disappearing into the mechanics.)
Conclusion
Don't avoid sequins for the office; they work just as well on office attire as pin-stripes and checks, as long as you keep our simple tips in mind. So add some sequin items to your work wardrobe and breeze through your day, knowing you look your best.
But if today isn't so breezy and turns interminable, with an evening event you just can't get home to change for beforehand, congratulate yourself; one big benefit of wearing sequins to work is you can convert to evening wear without adding anything. In fact, you may want simply to remove one item, like a plain jacket, and let the sequins on a blouse or skirt do their work unimpeded.
With a dark skirt, this blouse would easily transition from day to night.
How to Wear Sequins at Work: Curated Skirt Ideas
Love our tips but stuck for ideas about what sequins to wear to the office? Here's our curated selection of sequin skirts (an easy essential to get started with) that will add some pizzazz to your working day.
Sequin High-waisted Pencil Skirt from VIJIV
An elegant cut, perfect for the office. Comes in a variety of colors but the burgundy and what VIJIV call gold (but we'd call metallic tan) are both muted and eyecatching.
---
Sequin High Waist Flared Midi Skirt from PrettyGuide
Pink, but in a dusky hue and shot-through with highlight sequins. This feminine style has an elastic waistband for comfort.
---
Multicolored Striped Skirt from ECI New York
You'll get complimented in this heavenly horizontal piece. Zipper closure and machine washable, in addition to being fabulous. The colors are muted and the pattern low-key enough for the office.
---
High Waist Sequin Pencil Skirt from PrettyGuide
Matte Champagne color is pure understate glamour for work. The sequins are applied in a vermicelli pattern. Concealed zipper and stretch lining add to its charms.
---
Sequin Mini Skirt from MANER
Metallic silver, rose gold and coffee are a triumphant trio on this divine skirt. If the length is okay for your office, pair with a coffee-colored satin blouse and accent with silver accessories.
---
High Waist Ruffled Pencil Sequin Skirt from PrettyGuide
Able to be paired with any other color, you can't go wrong with classic black for the office. This skirt has an elastic waist and a concealed zipper to help the skirt hug your curves better. Comes in a richly dark green, black-gold and burgundy also.
---
Taking a break at your desk? Boss not looking? Then take a sneaky peek at this! We're curating the best sequin, beaded and crystal apparel and accessories from all over the internet into a slice of shopping heaven.
---
Links to shopping partners support this site, at no added cost to you.
---