Shop the best men's bling online. Because there is a TON of shiny men's fashion.
And a WHOLE passel of it is on Amazon, natch.
Plus men have as much right to bling as women do!
There is NOTHING Miss Cee loves more than a big strong piece of man.
Spesh if that big strong piece of man is wearing a bit of bling.
Why?
Because a man sporting bling is not afraid to shine.
Or to get noticed.
Because a man wearing bling EXUDES confidence, luvbugs.
Now, there was a dim dark time when the only men's bling available was a watch or a pair of substandard cufflinks.
Fortunately those days are LONG gone.
Bling is on just about EVERY bit of men's fashion you can think of.
Yep. There are still men's cufflinks.
But the bling on them is Next Level now.
Not to mention the bling on men's shoes.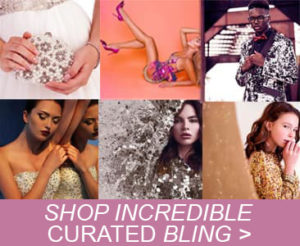 Or on luminous neckties.
How about bling grillz for teeth? Now THERE'S a subject close to Miss Cee's heart.
As a fashion forward male of the species you can choose to go TOTALLY over the top with bling.
Throw on a sequin dress shirt, sequin suit and rhinestone loafers.
Finish it off with an iced out watch and sunglasses.
However, here at the SequinQueen Sparkling Life Magazine we find that most men like to add just a touch of bling here and there.
Which is why men's bling accessories, like shoes and rings are so popular.
Which we just so happen to have curated for you below.
AND you can find even more fabulous inspirational items on our Pinterest board for Men too!
1. Fashion Button Down Shirts – Long Sleeve Sequins Top.
2. Sparkly Sequins Slim Fitted Pullover Vest Tank Top.
3. Shiny Sequins Suit Jacket Blazer One Button Tuxedo.
4. Sequins Zip up Varsity Baseball Bomber Jacket.
5. Dress Shirt Sequins Button Down Party Wear Shirt.
6. Short Sleeve Turndown Sparkle Sequins Polo Shirt.
7. Mens Luxury Design 70s Disco Shirt Party Costume.
8. Dress Shirt Sequins Button Down Long Sleeve Shirt.
9. Shiny Sequins Suit Jacket Vest Button Down Sleeveless.
10. Shiny Sequins V Neck Long Sleeve Dance Shirt Leotard.
11. Glow In The Dark – Novelty Graphic T-Shirt with Design.
12. Sequined Pre-tied Adjustable Length Bowtie.
13. Superman Bling Shield T-Shirt.
14. Men's Cuban Link Chain in Gold with Rhinestones.
15. Hip Hop Iced Out Luxury Men's Ring.
16. Men's Gold-Tone Wrist Watch with Rhinestones.
17. Novelty Necktie For Men LED Yellow Light Up Ties.
18. Rubies Old School Hip Hop Dollar Sign Necklace.
19. Stone Studs Structured Baseball Cap.
20. Blue Navy Swarovski Crystal Square Cufflinks for Men.
21. Blue Rhinestones Over Black Suede Slip on.
22. Men's Faux Velvet Slip On Loafer with Jeweled Bit and Matching Piping.
23. Men's Velvet Smoking Slipper with Rhinestone Embellished Strap.
24. 69 Shark Vampire Grills Iced Out CZ Lab Diamond.
25. Crystal Galaxy Cufflinks and Tie Clip Set.