Best Instagram bathroom bling videos. Because you may need inspiration to take your bathroom to the next level.
Bathrooms are one of the most functional spaces in every house.
And it used to be that's all they were.
Just functional.
But pretty bland.
Think white, white and then more white.
Well, at least the tiles shimmered.
That was before the explosion in bling for your bathroom.
There is now bathroom bling to cover anything and everything in your bathroom.
From the shower curtain to the toilet.
Yes, you read that correctly.
Bling toilets are real. See below.
In fact there is so much sparkle for your bathroom that here at the SequinQueen Sparkling Life Magazine we've written about bathroom bling before.
And loved every shining second of it.
You might be about to take the plunge and bling your own bathroom.
And that means you'll be wondering where to start.
There's an easy trick to launch you on your way.
Bling bathroom accessories.
Start out with some small bling.
Crystallized and gem bedecked soap dispensers and toothbrush holders.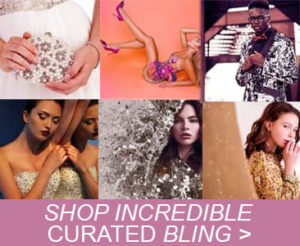 Maybe even a rhinestone embellished toilet roll holder.
And then move onto the big bling.
Bling bathtubs, reflective bling tiles, crystal light fixtures.
By the time you're done your bathroom will be function and fabulous.
And if you need even more inspirational pics take a look at our Pinterest bathroom bling board.
1. Best Instagram Bathroom Bling Videos: Bathroom Organizers with Towel Stand with Rhinestones.
2. Face and Hand Towel Holder Ring with Pearls and Rhinestones.
3. Luxurious Bathroom Bling Accessories with Gold Shining Finish.
4. Cotton, Ear Buds Organizer and Soap Dispenser with Rhinestones.
5. Clean with Bling. Bathroom Broom with Rhinestones.
6. Bathroom Bling Accessories with Rhinestones.
7. Stainless Cabinet Set With Marble Top Basin and Crystal Knobs for The Cupboards.
8. Dual Soap Dispenser with Rhinestones.
9. Rectangle Tissue Box Cover with Rhinestones for Bathroom.
10. Best Instagram Bathroom Bling Videos: All Over Rhinestones Bathroom Waste Basket.
11. Brilliance and Transparency of True Crystal Washbasin.
12. Luxury Bathroom Blinged Out Accessories and Organizers.
13. Blinged Out Bathroom Towel Organizer Tray with Rhinestones.
14. Stand Alone Bathroom Tissue Roll Holder with Rhinestones.
15. Wall Mount Bathroom Hand Towel Hanger with Rhinestones.
16. Bathroom Faucet Tap with Crystal Taps.
17. Tooth Brush Holder and Soap Dispenser with Rhinestones.
18. Bathroom Door Decor with Shining Rhinestones.
19. Bathroom Bath Tub Decorated with Rhinestones.
20. Best Instagram Bathroom Bling Videos: Bathroom Sequin Shower Curtains.
21. Glass Hydroelectric Faucet Basin with Crystal Tap and LED Lights Embeded Inside.
22. Bathroom Organizer Tray with Cotton Holder and Shampoo Dispenser Decorated with Rhinestones.
23. Custom Made Bathroom Accessories with Jumbo Sequins.
24. Luxirous Bathroom with Golden Bling Finish.
25. Bathroom Bath Accessories Embellished with Rhinestones.